Extend RUP to Drive Improvements Across the Entire IT Lifecycle
The Rational Unified Process is a powerful tool for improving software development -- but it doesn't go nearly far enough. Today's development organizations need to extend RUP to cover the entire IT lifecycle, including the cross-project and enterprise issues it largely ignores. The Enterprise Unified Process (EUP) does precisely that, enabling you to deliver systems that meet
all
the needs of today's businesses. Now, EUP's creator and architects present the definitive introduction to EUP, and demonstrate how to use it in your environment.
The Enterprise Unified Process
systematically identifies the business and technical problems that RUP fails to address, and shows how EUP fills those gaps. Using actual examples and case studies, the authors introduce processes and disciplines for producing new software, implementing strategic reuse, "sunsetting" obsolete code and systems, managing software portfolios, and much more. Their independent, "tool agnostic" coverage will be indispensable no matter which RUP products or platforms you've invested in. Coverage includes
Practical, step-by-step guidance for adopting EUP in midsized-to-large organizations


Proven processes for optimizing ongoing IT operations and support


Enterprise business modeling and architecture with EUP


EUP disciplines for enterprise administration, people management, and software process improvement


Using the new EUP plug-in for IBM's RUP platform


Workflow diagrams fully consistent with RUP for easy understanding


Detailed appendices covering EUP roles, artifacts, and terminology


EUP is the missing link that can help IT professionals achieve the full benefits of RUP in the enterprise. This book will help you discover it, master it, implement it, and succeed with it.
Copyright Pearson Education. All rights reserved.
(Pearson)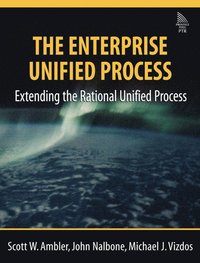 Fler böcker inom
Häftad (Paperback)
Språk: Engelska
Antal sidor: 408
Utg.datum: 2005-02-01
Upplaga: 1
Förlag: Prentice Hall
Medarbetare: Nalbone, John / Vizdos, Michael J.
Illustrationer: illustrations
Dimensioner: 235 x 178 x 28 mm
Vikt: 860 g
Antal komponenter: 1
ISBN: 9780131914513
Övrig information
The Enterpise Unified Process: Extending the Rational Unified ProcessAbout the AuthorsScott Ambler is a senior consultant with Ronin International, Inc. specializing in software process improvement, adoption, and mentoring. He has contributed to the RUP and has been working with organizations since 1999 to adopt and extend the RUP. He is the thought leader behind the Enterprise Unified Process (EUP), Agile Model Driven Development (AMDD), the Agile Data (AD) method, and the process patterns of the Object-Oriented Software Process (OOSP). He has worked in the information technology (IT) industry since the late 1980s in a wide range of roles within a variety of industries, including financial, retail, military, and health. He has either authored or co-authored numerous books, including The Object Primer, The Practical Guide to Enterprise Architecture, Agile Database Techniques, and the four-book Unified Process series. He is a senior editor with Software Development (http://www.sdmagazine.com) and an international speaker in the IT field.John Nalbone is a senior consultant with Ronin International, Inc. He has worked in the information technology (IT) industry since the late 1980s in a variety of roles. Although he started his career as a coder, his experience covers a wide range, including being an analyst, designer, architect, developer, project manager, and process engineer. He has worked on a variety of projects over the years, including debugging operating systems, developing expert systems, and enterprise architecture efforts, with a number of different clients, including startups, government agencies, and Fortune 500 companies. His current focus is on helping companies with their process improvement efforts; in particular helping them to adopt both the RUP and/or the EUP. Michael Vizdos is President of Ronin International, Inc. Michael has more than 15 years of experience in the IT industry and has worked in all aspects of the system lifecycle. He came to Ronin with a variety of experience, including six years at Electronic Data Systems and two start-up companies. His specialty is building successful Professional Services teams, and he is also a Certified Scrum Master (http://www.michaelvizdos.com). Michael speaks and writes about various process IT-related topics.Ronin International, Inc. is based in Evergreen Colorado, just outside of Denver. The team at Ronin is known and respected as a market leader for planning, improving, and implementing various software practices throughout the world. Ronin consultants are in the knowledge transfer business. Their goal is to transfer knowledge from their experts to your team members. They work with clients to develop working software, create or improve new software process improvement efforts, and facilitate long-term strategic planning sessions for your IT organization. (c) Copyright Pearson Education. All rights reserved.
(Pearson)
Innehållsförteckning
About the Authors.
Foreword.
Preface.
I.FROM THE RUP TO THE EUP.
1. Introduction.
Types of Processes.
History of the Enterprise Unified Process.
Why an IT Process.
This Book.
Summary.
2. The Rational Unified Process.
Serial in the Large.
Iterative in the Small.
Delivering Incremental Releases Over Time.
Following Proven Best Practices.
Why the RUP.
The RUP as a Process Framework
Summary.
3. Introduction to the Enterprise Unified Process.
From a Development to a System Lifecycle.
The Production Phase.
The Retirement Phase.
The Operations and Support Discipline.
The Information Technology Lifecycle.
The Zachman Framework and the EUP.
Common Threads Throughout This Book.
The EUP in Practice.
Summary.
II. BEYOND DEVELOPMENT.
4. The Production Phase.
Objectives.
Essential Activities.
Handling Concurrent Releases.
Support Strategies.
The Release Retirement Milestone.
Case Studies.
Hosting and Operating Business Applications.
Microsoft Support.
Summary.
5. The Retirement Phase.
Objectives.
Essential Activites.
Analyze System Interactions.
Determine Retirement Strategy.
Update the Documentation.
Test.
Migrate Users.
Remove the System.
Managing Retirement Efforts.
The Release Retirement Milestone.
Case Studies.
Migration off the Mainframe.
Retirement of an Office Suite.
Summary.
6. The Operations and Support Discipline.
Workflow.
Plan Operations and Support Deployment.
Support Users.
Operate Systems.
Prepare for Disaster.
Recover from Disaster.
Case Studies.
Operations.
Support.
Anti-Pa...
(Pearson)