This book contains 31 original scholarly articles on all aspects of cybercrimefrom emerging global crimes of the Internet, to criminological perspectives on cybercrime to investigating and prosecuting cybercrimes. Offering a collection of previously unpublished works, this book examines emerging global crimes, challenges faced by law enforcement, and the underlying reasons for the rise in such activities. Through a variety of essays, it explores the role of the cybercriminal, the victim, and the cybercriminals impact on the criminal justice system.
(Pearson)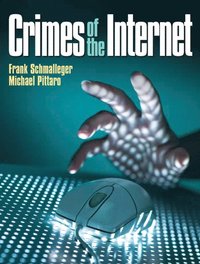 Fler böcker inom
Häftad (paperback)
Språk: Engelska
Antal sidor: 672
Utg.datum: 2008-02-01
Upplaga: 1
Förlag: Prentice Hall
Medarbetare: Pittaro, Michael
Illustrationer: illustrations
Dimensioner: 235 x 178 x 30 mm
Vikt: 1050 g
Antal komponenter: 1
Komponenter: MINI BOOK
ISBN:

9780132318860
Fler böcker av Frank J Schmalleger
Frank J Schmalleger
Frank J Schmalleger
Frank J Schmalleger
Frank J Schmalleger
Bloggat om Crimes of the Internet
Övrig information
Frank Schmalleger, Ph.D., is Distinguished Professor Emeritus at the University of North Caroline at Pembroke. He holds degrees from the University of Notre Dame and Ohio State University, having earned both a master's (1970) and a doctorate in sociology (1974) from Ohio State University with a special emphasis in criminology. From 1976 to 1994, he taught criminology and criminal justice courses at the University of North Carolina at Pembroke. For the last 16 of those years, he chaired the university's Department of Sociology, Social Work, and Criminal Justice. The university named him Distinguished Professor in 1991. Schmalleger has taught in the online graduate program of the New School for Social Research, helping to build the world's first electronic classrooms in support of distance leaning through computer telecommunications. As an adjunct professor with Webster University in St. Louis, Missouri, Schmalleger helped develop the university's graduate program in security administration and loss prevention. He taught courses in that curriculum for more than a decade. Frank Schmalleger is the author of numerous articles and more than 30 books, including the widely used Criminal Justice: A Brief Introduction (Prentice Hall, 2008), Criminology Today (Prentice Hall, 2009), and Criminal Law Today (Prentice Hall, 2006). Schmalleger is also founding editor of the journal Criminal Justice Studies. He has served as editor for the Prentice Hall series Criminal Justice in the Twenty-First first Century and as imprint adviser for Greenwood Publishing Group's criminal justice reference series. Schmalleger's philosophy of both teaching and writing can be summed up in these words: "In order to communicate knowledge we must first catch, then hold, a person's interest - be it student, colleague, or policymaker. Our writing, our speaking, and our teaching must be relevant to the problems facing people today, and they must in some way help solve those problems." Visit the author's website at http://www.schmalleger.com. Michael Pittaro, M.P.A., is the Criminal Justice Department Chair at Lehigh Valley College in Center Valley, Pennsylvania. He is also an adjunct criminal justice professor with Cedar Crest College in Allentown, Pennsylvania and Warren County Community College in Washington, New Jersey. In addition to teaching, he serves as a criminal justice curriculum specialist for the Pennsylvania Department of Education's Degree Granting Team and as a criminal justice subject matter expert for the Accrediting Council for Independent Colleges and Schools (ACICS), Washington, D.C. Most recently, Professor Pittaro's criminal justice associate degree program, which he chairs, was ranked 16th in the nation in a June 2007 report titled, "Top 100 Associate Degree Producers," in the publication - Community College Week, 19(21). Professor Pittaro is the recipient of numerous awards for his philosophy, style, and approach to teaching. He has twice been nominated for Who's Who Among America's Teachers (2006 & 2005), Madison's Who's Who Among Business Professionals (2007), a finalist in Career Education Corporation's "Educator of the Year" (2006), the recipient of Lehigh Valley College's VIP Award, and the Alpha Beta Kappa National Honor Society award for exemplary performance. In addition to serving on a number of local advisory boards, Pittaro also serves on the academic advisory boards for Career Education Corporation's National Criminal Justice Advisory Board as well as Wadsworth Publishing's National Career Education Criminal Justice Advisory Board. Professor Pittaro holds a master's degree in public administration (summa cum laude - 2000) and a bachelor's degree in criminal justice (Who's Who Among Students in Colleges and Universities - 1989) from Kutztown University, Pennsylvania. He is presently a 4.0 doctoral student and stu
(Pearson)
Innehållsförteckning
Part I Online Predatory Child Victimization & Exploitation
Sexual Addiction to the Internet: From Curiosity to Compulsion (Pittaro)
Pedophilia, Pornography, and Stalking: Analyzing Child Victimization in the Internet (Jaishankar / Halder / Ramdoss)
Internet Child Sexual Exploitation: Offenses, Offenders, and Victims (Huang)
Cyberbullying: A Transnational Perspective (Jaishankar & Shariff)
Internet Crimes: Youth and Children (Raghavan / Ranjan / Veddy)
Part II Emerging Global Crimes of the Internet
6. Online Pharmaceutical Sales and Challenges for Law Enforcement (Finley)
7. Charges Without Borders: Consumer Credit Card Fraud in Ghana (Davison)
8. Regulating Cyberstalking (Basu / Jones)
9. Internet Gambling (Geiss / Brown / Pontell)
10. Nature and Distribution of Phishing (Stroik / Huang)
11. You can't cheat an Honest Man: Making ($$$s and) Sense of the Nigerian Email Scams (Thomas / King)
12. Identity Theft Causes, Correlates, and Factors: A Content Analysis (Berg)
13. Internet Fraud and Cybercrime (Levin / Cukier)
Part III Criminological Perspectives on Cybercrime
14. Space Transition Theory (Jaishankar)
15. Routine Activities Theory and Internet Crime (Cox et al)
16. The Rhetoric of Hackers Neutralizations (Turgeman-Goldschmidt)
17. Lone Hacks or Group Cracks: Examining the Social Organization of Computer Hackers (Holt)
18. Its like Printing Money: Piracy on the Internet (Nhan)
19. The Warez Scene: Digital Piracy in the Online World (Ponte)
20. The Internet and Crime Trends (Ouimet)
21. Internet Gambling: Birth of a Victimless Crime (Giacopassi / Pitts)
Part IV Investigating and Prosecuting Cybercrimes
22. Investigating Computer Crime (Hinduja)
23. Criminal Profiling and Cybercriminal Investigation (Shoemaker / Kennedy)
24.&nb...
(Pearson)