What is the truth about human nature? Steven Pinker argues that our usual explanations of human behaviour - stated most clearly in the human sciences of psychology, ethics and politics - tend to deny what is now undeniable: the role of an inherited human nature.
(Bookdata)
Kundrecensioner
Det finns 2 recensioner av The Blank Slate. Har du också läst boken? Sätt betyg och recensera.
I motsats till vår engelskspråklige vän så uppskattade jag Pinkers bok oerhört. Kritiken mot boken tar ofta form av den radikale ideologens moraliserande och känslomässiga kritik snarare än kritik mot den sammanställning av vetenskapens läge vad gäller den mänskliga naturen som boken utgör. Boken slår hårt åt både höger och vänster. Har du en dogmatisk ideologisk och/eller religiös tro bör du alltså inte läsa boken, den kan allvarligt hota dina illusioner. Är du däremot öppet nyfiken på människan som företeelse och på hennes (biologiska/evolutionära) villkor ger boken en suverän översikt med gott om referenser om fördjupning önskas. Boken är dessutom skriven på ett underhållande och ibland utmanande sätt vilket är ett måste för all god litteratur.
Shakespeare is much more true to "human nature" when he lets Hamlet hold out the flute to Rosencrantz and Guildenstern (as a symbol of himself or mankind) asking them to play on it. They can't of course. Noone can. But Pinker and other "scientists" think they can.
It is very strange, in fact unbelievable, that evolution or whatever created us, has mainstream American politics as a goal. But that is what Pinker arrives at when he puts his own words in the mouth of evolution (who never talked to anyone, by the way).
In his view of gender, male behaviour, childrearing, art etc he sounds like a crossbreed of Bill Clinton and Ronald Reagan. And it seems he is not even aware of how utterly American his thoughts are! He sees a lot of traits and ideas that thrive only in the US as part of human nature!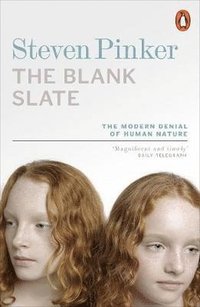 Fler böcker inom
Häftad (Paperback)
Språk: Engelska
Antal sidor: 528
Utg.datum: 2003-06-01
Upplaga: n.e.
Utmärkelser: Aventis Prize for Science Books,2003,S
Förlag: Penguin Books Ltd
Originalspråk: English
Illustrationer: notes, index
Dimensioner: 197 x 130 x 27 mm
Vikt: 360 g
Antal komponenter: 1
ISBN: 9780140276053
Recensioner i media
'A magnificent and timely work' Fay Weldon, Daily Telegraph, Books of the Year; 'A passionate defence of the enduring power of human nature... both life-affirming and deeply satisfying' Tim Lott, Daily Telegraph, Books of the Year; Reading Pinker is one of the biggest favours I've ever done my brain Richard Dawkins
(Whitaker)
Övrig information
Steven Pinker is one of the world's leading authorities on language and the mind. His popular and highly praised books include The Language Instinct and How The Mind Works. He is Professor of Psychology and Director of the Center for Cognitive Neuroscience at MIT.
(Whitaker)
Innehållsförteckning
The blank slate, the noble savage and the ghost in the machine: the official theory; silly putty; the last wall to fall; culture vultures; the slate's last stand. Fear and loathing: political scientists; the Holy Trinity. Human nature with a human face: the fear of inequality; the fear of imperfectability; the fear of determinism; the fear of nihilism. Know thyself: in touch with reality; out of our depths; the many roots of our suffering; the sanctimonious animal. Hot buttons: politics; violence; gender; children; the arts. The voice of the species. Appendix: Donald E. Brown's list of human universals.
(Whitaker)