The chilling true crime 'non-fiction novel' that made Truman Capote's name, In Cold Blood is a seminal work of modern prose, a remarkable synthesis of journalistic skill and powerfully evocative narrative published in Penguin Modern Classics. Controversial and compelling, In Cold Blood reconstructs the murder in 1959 of a Kansas farmer, his wife and both their children. Truman Capote's comprehensive study of the killings and subsequent investigation explores the circumstances surrounding this terrible crime and the effect it had on those involved. At the centre of his study are the amoral young killers Perry Smith and Dick Hickcock, who, vividly drawn by Capote, are shown to be reprehensible yet entirely and frighteningly human. Truman Capote (1924-84) was born in New Orleans. He left school when he was fifteen and subsequently worked for The New Yorker, which provided his first - and last - regular job. He wrote both fiction and non-fiction - short stories, novels and novellas, travel writing, profiles, reportage, memoirs, plays and films; his other works include In Cold Blood (1965), Music for Chameleons (1980) and Answered Prayers (1986), all of which are published in Penguin Modern Classics. If you enjoyed In Cold Blood, you might like Jack Kerouac and William S. Burroughs' And the Hippos were Boiled in their Tanks, also available in Penguin Modern Classics. 'It is the American dream turning into the American nightmare ...By juxtaposing and dovetailing the lives and values of the Clutters and those of the killers, Capote produces a stark image of the deep doubleness of American life ...a remarkable book' Spectator
(Bookdata)
Passar bra ihop
| | | |
| --- | --- | --- |
| | + | |

De som köpt den här boken har ofta också köpt Neuromancer (häftad) av William Gibson

Pris för båda: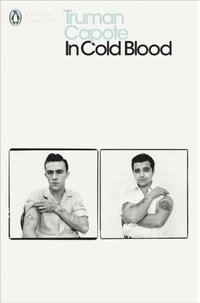 Fler böcker inom
Häftad (Paperback)
Språk: Engelska
Antal sidor: 352
Utg.datum: 2000-02-01
Upplaga: New e.
Förlag: Penguin Classics
Dimensioner: 196 x 129 x 16 mm
Vikt: 240 g
SAB: He
ISBN: 9780141182575
Övrig information
Truman Capote was born in New Orleans in 1925 and was raised in various parts of the south, his family spending winters in New Orleans and summers in Alabama and New Georgia. By the age of fourteen he had already started writing short stories, some of which were published. He left school when he was fifteen and subsequently worked for the New Yorker which provided his first - and last - regular job. Following his spell with the New Yorker, Capote spent two years on a Louisiana farm where he wrote Other Voices, Other Rooms (1948). He lived, at one time or another, in Greece, Italy, Africa and the West Indies, and travelled in Russia and the Orient. He is the author of many highly praised books, including A Tree of Night and Other Stories (1949), The Grass Harp (1951), Breakfast at Tiffany's (1958), In Cold Blood (1965), which immediately became the centre of a storm of controversy on its publication, Music for Chameleons (1980) and Answered Prayers (1986), all of which are published by Penguin. Truman Capote died in August 1984.
(Bookdata)