Collecting Alice's complete adventures, a source of delight to children and adults alike for generations, the Penguin Classics edition of Lewis Carroll's Alice's Adventures in Wonderland and Through the Looking-Glass is edited with an introduction and notes by Hugh Haughton. Conjured up one 'golden afternoon' in 1862 to entertain Alice Liddell, the daughter of the dean of Carroll's college, the dream worlds of nonsensical Wonderland and back-to-front Looking-Glass kingdom depict order turned upside-down. Following the white rabbit into his warren, Alice falls into a world where croquet is played with hedgehogs and flamingos, a baby turns into a pig, time runs amok at a the Mad Hatter's tea-party, a chaotic game of chess makes Alice a Queen and the Mock Turtle and Gryphon dance the Lobster Quadrille. But amongst the anarchic humour and sparkling wordplay, unforgettable characters, puzzles and riddles, are poignant moments of nostalgia for a lost childhood. Original and experimental, adapted into countless film and television versions as Alice in Wonderland, the Alice books give readers a window on both child and adult worlds. This is the most comprehensively annotated edition available and includes the manuscript version of Alice's Adventures Under Ground and Carroll's 1887 essay '"Alice" on the stage'. Lewis Carroll (1832-1898) was the pen-name of the Reverend Charles Lutwidge Dodgson. Educated at Rugby School and Christ Church, Oxford, Carroll was appointed lecturer in mathematics in 1855, where he spent the rest of his life. In 1861 he took deacon's orders, but shyness and a constitutional stammer prevented him from seeking the priesthood. If you enjoyed Alice's Adventures in Wonderland you might like Mikhail Bulgakov's The Master and Margarita, also available in Penguin Classics. 'A work of glorious intelligence and literary devices ...nonsense becomes a form of higher sense' Malcolm Bradbury
(Bookdata)
Passar bra ihop
| | | |
| --- | --- | --- |
| | + | |

De som köpt den här boken har ofta också köpt Coraline (häftad) av Neil Gaiman

Pris för båda:
Kundrecensioner
Det finns 2 recensioner av . Har du också läst boken? Sätt betyg och recensera.
Då jag alltid har älskat Alice i underlandet, var jag tvungen att köpa denna bok.
Jag blev förvånad över hur mycket den skiljer sig från filmerna. Filmerna har i princip tagit delar från båda böckerna och blandat ihop dessa. I boken får man läsa om även det som inte finns med i filmerna och man får en mer detaljerad bild om vad som händer.

Jag anser att boken var väldigt lättläst, det gick snabbt att läsa klart den. Det finns dock en del svåra ord här och där, då Alice som karaktär har ett väldigt vuxet språk, men annars så var det inga svårigheter alls att läsa.
Ned, 28 augusti 2012
Alla känner till Alice i Underlandet. Men hur många är det som inte blandar ihop hennes äventyr bakom spegeln med första boken?

Här får man, på originalspråket med originalteckningar, båda böckerna om Alice. Det som gör den här boken ett måste är alla noter. Där förklaras allt som man kan fundera över, allt ifrån symboliken till hur karaktärerna hänger ihop med verkligheten. Språket är inte det lättaste, men det är värt att läsa boken en gång utan att bry sig om noter och sedan en gång till för att verkligen sätta sig in i boken ordentligt.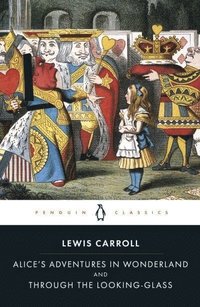 Fler böcker inom
Häftad (Paperback)
Språk: Engelska
Läsålder: 9-12 år
Antal sidor: 448
Utg.datum: 2003-03-01
Upplaga: Rev e.
Utmärkelser: Shortlisted for BBC Big Read Top 100 2003.
Förlag: Penguin Classics
Medarbetare: Haughton, Hugh (red.)/Tenniel, Sir John (ill.)
Illustratör/Fotograf: Sir John Tenniel
Illustrationer: illustrations
Volymtitel: AND Through the Looking Glass
Dimensioner: 198 x 130 x 26 mm
Vikt: 330 g
Antal komponenter: 1
SAB: He
ISBN: 9780141439761
Fler böcker av författarna
Recensioner i media
"A work of glorious intelligence and literary devices...Nonsense becomes a form of higher sense"<b> -Malcolm Bradbury</b> "<i>Alice in Wonderland</i> is one of the top 25 books of all time. I always loved the book and I always loved the various characters, the psychedelic nature of it and kind-of odd allegorical stories inside stories. I always thought it was beautiful."<b> -Jonny Depp"Wonderland and the world through the Looking Glass were, I always knew, different from other imagined worlds. Nothing could be changed, although things in the story were always changing...Carroll moves his readers as he moves chess pieces and playing cards."<b> -A. S. Byatt</b> "It would not have occurred to me even to suspect that the "children's tale" was in brilliant ways coded to be read by adults and was in fact an English classic, a universally acclaimed intellectual tour de force and what might be described as a psychological/anthropological dissection of Victorian England. It seems not to have occurred to me that the child-Alice of drawing rooms, servants, tea and crumpets and chess, was of a distinctly different background than my own. I must have been the ideal reader: credulous, unjudging, eager, thrilled. I knew only that I believed in Alice, absolutely."<b> -Joyce Carol Oates</b> "The <i>Alices</i> are the greatest nonsense ever written, and far greater, in my view, than most sense."<b> -Philip Pullman</b>
(Bookdata)
Övrig information
Lewis Carroll was the pen-name of the Reverend Charles Lutwidge Dodgson. Born in 1832, he was educated at Rugby School and Christ Church, Oxford, where he was appointed lecturer in mathematics in 1855, and where he spent the rest of his life. In 1861 he took deacon's orders, but shyness and a constitutional stammer prevented him from seeking the priesthood. He never married, but was very fond of children and spent much time with them. His most famous works, Alice's Adventures in Wonderland (1865) and Through the Looking-Glass (1872), were originally written for Alice Liddell, the daughter of the dean of his college. Charles Dodgson died of bronchitis in 1898.
(Bookdata)