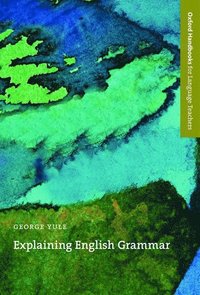 Fler böcker inom
Format

Häftad (Paperback)

Språk

Engelska

Antal sidor

352

Utgivningsdatum

1998-11-01

Utmärkelser

Shortlisted for the Ben Warren Prize

Förlag

Illustratör/Fotograf

Illustrationer

numerous halftones and line drawings

Dimensioner

246 x 165 x 19 mm

Vikt

600 g

Antal komponenter

1

ISBN

9780194371728
Explaining English Grammar
A guide to explaining grammar for teachers of English as a second or foreign language.
Skickas inom 5-8 vardagar.
Fri frakt inom Sverige för privatpersoner.
For teachers, one of the most challenging student reactions to being taught grammar is this: 'I understand how to use this structure, but why do I have to use it?'
In this book, George Yule focuses on the grammar topics that give rise to these why-questions. His explanations link form, meaning, and real-life use, and are supported throughout by exercises and discussion points.
Passar bra ihop
+
Recensioner i media
Judges of the Ben Warren Prize 1999 'A joy to read.'


Bloggat om Explaining English Grammar
Innehållsförteckning
Acknowledgments; Preface; 1. Introduction; Overview; Basic Forms; - On terminology; - On being ungrammatical; - On good English; Basic meanings; - 'I am more interesting in English Grammar'; - Why can I say 'I shot the sheriff', but not *'I smiled the sheriff'?; - Linguistic distance; Meanings in context; - Discussion topics and projects; - Teaching ideas; - Further reading; 2. Articles; Overview; Basic forms; - An article machine; Basic meanings; - Countability; - Singular or plural?; - Individuation; - Conceptual structure: classifying and identifying; Meanings in context; - Already given: anaphoric and cataphoric (the); - Clearly given (zero article); - A note on a new article; - Discussion topics and projects; - Teaching ideas; - Further reading; 3. Tense and aspect; Overview; Basic forms; - The basic structure; Basic meanings; - Tense; - Aspect; - Lexical aspect; - Grammatical aspect; Meanings in context; - In a magazine article; - In academic writing; - In narratives; - In a news report; - In spoken discourse; - Discussion topics and projects; - Teaching ideas; - Further reading; 4. Modals; Overview; Basic forms; - The simple modals; Basic meanings; - Epistemic modality; - Root modality; - Necessary and possible; Meanings in context; - The potential of can; - The possibility of may; - The necessity of must; - The likelihood of will; - The requirements of should; - Negation and modals; - Discussion topics and projects; - Teaching ideas; - Further reading; 5. Conditionals; Overview; Basic forms; - Factual conditionals; - Predictive conditionals; - Hypothetical conditionals; - Counterfactual conditionals; Basic meanings; - What happens if ... ?; - What will happen if ... ?; - What would happen if ... ?; - What would have happened if ... ?; Meanings in context; - Restating; - Contrasting; - Listing alternatives; - Giving examples; - End-weight; - Uncertainty and politeness; - Exceptional and concessive conditionals; - Discussion topics and projects; - Teaching ideas; - Further reading; 6. Prepositions and particles; Overview; Basic forms; Prepositions; Basic meanings: prepositions; - Location in space; - Location in time; - Location in metaphor; Particles; Basic meanings: particles; - Up and down; - Off, on, out, and away; Meanings in context; - End-weight; - Discussion topics and projects; - Teaching ideas; - Further reading; 7. Indirect objects; Overview; Basic forms; - Types of verbs; - Basic structures: origins and pronunciation; Basic meanings; - Humans, transfer, and having; - Transfer and not having; - Creating, getting, and benefiting; Meanings in context; - End-weight; - Linguistic distance; - Discussion topics and projects; - Teaching ideas; - Further reading; 8. Infinitives and gerunds; Overview; Basic forms; Basic meanings; - Group 1: verbs with only finite (that ...) complements; - Group 2: verbs with only to-V non-finite complements; - Group 3: verbs with only V-ing non-finite complements; - Group 4: verbs with both to-V and V-ing complements; Meanings in context; - Noun-like events; - Verb-like actions; - Deny and refuse; - Types of verbs; - Linguistic distance; - Discussion topics and projects; - Teaching ideas; - Further reading; 9. Relative clauses; Overview; Basic forms; - Subject relatives; - Object relatives; - After-preposition relatives; - Possessive relatives; - Basic structures; Basic meanings; - Who, which, that; - Where, when, why; Meanings in context; - Introducing new information; - Connecting with given information; - End-weight; - Discussion topics and projects; - Teaching ideas; - Further reading; 10. Direct and indirect speech; Overview; Basic forms; Basic meanings; - Direct speech as drama; - Indirect speech as narrative; - Summarized reports; - Reporting verbs; - 'The teachers were saying ...'; Meanings in context; - Free indirect discourse; - Constructed dialogue; - Discussion topics and projects; - Teaching ideas; - Further reading ; Glossary; Bibliography; Answers to exercises; Inde