From the ideas of Clausewitz to contemporary doctrines of containment and cold war, this is a definitive history of modern military thought. A one-volume collection of Azar Gat's classic trilogy, it explores conceptions of war, strategy, and military theory and relates them to their cultural and historical contexts.
(Oxford)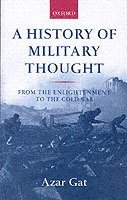 Fler böcker inom
Häftad (paperback)
Språk: Engelska
Antal sidor: 904
Utg.datum: 2001-11-01
Förlag: OUP Oxford
Illustrationer: bibliog., index
Dimensioner: 215 x 138 x 50 mm
Vikt: 1160 g
Antal komponenter: 1
ISBN:

9780199247622
Fler böcker av Azar Gat
Azar Gat
Azar Gat
Azar Gat
Azar Gat
Recensioner i media
"Probably the most authoritative single volume study of military thought that is currently available, and certainly one of the most accessible. Gat successfully relates a multiplicity of military thinkers to the intellectual environment in which they worked."-- The Historian<br>
(Oxford)
Bloggat om A History of Military Thought
Innehållsförteckning
Part One: The Military School of the Enlightenment; 1: Montecuccoli: The Impact of Proto-Science on Military Theory; 2: The Military Thinkers of the French Enlightenment: The Quest for a General Theory of War; 3: The Military Thinkers of the German 'Aufklarung'; 4: Through the Napoleonic Age; Part Two: The German Movement, Clausewitz, and the Origins of the German Military School; 5: The Reaction Against the Enlightenment: New Perspectives on Military Theory; 6: Clausewitz: Demolishing and Rebuilding the Theoretical Ideal; 7: Clausewitz: The Nature of War; 8: Conclusion; 9: Clausewitz's Final Notes Revisited; Part Three: The Development of Military Thought; 10: Positivism, Romanticism, and Military Theory 1815-1870; 11: The German Military School: Its World-View and Conception of War 1815-1914; 12: The Cult of the Offensive: The Sources of French Military Doctrine 1871-1914; 13: From Sail to Steam: Naval Theory and the Military Parallel 1882-1914; 14: Marxism, Clausewitz, and Military Theory 1848 to the Nuclear Age; Part Four: Fascist Modernism and Visionaries of Machine Warfare 15: Introduction: The 'Janus Face' of Fascism; 16: J. F. C. Fuller: Positivism, Evolution, Fascism, and Future Warfare; 17: Futurism, Proto-Fascist Italian Culture, and the Sources of Douhetism; 18: German Right-Wing Radicalism, Strategic Adventurism, and Mechanized Warfare; 19: Comparisons and Contrasts (I): American Populism, Progressivism, and Mid-West Technological Modernism; 20: Comparisons and Contrasts (II): Marxism, Modernism, and the Doctrine of 'Deep Battle'; Part Five: Lideel Hart, Modern, and Post-Modern Strategy21: Introduction; 22: Background: The First World War in Western Consciousness; 23: Theory: The Lmited War, Moderate Peace, and the Strategy of Indirect Approach; 24: Policy: Defence of the West (I): Containment in the 1930s; 25: Policy: Defence of the West II: Hot War-Cold War; 26: Conclusion: 'The Western Way in Warfare', Past and Future.
(Oxford)