A History of World Societies introduces students to the global past through social history, and provides insights into the stories and voices of the people who lived it. Thoroughly revised, the ninth edition now contains more global comparisons, documents, features and activities to aid and reinforcestudents' learning.
(Bookdata)
Kundrecensioner
Det finns 3 recensioner av A History of World Societies. Sätt betyg och recensera.
Boken är ett värdefullt referensverktyg, värd att ha i bokhyllan för alla historieintresserade, såväl studenter som lärare. Ett köp som rekommenderas.
En mycket bra modern grundläggande lärobok i historia - fungerar med stor sannolikhet även inom ämnet Ekonomisk Historia- Kan läsas med behållning även för den som har tidigare studier i historia
En STOR bok både innehållsmässigt och fysiskt. Men fantastiskt pedagogiskt upplagd och med tydliga avdelningar. Tydliga återkopplingar till tidigare fakta som man har hunnit glömma med sidoangivelser.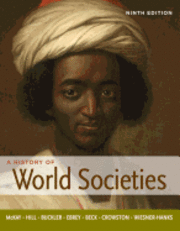 Fler böcker inom
Inbunden (hardback)
Språk: Engelska
Antal sidor: 1192
Utg.datum: 2012-03-22
Upplaga: 9 Rev ed
Förlag: Palgrave Macmillan
Medarbetare: Crowston, Clare Haru (förf)/Wiesner-Hanks, Merry E. (förf)
Illustratör/Fotograf: maps Illustrations
Illustrationer: Illustrations, maps
Dimensioner: 284 x 228 x 42 mm
Vikt: 2464 g
ISBN: 9780230394360
Recensioner i media
'A History of World Societies is comprehensive in scope and analysis, offering students well-chosen illustrations and maps and a highly readable narrative that prompts in-class discussion.' - K. David Goss, Gordon College, USA 'A History of World Societies is an elegantly written narrative that captures the voices of the human past. The highly respected teacher-scholars who authored the volumes adopt a unique world regional approach with special emphasis on social history and strike the proper balance between breadth and depth. The artful presentation and effective integration of written text and visual materials helps instructors promote history and the historian's craft. The textbook's gorgeous professional layout and diverse pedagogical activities keep students interested and are hallmarks of today's student-centered learning models.' - Matthew D. Esposito, Drake University, USA 'Its strengths are its engaging and often eloquent writing, the best maps of any textbook, useful special features, coverage in the text of individuals both famous and not famous, and balanced coverage.' - David S. Bovee, Fort Hays State University, USA 'The attention paid to gender issues, cross-cultural comparisons and connections, recent scholarship, and the use of art, maps, and boxed features makes A History of World Societies a valuable text. The regional approach is focused and less confusing to both students and instructors.' - Funso Afolayan, University of New Hampshire, USA 'A History of World Societies is a well researched, balanced account of the development of the major world civilizations that provides students with an excellent foundation for their understanding of these civilizations and their achievements.' - Jason M. Stratton, Bakersfield College, USA
(Bookdata)
Bloggat om A History of World Societies
Övrig information
JOHN P. MCKAY Professor Emeritus at the University of Illinois, USA. He has written or edited numerous works, including the Herbert Baxter Adams Prize-winning book Pioneers for Profit: Foreign Entrepreneurship and Russian Industrialization, 1885-1913 and Tramways and Trolleys: The Rise of Urban Mass Transport in Europe. BENNETT D. HILL late of the University of Illinois, USA, published English Cistercian Monasteries and Their Patrons in the Twelfth Century, Church and State in the Middle Ages, and numerous articles and reviews, and was one of the contributing editors to The Encyclopedia of World History. A Benedictine monk of St. Anselm's Abbey in Washington, D.C., he was also a Visiting Professor at Georgetown University, USA. JOHN BUCKLER taught History at the University of Illinois, USA. His published books include Theban Hegemony, 371-362 B.C., Philip II and the Sacred War, and Aegean Greece in the Fourth Century B.C.. With Hans Beck, he most recently published Central Greece and the Politics of Power in the Fourth Century. PATRICA B. EBREY Professor of History at the University of Washington in Seattle, USA, specializes in China. She has published numerous journal articles and The Cambridge Illustrated History of China, as well as numerous monographs. In 2010 she won the Shimada Prize for outstanding work of East Asian Art History for Accumulating Culture: The Collections of Emperor Huizong. ROGER B. BECK Distinguished Professor of African and Twentieth-Century World History at Eastern Illinois University, USA. His publications include The History of South Africa, a translation of P. J. van der Merwe's The Migrant Farmer in the History of the Cape Colony, 1657-1842, and more than seventy-five articles, book chapters, and reviews. He is a former treasurer and Executive Council member of the World History Association. CLARE HARU CROWSTON teaches at the University of Illinois, USA, where she is currently Associate Professor of History. She is the author of Fabricating Women: The Seamstresses of Old Regime France, 1675-1791, which won the Berkshire and Hagley Prizes. She edited two special issues of the Journal of Women's History, has published numerous journal articles and reviews, and is a past president of the Society for French Historical Studies. MERRY E. WIESNER-HANKS taught first at Augustana College in Illinois, USA, and since 1985 at the University of Wisconsin-Milwaukee, USA, where she is currently UWM Distinguished Professor in the department of History. She is the co-editor of the Sixteenth Century Journal and the author or editor of more than twenty books, most recently The Marvelous Hairy Girls: The Gonzales Sisters and Their Worlds and Gender in History. She is the former Chief Reader for Advanced Placement World History.
(Bookdata)
Innehållsförteckning
The Earliest Human Societies, to 2500 B.C.E. The Rise of the State in Southwest Asia and the Nile Valley, ca. 3200-500 B.C.E. The Foundation of Indian Society, to 300 c.e. China's Classical Age, to 221 B.C.E. The Greek Experience, ca. 3500-150 B.C.E. The World of Rome, ca. 750 B.C.E.-400 C.E. East Asia and the Spread of Buddhism, 221 B.C.E-800 C.E. Continuity and Change in Europe and Western Asia, ca. 350-850 The Islamic World, ca. 600-1400 African Societies and Kingdoms, ca. 1000 B.C.E.-1500 C.E. The Americas, 3000 B.C.E.-1500 C.E. Cultural Exchange in Central and Southern Asia, to 1400 States and Cultures in East Asia, ca. 800-1400 Europe in the Middle Ages, 800-1450 Europe in the Renaissance and Reformation, 1350-1600 The Acceleration of Global Contact, 1450-1600 European Power and Expansion, ca. 1500-1750 New Worldviews and Ways of Life, 1540-1790 Africa and the World, ca. 1400-1800 The Islamic World Powers, ca. 1300-1800 Continuity and Change in East Asia, ca. 1400-1800 Revolutions in the Atlantic World, 1775-1815 The Revolution in Energy and Industry, ca. 1760-1850 Ideologies of Change in Europe, 1815-1914 Africa, Southwest Asia, and the New Imperialism, 1800-1914 Asia in the Era of Imperialism, 1800-1914 Nation Building in the Americas and Australia, ca. 1770-1914 World War and Revolution, 1914-1929 Nationalism in Asia, 1914-1939 The Great Depression and World War II, 1929-1945 Global Recovery and Division Between Superpowers, 1945 to the Present Independence, Progress, and Conflict in Asia and the Middle East, 1945 to the Present The Global South: Latin America and Africa, 1945 to the Present A New Era in World History Index Timeline
(Bookdata)