Provides a resource for students and those interested in understanding the complex religious mosaic. This work allows comparison and contrast of numerous religions. It provides information on such topics as the origins of different religions, the nature of deity or ultimate spiritual reality, the source of spiritual truth, and more.
(Ingram)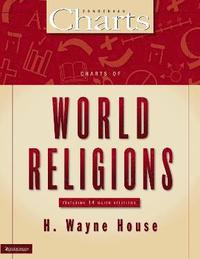 Fler böcker inom
Häftad (Paperback)
Språk: Engelska
Antal sidor: 336
Utg.datum: 2006-02-01
Förlag: Zondervan
Medarbetare: Power, Matt
Illustratör/Fotograf: B & W charts
Illustrationer: B & W charts
Dimensioner: 280 x 215 x 28 mm
Vikt: 920 g
Antal komponenter: 1
Komponenter: Softcover, Layflat
ISBN: 9780310204954
Övrig information
H. Wayne House (ThD, JD) is distinguished professor of biblical studies and apologetics at Faith Seminary, Tacoma, Washington, and a professor of law at Tinity Law School, Trinity International University. He is the author of numerous books, including Charts of Cults, Sects, and Religious Movements, and Charts of Christian Theology and Doctrine. Dr. House is past president of the Evangelical Theological Society. He and his wife Leta reside in Silverton, Oregon.
(Whitaker)
Innehållsförteckning
Preface 11 Acknowledgments 13 Part 1. Prolegomena to World Religions 1. What Is Religion? 2. Four Functional Modes of Religion 3. Three Basic Views on Faith and Reason 4. Terms Relating to Religion 5. Six Dimensions of Religion 6. Do All Religions Lead to God? 7. Comparison of Foundational Religious Worldviews Part 2. Comparison of World Religions 8. Major World Religions in Order of Founding 9. Comparison of Beliefs Among Religions 10. Holy Books of World Religions Part 3. Ancient Mediterranean Religions 11. Religions of the Ancient Mediterranean World 12. Ancient Near Eastern Deities (Excluding Egypt) 13. Egyptian Paganism 14. Gods of the Egyptian Pantheon 15. Greek Paganism 16. Roman Paganism 17. Graeco-Roman Deities Part 4. Western Religions 18. Historical Relationships of Western Religions 19. Comparison of Western Religions Judaism 20. Timeline of Judaism 21. Judaism 22. Comparison of Beliefs within Judaism 23. Orthodox Judaism 24. Conservative Judaism 25. Reform Judaism 26. Hasidic Judaism 27. Jewish Scriptures According to Rabbinic Tradition 28. Jewish Holy Days 29. The Jewish Calendar 30. The Jewish Covenants Christianity 31. Timeline of Christianity 32. Christianity 33. Comparison of Beliefs within Christianity 34. Roman Catholicism 35. Eastern Orthodoxy 36. Liberal Protestantism 37. Evangelical Protestantism 38. Fundamentalist Protestantism 39. Pentecostal-Charismatic Protestantism 40. Christian Creeds and Councils 41. Christian Holy Days 42. Christian Scriptures Islam 43. Timeline of Islam 44. Islam 45. Comparison of Beliefs within Islam 46. Sunni Islam 47. Shi'ite Islam 48. Sufi Islam 49. Nation of Islam 50. Islamic Calendar and Holy Days Baha'i 51. Timeline of Baha'i 52. Baha'i Secular Humanism 53. Timeline of Secular Humanism 54. Secular Humanism Part 5. Eastern Religions 55. Historical Relationships of Eastern Religions 56. Comparison of Eastern Religions Hinduism 57. Timeline of Hinduism 58. Hinduism 59. Comparison of Beliefs within Hinduism 60. Brahmanism 61. Advaita Vedanta 62. Bhakti 63. Self-Realization Fellowship, Appendix on Transcendental Meditation 64. Ananda Marga Yoga Society 65. Hare Krishna (ISKCON) Buddhism 66. Timeline of Buddhism 67. Buddhism 68. Comparison of Beliefs within Buddhism 69. Mahayana Buddhism, Appendix on Pure Land Buddhism 70. Theravada Buddhism 71. Vajrayana Buddhism 72. Zen Buddhism 73. Nichiren Shoshu Buddhism Taoism 74. Timeline of Taoism 75. Taoism, Appendix on Religious Taoism Jainism 76. Timeline of Jainism 77. Jainism Zoroastrianism 78. Timeline of Zoroastrianism 79. Zoroastrianism Shintoism 80. Timeline of Shinto 81. Shinto Confucianism 82. Timeline of Confucianism 83. Confucianism Sikhism 84. Timeline of Sikhism 85. Sikhism Part 6. Indigenous Religions 86. Historical Relationships of Indigenous Religions 87. Comparison of Indigenous Religions African 88. Timeline of African Traditional Religion 89. African Traditional Religion Caribbean 90. Caribbean Religions 91. Comparison of Caribbean Religions 92. Timeline of Rastafari 93. Rastafari 94. Timeline of Santeria and Palo Mayombe 95. Santeria, Appendix on Palo Mayombe 96. Timeline of Umbanda and Candomble 97. Umbanda, Appendix on Candomble 98. Timeline of Voudon (Voodoo) 99. Voudon (Voodoo) Native American 100. Timeline of Native American Religion 101. Native American Religion Glossary 316 Sources 322 Recommended Reading List 336
(Whitaker)