BRAND STRATEGY + DESIGN THINKING = NONSTOP INNOVATION
In this DVD video, brand guru Marty Neumeier presents concepts from his three bestselling whiteboard booksTHE BRAND GAP, ZAG, and THE DESIGNFUL COMPANYto give you the tools youll need to thrive in the new economy. Using memorable principles and simple exercises, hell lead you and your team on a lively journey from traditional business thinking to designful thinking. Youll come back to these ideas again and again as you transform your company into a powerhouse of nonstop innovation.
What youll learn:
- Why the old business rules no longer apply
- How to beat the twin foes of speed and clutter
- The modern definition of brand
- How brands create barriers to competition
- Why charismatic brands are more valuable
- The three questions that can focus any company
- How to find and harness your onliness
- Why innovation depends on design thinking
- How making improves knowing and doing
- How everyone in the company can be a designer
- The modern definition of design
- Why you need to spend time in the dragon gap
- The qualities that make for good design
- How to move design up the ladder of leverage
- How design can solve wicked problems
- Why shareholder value starts with vision
- How to activate the corporate drivetrain
- How to use stories to shape company success
- How a metateam can begin to connect silos
- Why every company needs a CBO
- The 16 levers that can jumpstart innovation
What youll get:
DVD with 45 minutes of content and exercises--enough activities for a one-day workshop!

Downloadable materials, including printable exercise sheets and supplementary content
iPod version of video

Marty Neumeier's INNOVATION WORKSHOP
is a recent recipient of a BronzeTelly Award.
This is a video DVD.
Run time: 47 minutes
Languages: English
Closed Captioned in English
(Pearson)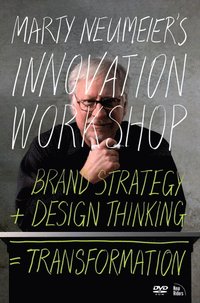 Fler böcker inom
DVD-ROM
Språk: Engelska
Utg.datum: 2009-07-02
Upplaga: 1
Förlag: New Riders
Dimensioner: 190 x 133 x 12 mm
Vikt: 90 g
Antal komponenter: 1
ISBN:

9780321636935
Fler böcker av Marty Neumeier
Marty Neumeier
Marty Neumeier
Marty Neumeier
Marty Neumeier
Bloggat om Marty Neumeier's INNOVATION WORKSHOP
Övrig information
Marty Neumeier is president of Neutron LLC, a San Francisco firm specializing in brand integration for clients such as Kodak, Sun Microsystems, and Adobe. During his 30-year career, Neumeier has worked as a graphic designer, writer, editor, and publisher. He's also a frequent speaker on the topics of branding, design, and creative collaboration.
(Pearson)
Innehållsförteckning
Marty Neumeier's INNOVATION WORKSHOP DVD covers:
Why the old business rules no longer apply
How to beat the twin foes of speed and clutter
The modern definition of brand
How brands create barriers to competition
Why charismatic brands are more valuable
How to find and harness a company's "onliness"
Why innovation depends on design thinking
How "making" improves "knowing" and "doing
How everyone in the company can be a designer
The modern definition of design
How to move design up the ladder of leverage
How to use stories to shape company success
The 16 levers that can jumpstart innovation
(Pearson)