Quickly learn the microbiology fundamentals you need to know
with
Medical Microbiology, 7th Edition
, by Dr. Patrick R. Murray, Dr. Ken S. Rosenthal, and Dr. Michael A. Pfaller. Newly reorganized to correspond with integrated curricula and changing study habits, this practical and manageable text is
clearly written and easy to use
, presenting clinically relevant information about microbes and their diseases in a
succinct and engaging manner
.
(Elsevier)
Kundrecensioner
Det finns 1 recension av Medical Microbiology. Sätt betyg och recensera.
I vissa fall svårtolkat vad texten syftar på vid detaljbeskrivning av ex. bakterier, om det texten förklarar handlar om sjukdom de orsakar, hela familjen generellt eller en specifik bakterie.

Bra beskrivningar av hur mikrober på det stora hela fungerar (ex. uppbyggnad, infektionsvägar etc.)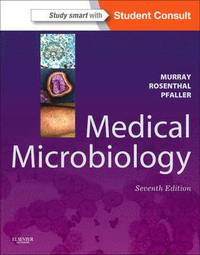 Fler böcker inom
Häftad (paperback)
Språk: Engelska
Antal sidor: 888
Utg.datum: 2012-11-26
Upplaga: 7
Medarbetare: Rosenthal, Ken S. / Pfaller, Michael A.
Illustratör/Fotograf: Approx 627 illustrations
Illustrationer: Approx. 627 illustrations (595 in full color)
Dimensioner: 279 x 222 x 38 mm
Vikt: 2231 g
Antal komponenter: 1
Komponenter: Contains Paperback and Online resource
ISBN:

9780323086929
Fler böcker av Patrick R Murray
Patrick R Murray, Yvonne R Shea
Patrick R Murray, Guido Funke m fl
S Peter Borriello, Patrick R Murray m fl
Patrick R Murray, Hugh R Brady m fl
Recensioner i media
<p>"As someone who has used this book in the past, I know it is excellent for teaching medical students. It also is reasonably priced for students who are dealing with the high cost of medical education. The most valuable features are the excellent pictures and figures that enhance the understanding of complex issues. Each chapter is followed by a few thought-provoking questions that can be used during teaching to encourage deeper understanding of the material. <p>Although written for medical students in the first years of training, the book also is very useful for students in advanced training such as residency or fellowships." - "Rebecca T. Horvat, PhD, D(ABMM)(University of Kansas Medical Center), from Doody's Reviews"
(Elsevier)
Bloggat om Medical Microbiology
Innehållsförteckning
Section 1: Introduction
1. Overview of Medical Microbiology
2. Commensal and Pathogenic Microbial Flora in Humans
3. Sterilization, Disinfection, and Antisepsis
Section 2: General Principles of Laboratory Diagnosis
4. Microscopy and Microbial Isolation
5. Molecular Diagnosis
6. Serologic Diagnosis
Section 3: Basic Concepts in the Immune Response
7. Elements of Host Protective Responses
8. Innate Host Responses
9. Humoral and Cellular Immune Responses
10. Immune Responses to Infectious Agents
11. Antimicrobial Vaccines
Section 4: Bacteriology
12. Bacterial Classification, Structure, and Replication
13. Bacterial Metabolism and Genetics
14. Mechanisms of Bacterial Pathogenesis
15. Role of Bacteria in Disease
16. Laboratory Diagnosis of Bacterial Diseases
17. Antibacterial Agents
18. Staphylococcus and Related Gram-Positive Cocci
19. Streptococcus
20. Enterococcus and Other Gram-Positive Cocci
21. Bacillus
22. Listeria and Erysipelothrix
23. Corynebacterium and Other Gram-Positive Rods
24. Nocardia and Related Bacteria
25. Mycobacterium
26. Neisseria and Related Bacteria
27. Enterobacteriaceae
28. Vibrio and Aeromonas
29. Campylobacter and Helicobacter
30. Pseudomonas and Related Bacteria
31. Haemophilus and Related Bacteria
32. Bordetella
33. Francisella and Brucella
34. Legionella
35. Miscellaneous Gram-Negative Rods
36. Clostridium
37. Anaerobic, Non-Spore-Forming, Gram-Positive Bacteria
38. Anaerobic Gram-Negative Bacteria
39. Treponema, Borrelia, and Leptospira
40. Mycoplasma and Ureaplasma
41. Rickettsia and Orientia
42. Ehrlichia, Anaplasma, and Coxiella
43. Chlamydia and Chlamydophila
Section 5: Virology
44. Viral Classification, Structure, and Replication
45. Mechanisms of Viral Pathogenesis
46. Role of Viruses in Disease
47. Laboratory Diagnosis of Viral Diseases
48. Antiviral Agents
49. Papillomaviruses and Polyomaviruses
50. Adenoviruses
51. Human Herpesviruses
52. Poxviruses
53. Parvoviruses
54. Picornaviruses
55. Coronaviruses and Noroviruses
56. Paramyxoviruses
57. Orthomyxoviruses
58. Rhabdoviruses, Filoviruses, and Bornaviruses
59. Reoviruses
60. Togaviruses and Flaviviruses
61. Bunyaviridae and Arenaviridae
62. Retroviruses
63. Hepatitis Viruses
64. Unconventional Slow Viruses: Prions
Section 6: Mycology
65. Fungal Classification, Structure, and Replication
66. Pathogenesis of Fungal Disease
67. Role of Fungi in Disease
68....
(Elsevier)