The concept of creative learning extends far beyond Arts-based learning or the development of individual creativity. It covers a range of processes and initiatives throughout the world that share common values, systems and practices aimed at making learning more creative. This applies at individual, classroom, or whole school level, always with the aim of fully realising young people's potential. Until now there has been no single text bringing together the significant literature that explores the dimensions of creative learning, despite the work of artists in schools and the development of a cadre of creative teaching and learning specialists. Containing a mixture of newly commissioned chapters, reprints and updated versions of previous publications, this book brings together major theorists and current research. Comprising of key readings in creative education, it will stand as a uniquely authoritative text that will appeal to those involved in initial and continuing teacher education, as well as research academics and policy specialists. Sections include: * a general introduction to the field of creative learning * arts learning traditions, with sub sections on discrete art forms such as drama and visual art * accounts of practice from artist-teacher partnerships * whole school change and reforms * curriculum change * assessment * evaluative case studies of impact and effect * global studies of policy change around creative learning.
(Bookdata)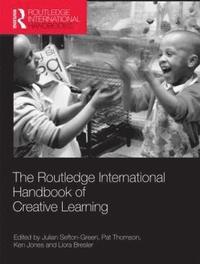 Fler böcker inom
Inbunden (Hardback)
Språk: Engelska
Antal sidor: 504
Utg.datum: 2010-05-10
Förlag: Routledge
Illustrationer: 3 black & white illustrations, 16 black & white tables, 10 black & white halftones
Dimensioner: 250 x 180 x 30 mm
Vikt: 1040 g
Antal komponenter: 1
ISBN: 9780415548892
Fler böcker av författarna
Övrig information
Dr. Julian Sefton-Green is an independent consultant and researcher working in Education and the Cultural and Creative Industries. He is a special Professor of Education at The University of Nottingham, UK, and an Adjunct Associate Research Professor at the University of South Australia. Dr Pat Thomson is Professor of Education at The University of Nottingham. She was commissioned by Creative Partnerships to produce a literature review on whole school change (available on the CP website) and is directing the largest CP national research project on how schools have taken up the offer made by CP. Dr. Liora Bresler is a Professor at the College of Education, and at the School of Art and Design, and a Fellow at the Academy of Entrepreneurial Leadership at the University of Illinois at Champaign. Dr Ken Jones is Professor of Education at Keele University. He has taught English in London comprehensive schools, and been a teacher educator in London.
(Bookdata)
Innehållsförteckning
1. The International Handbook of Creative Learning: Introduction 2. Section A. Theories and Histories: Creative Learning and its Contexts 3. Capitalism, Creativity and Learning: Some Chapters in a Relationship 4. The 'Transformative Power' of the Arts: History of an Idea 5. Mapping the Rhetorics of Creativity 6. Creativity of Formulaic Learning: Pedagogy of Imitation And Repetition 7. Creativity and the Arts in Chinese Societies 8. Psychological Research on Creativity 9. The Cult of Creativity: Opposition, Incorporation, Transformation 10. Democratic Creativity 11. Creativity, Creative Class, Smart Power, Social Reproduction and Symbolic Violence 12. Creativity, The Arts And The Renewal Of Culture 13. 'Creativity' and its Others: The Ongoing Project of Definition, Debate and Demonstration 14. Section B: Creativity, The Arts and Schools 15. Arts in Schools as a Change Model: Education for the Arts and Aesthetic Experience 16. Approaches to Creativity in Education in the United Kingdom 17. Constructing Assessment for Creative Learning 18. Approaches to Promoting Creativity in Chinese, Japanese, and US Preschools 19. Contemporary Aesthetic Theory and Models Of Creativity in Visual Arts Education in The United States 20. Drama as Creative Learning 21. Learning In and Through The Arts 22. Section C: Creative Curiculum and Pedagogy 23. Curriculum Integration and The Disciplines of Knowledge 24. Ways of Knowing and Teaching: How Teachers Create Valuable Learning Opportunities (Pedagogical Capital) By Making Knowledge the Means and not just the Ends in Classrooms 25. English for an Era of Instability: Aesthetics, Ethics, Creativity And Design 26. Room 13 and The Contemporary Practice of Artist-Learners 27. The Relationship between Creativity and Studio Thinking 28. The Gallery as a Site for Creative Learning 29. Creative Digital Cultures: Informal Learning beyond the School 30. Redesigning School Spaces: Creating Possibilities for Learning 31. Creative Pedagogies and the Contemporary School Classroom 32. 'Real Audience Pedagogy' - Creative Learning and Digital Space 33. Reconciliation Pedagogy, Identity and Community Funds of Knowledge: Borderwork In South African Classrooms 34. Miners, Diggers, Ferals and Show-Men: Creative School-Community Projects 35. Alternatives in Student Assessment: The Cultural Competency Record (Ccr) 36. Judgement, Authority and Legitimacy: Evaluating Creative Learning 37. Creative Learning 38. Section D Creative School And System Change 39. 21st Century Skills are on Mercury: Learning, Life and School Reform 40. Capacity Building: Introduction 41. Outsider | Insiders: Becoming a Creative Partner with Schools 42. The Grit in the Oyster: Creative Partners as Catalysts for School Reform in the UK and the US 43. The Cultural Rucksack in Norway. Does the National Model entail a Programme for Educational Change? 44. From Network Learning to Classroom Teaching 45. Public Policy Partnerships for Creative Learning 46. Professional Learning for Creative Teaching and Learning 47. Whole School Change: Introduction 48. Creativity in School Design 49. What the Arts can Teach School Reform 50. Creativity in Scottish School Curriculum and Pedagogy 51. The Challenges of Developing System Wide Indicators of Creativity Reform: The Case of Creative Partnerships, UK 52. Conclusion: The Importance of Pedagogically Focused Leadership
(Bookdata)