In this title, one of the wise men of US foreign policy explains America's vital role in achieving global stability and provides a long-term strategic vision. By 1991, following the disintegration first of the Soviet bloc and then of the Soviet Union itself, the United States was left standing tall as the only global super-power. Not only the 20th but even the 21st century seemed destined to be the American centuries. But that super-optimism did not last long, and soon the stock market bubble and the costly foreign unilateralism of the younger Bush presidency, as well as the financial catastrophe of 2008 jolted America - and much of the West - into a sudden recognition of its systemic vulnerability to unregulated greed. Moreover, the East was demonstrating a surprising capacity for economic growth and technological innovation, prompting new anxiety about the future, and America's status as the leading world power. This book is a response to that challenge. It argues that without an America that is economically vital, socially appealing, responsibly powerful, and capable of sustaining an intelligent foreign engagement, the geopolitical prospects for the West could become increasingly grave. The ongoing changes in the distribution of global power and mounting global strife make it all the more essential that America does not retreat into an ignorant garrison-state mentality or wallow in cultural hedonism but rather becomes more strategically deliberate and historically enlightened in its global engagement with the new East. This book seeks to answer four major questions: What are the implications of the changing distribution of global power from West to East, and how is it being affected by the new reality of a politically awakened humanity? Why is America's global appeal waning, how ominous are the symptoms of America's domestic and international decline, and how did America waste the unique global opportunity offered by the peaceful end of the Cold War? What would be the likely geopolitical consequences if America did decline by 2025, and could China then assume America's central role in world affairs? What ought to be a resurgent America's major long-term geopolitical goals in order to shape a more vital and larger West and to engage cooperatively the emerging and dynamic new East? America, Brzezinski argues, must define and pursue a comprehensive and long-term a geopolitical vision, a vision that is responsive to the challenges of the changing historical context. This book seeks to provide the strategic blueprint for that vision.
(Bookdata)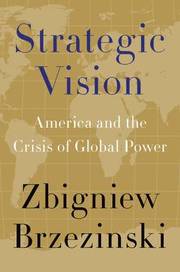 Fler böcker inom
Inbunden (hardback)
Språk: Engelska
Antal sidor: 244
Utg.datum: 2012-02-16
Förlag: Basic Books
Illustrationer: Illustrations, maps
Dimensioner: 241 x 165 x 19 mm
Vikt: 408 g
Antal komponenter: 1
ISBN:

9780465029549
Fler böcker av Zbigniew Brzezinski
Zbigniew Brzezinski
Zbigniew Brzezinski
Zbigniew Brzezinski, Brent Scowcroft m fl
Zbigniew Brzezinski
Recensioner i media
JimmyCarter, 39th President of the United States of America"Brzezinski's latest book reflects his talent for unraveling complex historical issues and his strength in advocating long-term solutions for them." Senator John Kerry""Strategic Vision" is a clear, vivid look at America's place in the world today. Rather than surrender to defeatist speculation about the perceived end to the American Century, Zbigniew Brzezinski's reality-based insights explore how the United States can move forward over the next two decades. This is a must-read for a straightforward assessment of the challenges of today and tomorrow and the unique strengths America brings to the global stage." Senator Richard G. Lugar, State of Indiana; Ranking Member of and Former Chairman of the Senate Foreign Relations Committee"Informed by a lifetime of comprehensive scholarship and many years of responsibility on the front lines of our diplomacy and national security, Zbigniew Brzezinski provides in "Strategic Vision" a comprehensive blueprint for successful planning and action. His challenge to the U.S. to be a sophisticated leader of a vital democratic-enlarged zone in the West and a promoter of stability in the East is timely and persuasive." Leslie H. Gelb, President Emeritus of the Council on Foreign Relations and former New York Times columnist"One of America's precious few master strategists paints a convincing picture of an increasingly messy world ahead and presents a U.S. policy to manage it -- going to strength by building an expanded Europe and keeping a burgeoning Asia stable. Succinct, sharp, and sensible." Robert M. Gates, U.S. Secretary of Defense, 2006-2011 ""Strategic Vision" is a much-needed wake-up call regarding the international repercussions if America fails to address its multiple domestic crises successfully. A realist but not a pessimist, Brzezinski offers a thoughtful--and, as usual, provocative and timely--must-read for all who are concerned about the future of our co
(Bookdata)
Bloggat om Strategic Vision
Övrig information
Zbigniew Brzezinski, formerly President Jimmy Carter's National Security Advisor, is a counselor and trustee at the Center for Strategic and International Studies and a professor of American foreign policy at the School of Advanced International Studies at Johns Hopkins University. His many books include Second Chance: Three Presidents and the Crisis of American Superpower, The Choice: Global Domination or Global Leadership; and The Grand Chessboard: American Primacy and Its Geostrategic Imperatives. He lives in Washington, DC.
(Bookdata)