By 1991, following the disintegration first of the Soviet bloc and then of the Soviet Union itself, the United States was left standing tall as the only global super-power. The 21st century seemed destined to be yet another American century. But that optimism did not last long as the stock market bubble and the costly foreign unilateralism of the younger Bush presidency, as well as the financial catastrophe of 2008 jolted America -- and much of the West -- into a sudden recognition of its systemic vulnerability to unregulated greed. In Strategic Vision, esteemed author and former National Security Advisor, Zbigniew Brzezinski argues that to quell mounting anxieties about the growing capacity for Eastern economic and technological innovation, America must define and pursue a long-term geopolitical vision. Only in this way will it become more strategically deliberate and historically enlightened in its global engagement with the new East. A tactical blueprint, Strategic Vision argues that without an America that is economically vital, socially appealing, responsibly powerful, and capable of sustaining an intelligent foreign engagement, the geopolitical prospects for the West could become increasingly grave.
(Bookdata)
Passar bra ihop
| | | |
| --- | --- | --- |
| | + | |

De som köpt den här boken har ofta också köpt Second Chance (häftad) av Zbigniew Brzezinski

Pris för båda: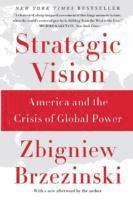 Fler böcker inom
Häftad (Paperback)
Språk: Engelska
Antal sidor: 240
Utg.datum: 2013-10-10
Upplaga: First Trade Paper Edition
Förlag: Basic Books
Illustrationer: illustrations
Dimensioner: 209 x 139 x 12 mm
Vikt: 249 g
Antal komponenter: 1
ISBN: 9780465061815
Recensioner i media
Jimmy Carter, 39th President of the United States of America "Brzezinski's latest book reflects his talent for unraveling complex historical issues and his strength in advocating long-term solutions for them." Senator John Kerry "Strategic Vision is a clear, vivid look at America's place in the world today. Rather than surrender to defeatist speculation about the perceived end to the American Century, Zbigniew Brzezinski's reality-based insights explore how the United States can move forward over the next two decades. This is a must-read for a straightforward assessment of the challenges of today and tomorrow and the unique strengths America brings to the global stage." Senator Richard G. Lugar, State of Indiana; Ranking Member of and Former Chairman of the Senate Foreign Relations Committee "Informed by a lifetime of comprehensive scholarship and many years of responsibility on the front lines of our diplomacy and national security, Zbigniew Brzezinski provides in Strategic Vision a comprehensive blueprint for successful planning and action. His challenge to the U.S. to be a sophisticated leader of a vital democratic-enlarged zone in the West and a promoter of stability in the East is timely and persuasive." e-International Relations, International Politics website "Brzezinski presents a masterfully written...vision for the future of geopolitics and America's role in the world." Midwest Book Review "Any political studies holding should have this!" Today's Zaman (Turkey) "[Brzezinski] puts forth a strong vision in his 200-page book. Politicians like German Chancellor Angela Merkel and French President Nicolas Sarkozy should read it." Kirkus Reviews "[Brzezinski] offers an astute, elegant appraisal of the waning of America's 'global appeal' and the severe consequences of the shifting of power from West to East... Brzezinski provides a powerful cautionary tale... An urgent call for 'historic renewal' by one of America's sharpest minds." Daily Beast "The central message of Strategic Vision is how much more ghastly it will be on all fronts if America cannot urgently mobilize a national will for renewal." Michigan War Studies Review "This short book, crammed with facts and acute analysis well presents Zbigniew Brzezinski's considered 'strategic vision' of the future world and the changed but still vital leadership role of the United States." Joseph S. Nye, Jr. Professor at Harvard and author of The Future of Power "Zbigniew Brzezinski combines theoretical acuity with unmatched practical experience to provide a provocative and compelling portrait of the future along with a convincing map to navigate it." Kirkus Reviews "[Brzezinski] offers an astute, elegant appraisal of the waning of America's 'global appeal' and the severe consequences of the shifting of power from West to East...Brzezinski provides a powerful cautionary tale... An urgent call for 'historic renewal' by one of America's sharpest minds." Michiko Kakutani, New York Times "Provocative ... a clear-eyed, sharp-tongued assessment of this hinge moment in time, when the world's center of gravity is shifting from the West to the East." David Ignatius, Washington Post "A bracing discussion of what a revival of U.S. power would actually require over the next few decades." Foreign Affairs "In this crisp and stimulating book, Brzezinski speculates on the dangers that could result from the decline of the United States and offers his prescriptions to restore American leadership in a changing world." The Diplomat (Asia) "Zbigniew Brzezinski ... has written another important book." Leslie H. Gelb, President Emeritus of the Council on Foreign Relations and former New York Times columnist "One of America's precious few master strategists paints a convincing picture of an increasingly messy world ahead and presents a U.S. policy to
(Bookdata)
Övrig information
Zbigniew Brzezinski, formerly President Jimmy Carter's National Security Advisor, is a counselor and trustee at the Center for Strategic and International Studies and a professor of American foreign policy at the School of Advanced International Studies at Johns Hopkins University. His many books include the New York Times bestseller Second Chance: Three Presidents and the Crisis of American Superpower; The Choice: Global Domination or Global Leadership; and The Grand Chessboard: American Primacy and Its Geostrategic Imperative.
(Bookdata)