Newly revised, Ethnographic Fieldwork: An Anthropological ReaderSecond Edition provides readers with a picture of the breadth,variation, and complexity of fieldwork. The updated selectionsoffer insight into the ethnographer s experience of gatheringand analyzing data, and a richer understanding of the conflicts,hazards and ethical challenges of pursuing fieldwork around theglobe. * Offers an international collection of classic and contemporaryreadings to provide students with a broad understanding ofhistorical, methodological, ethical, reflexive and stylistic issuesin fieldwork * Features 16 new articles and revised part introductions, withadditional insights into the experience of conducting ethnographicfieldwork * Explores the importance of fieldwork practice in achieving thecore theoretical and methodological goals of anthropology * Highlights the personal and professional challenges of fieldresearchers, from issues of professional identity, fieldworkrelations, activism, and the conflicts, hazards and ethicalconcerns of community work.
(Bookdata)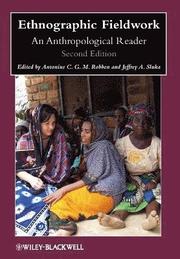 Fler böcker inom
Häftad (paperback)
Språk: Engelska
Antal sidor: 672
Utg.datum: 2011-12-30
Upplaga: 2 Rev ed
Förlag: John Wiley & Sons Ltd
Illustrationer: Illustrations
Dimensioner: 247 x 177 x 31 mm
Vikt: 997 g
Antal komponenter: 1
ISBN:

9780470657157
Fler böcker av författarna
Carolyn Nordstrom, Antonius C G M Robben
Antonius C G M Robben
Antonius C G M Robben
Antonius C G M Robben
Recensioner i media
<p> This final section serves to bring full circle many ofthe central issues about the relationship between ethnographers andtheir research subjects and, thus, is a fitting conclusion to anextraordinary collection. (Anthropos, 2 October2013)
(Bookdata)
Bloggat om Ethnographic Fieldwork
Övrig information
Antonius C. G. M. Robben is Professor of Anthropology atUtrecht University, the Netherlands, and past President of theNetherlands Society of Anthropology. He is the author of Sons ofthe Sea Goddess: Economic Practice and Discursive Conflict inBrazil (1989) and Political Violence and Trauma inArgentina (2005), and editor of Fieldwork Under Fire:Contemporary Studies of Violence and Survival (with CarolynNordstrom, 1995) and Iraq at a Distance: What AnthropologistsCan Teach Us About the War (2010). <p>Jeffrey A. Sluka is Associate Professor of SocialAnthropology at Massey University, New Zealand. He is past Chair ofthe Association of Social Anthropologists of Aotearoa/New Zealand,a Fellow of the American Anthropological Association, author ofHearts and Minds, Water and Fish: Popular Support for the IRAand INLA in a Northern Irish Ghetto (1989), and editor ofDeath Squad: The Anthropology of State Terror (2000).
(Bookdata)
Innehållsförteckning
About the Editors x <p>Editors Acknowledgments xi <p>Acknowledgments to Sources xii <p>Fieldwork in Cultural Anthropology: An Introduction 1 Jeffrey S. Sluka and Antonius C. G. M. Robben <p>Part I Beginnings 49 <p>Introduction 51 Antonius C. G. M. Robben <p>1 The Observation of Savage Peoples 56 Joseph-Marie Degerando <p>2 The Methods of Ethnology 63 Franz Boas <p>3 Method and Scope of Anthropological Fieldwork 69 Bronislaw Malinowski <p>Part II Fieldwork Identity 83 <p>Introduction 85 Antonius C. G. M. Robben <p>4 A Woman Going Native 92 Hortense Powdermaker <p>5 Fixing and Negotiating Identities in the Field: The Case ofLebanese Shiites 103 Roschanack Shaery-Eisenlohr <p>6 Being Gay and Doing Fieldwork 114 Walter L. Williams <p>7 Automythologies and the Reconstruction of Ageing 124 Paul Spencer <p>Part III Fieldwork Relations and Rapport 135 <p>Introduction 137 Jeffrey A. Sluka <p>8 Champukwi of the Village of the Tapirs 143 Charles Wagley <p>9 Behind Many Masks: Ethnography and Impression Management153 Gerald D. Berreman <p>10 The Politics of Truth and Emotion among Victims andPerpetrators of Violence 175 Antonius C. G. M. Robben <p>Part IV The Other Talks Back 191 <p>Introduction 193 Jeffrey A. Sluka <p>11 Custer Died for Your Sins 199 Vine Deloria, Jr. <p>12 Here Come the Anthros 207 Cecil King <p>13 When They Read What the Papers Say We Wrote 210 Ofra Greenberg <p>14 Ire in Ireland 219 Nancy Scheper-Hughes <p>Part V Fieldwork Confl icts, Hazards, and Dangers 235 <p>Introduction 237 Jeffrey A. Sluka <p>15 Ethnology in a Revolutionary Setting 244 June Nash <p>16 The Ethnographer s Tale 256 Neil L. Whitehead <p>17 Anthropology from the Bones: A Memoir of Fieldwork,Survival, and Commitment 274 Cynthia Keppley Mahmood <p>18 Reflections on Managing Danger in Fieldwork: DangerousAnthropology in Belfast 283 Jeffrey A. Sluka <p>Part VI Fieldwork Ethics 297 <p>Introduction 299 Jeffrey A. Sluka <p>19 The Life and Death of Project Camelot 306 Irving Louis Horowitz <p>20 Confronting the Ethics of Ethnography: Lessons FromFieldwork in Central America 318 Philippe Bourgois <p>21 Ethics versus Realism in Anthropology331 Gerald D. Berreman <p>22 Worms, Witchcraft and Wild Incantations: The Case of theChicken Soup Cure 353 Jeffrey David Ehrenreich <p>23 Code of Ethics (2009) 359 American Anthropological Association <p>Part VII Multi-Sited Fieldwork 365 <p>Introduction 367 Antonius C. G. M. Robben <p>24 Beyond Culture : Space, Identity, and thePolitics of Difference 374 Akhil Gupta and James Ferguson <p>25 Afghanistan, Ethnography, and the New World Order387 David B. Edwards <p>26 Being There and There and There!Reflections on Multi-Site Ethnography 399 Ulf Hannerz <p>27 A New Form of Collaboration in Cultural Anthropology:Matsutake Worlds 409 Matsutake Worlds Research Group <p>Part VIII Sensorial Fieldwork 441 <p>Introduction 443 Antonius C. G. M. Robben <p>28 Balinese Character: A Photographic Analysis 450 Gregory Bateson and Margaret Mead <p>29 The Taste of Ethnographic Things 465 Paul Stoller and Cheryl Olkes <p>30 Dialogic Editing: Interpreting How Kaluli Read Soundand Sentiment 480 Steven Feld <p>31 On Rocks, Walks, and Talks in West Africa: CulturalCategories and an Anthropology of the Senses 496 Kathryn Linn Geurts <p>Part IX Refl exive Ethnography 511 <p>Introduction 513 Antonius C. G. M. Robben <p>32 Fieldwork and Friendship in Morocco 520 Paul Rabinow <p>33 The Way Things Are Said 528 Jeanne Favret-Saada <p>34 Transmutation of Sensibilities: Empathy, Intuition,Revelation 540 Thomas J. Csordas <p>35 At the Heart of the Discipline : CriticalReflections on Fieldwork
(Bookdata)