Now in its 7 th edition, Marketing Plans is a highly renowned international bestseller. The book has been thoroughly revised, and every chapter has been carefully updated with special attention to the latest developments in marketing. To accomplish this, Professor Malcolm McDonald has been joined in this edition by Professor Hugh Wilson, a leading expert on CRM and multichannel strategy as well as marketing planning. <p>Major changes to this edition include new chapters based on the very latest research on: * Planning for integrated marketing communications and digital marketing * Developing multichannel strategy * Developing the CRM plan * Marketing effectiveness and accountability <p>Marketing Plans is designed as a tool and a user-friendly learning, resource. Every point illustrated by powerful practical examples and made actionable through simple, step-by-step templates and exercises. <p>The book is established as essential reading for all serious professional marketers and students of marketing, from undergraduate and postgraduate to professional courses for bodies such as CIM. Above all it provides a practical, hands-on guide to implementing every single concept included in the text. <p>"It is clearly and powerfully written and is probably the best book on the theory and practice of marketing planning ever written. It is a best-seller in Europe and I strongly recommend the book to anyone with an interest in marketing planning." Warren J. Keegan, Professor of International Business and Marketing Director, Institute for Global Business Strategy, Pace University, New York <p>"I am extremely impressed by the step lucidity of what is presented." Dr D. H. Eaton, North Carolina University <p>"A book reaching the quantities sold of Marketing Plans must be a book that is really used. It is not difficult to see why. Malcolm McDonald writes about what to do in marketing and how to do it. Unlike many academic marketing writers, he will never let you forget that marketing ends with ing." Kenneth Simmonds, Professor of Marketing and International Business, London Business School <p>"Malcolm McDonald is clearly one of the most respected Professors of Marketing in Europe and the author of a number of outstanding books. The fact that Marketing Plans has been such a massive seller offers testimony of this. McDonald writes with clarity and insight that is becoming increasingly rare today. It is powerful, up to date and has proved that it works. I recommend it to you!" John D. Ryans, Jr, Bridgestone Professor of International and Professor of International Marketing, Kent State University, Ohio
(Bookdata)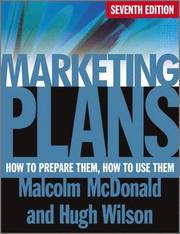 Fler böcker inom
Häftad (paperback)
Språk: Engelska
Antal sidor: 592
Utg.datum: 2011-02-18
Upplaga: 7 Rev ed
Förlag: John Wiley & Sons Ltd
Illustrationer: Illustrations
Dimensioner: 254 x 177 x 31 mm
Vikt: 1406 g
Antal komponenter: 1
ISBN:

9780470669976
Fler böcker av författarna
Malcolm McDonald, Diana Woodburn
Malcolm McDonald
Malcolm McDonald, Peter Mouncey m fl
Malcolm McDonald
Bloggat om Marketing Plans
Övrig information
Professor Malcolm McDonald was recently cited as one of the top marketing gurus in the world, along with Philip Kotler and Michael Porter and, in a 2006 Times HE piece, he was named as one of the top ten consultants in the UK. He is now Emeritus Professor at Cranfield University School of Management where, until recently, he was Professor of Marketing and Deputy Director. Formerly Marketing Director of Canada Dry, he is Chairman of six companies and works with many of the operating boards of the world's biggest multinationals on every continent. He is the author of over 40 books, many of which have been translated into several foreign languages and has published hundreds of articles and papers. Although retiring from his teaching role, Malcolm continues to research and teach at Cranfield and other universities around the world and to promote himself via speaking engagements, visiting lectures, and consultancy. He is determined to keep this, his most revered publication, alive and kicking. He has thought long and hard about a succession plan for the book and has invited Professor Hugh Davies, also of Cranfield University School of Management, to assist him in the current update, with a view to Hugh taking the reigns of the book's development into the future. <p>Hugh Wilson is Professor of Strategic Marketing and Director of the Customer Management Forum at Cranfield School of Management, and an influential author, speaker and consultant in marketing and IT. Hugh is listed in the Chartered Institute of Marketing's global 'Guru Gallery' of 'the 50 leading marketing thinkers alive today'. He has extensive industrial experience, including thirteen years in the IT industry working for IBM, Logica, Artificial Intelligence Ltd and NCR in marketing, consulting and business development. He now spends much of his time working with companies such as IBM, Lloyds TSB, BT, Taylor Woodrow and Skandia on marketing planning, e-commerce, CRM and multi-channel marketing, as well as teaching on these topics in Cranfield. His books and management reports include the bestselling 'e-marketing' (1999), 'Profiting from eCRM' (2001), and 'Marketing Strategy in the digital age' (2001), all published by FT Prentice Hall. 'The New Marketing' (with Malcolm McDonald), was published in 2002. He was recently honoured by the DTI as one of the "Internet Decade" list of the hundred individuals who have had most influence over the development of e-commerce, according to an NOP poll. He writes regularly for academic and practitioner journals. His latest book 'The Multichannel Challenge' (with Rod Street and Lindsay Bruce) was published in March 2008.
(Bookdata)
Innehållsförteckning
Preface and Acknowledgements. <p>How to Use This Book to Achieve the Best Results. <p>Learning Features. <p>Tutor's Guide. <p>An Important Note to the Reader from the Authors. <p>Chapter 1 Understanding the Marketing Process. <p>Chapter 2 The Marketing Planning Process: 1 The Main Steps. <p>Chapter 3 The Marketing Planning Process: 2 Removing the Myths. <p>Chapter 4 Completing the Marketing Audit: 1 The Customer and Market Audit. <p>Chapter 5 Completing the Marketing Audit: 2 The Product Audit. <p>Chapter 6 Setting Marketing Objectives and Strategies. <p>Chapter 7 The Integrated Marketing Communications Plan. <p>Chapter 8 The Sales Plan. <p>Chapter 9 The Pricing Plan. <p>Chapter 10 The Multichannel Plan: The Route to Market. <p>Chapter 11 The Customer Relationship Management Plan. <p>Chapter 12 Implementation Issues in Marketing Planning. <p>Chapter 13 Measuring the Effectiveness of Marketing Planning. <p>Chapter 14 A Step-by-Step Marketing Planning System. <p>Index.
(Bookdata)