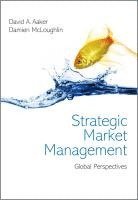 Fler böcker inom
Format

Häftad (Paperback)

Språk

Engelska

Antal sidor

368

Utgivningsdatum

2010-03-26

Upplaga

1

Förlag

Illustrationer

Illustrations

Dimensioner

250 x 186 x 23 mm

Vikt

890 g

Antal komponenter

1

ISBN

9780470689752
Strategic Market Management
Global Perspectives
Skickas inom 2-5 vardagar.
Fri frakt inom Sverige för privatpersoner.
The text is a European adaptation of our current US book: Strategic Market Management, 9th Edition by David Aaker. This new edition is a mainstream textsuitable for all business students studying strategy and marketingcourses. Strategic Market Management: Global Perspectives ismotivated by the strategic challenges created by the dynamic natureof markets. The premise is that all traditional strategicmanagement tools either do not apply or need to be adapted to amore dynamic context. The unique aspects of the book are its inclusion of: * A business strategy definition that includes product/marketscope, value proposition, and assets and competences. * A structured strategic analysis including a detailed customer,competitor, market, and environmental analysis leading tounderstanding of market dynamics that is supported by a summaryflow diagram, a set of agendas to help start the process, and a setof planning forms. * Concepts of strategic commitment, opportunism, and adaptabilityand how they can and should be blended together. * Bases of a value proposition and strong brands. A strategywithout a compelling value proposition will not be market driven orsuccessful. Brand assets that will support a business strategy needto be developed. * Creating synergetic marketing with silo organisations definedby products or countries. All organisations have multiple productsand markets and creating cooperation and communication instead ofcompetition and isolation is becoming an imperative. A global perspective is an essential aspect of this new edition.This reflects the lived experience of the student reader but alsotheir likely professional challenges. This is achieved by theextensive use of new examples and vignettes.
Bloggat om Strategic Market Management
Övrig information
David A. Aakeris Professor Emeritus at the Haas School of Business, University of California, Berkeley. He has been awarded four career awards including the 1996 Paul D. Converse Award for outstanding contributions the development of marketing. He is the creator of the Aaker Model(t), has published more than 100 articles and 14 books Damien McLoughlin is Professor and Director of the Academic Centre for Marketing Studies at the UCD Michael Smurfit Graduate Business School. His teaching is highly regarded and has been recognized with teaching awards from both the Smurfit and Quinn Schools of Business. His work has been published in leading international journals. Professionally, he has worked with leading international firms such as Alltech, Microsoft and Hewlett-Packard.
Innehållsförteckning
Preface <p>Acknowledgements <p>Chapter 1 Strategic Market Management: An Introduction andOverview <p>What Is a Business Strategy? <p>Strategic Market Management <p>Marketing and its Role in Strategy <p>Part I STRATEGIC ANALYSIS <p>Chapter 2 External and Customer Analysis <p>External Analysis <p>The Scope of Customer Analysis <p>Segmentation <p>Customer Motivations <p>Unmet Needs <p>Chapter 3 Competitor Analysis <p>Identifying Competitors Customer-Based Approaches <p>Identifying Competitors Strategic Groups <p>Potential Competitors <p>Competitor Analysis Understanding Competitors <p>Competitor Strengths and Weaknesses <p>Obtaining Information on Competitors <p>Chapter 4 Market/Submarket Analysis <p>Dimensions of a Market/Submarket Analysis <p>Emerging Submarkets <p>Actual and Potential Market or Submarket Size <p>Market and Submarket Growth <p>Market and Submarket Profitability Analysis <p>Cost Structure <p>Distribution Systems <p>Market Trends <p>Key Success Factors <p>Risks in High-Growth Markets <p>Chapter 5 Environmental Analysis and StrategicUncertainty <p>Technology Trends <p>Consumer Trends <p>Government/Economic Trends <p>Dealing with Strategic Uncertainty <p>Impact Analysis Assessing the Impact of StrategicUncertainties <p>Scenario Analysis <p>Chapter 6 Internal Analysis <p>Financial Analysis Sales and Profitability <p>Performance Measurement Beyond Profitability <p>Strengths and Weaknesses <p>Threats and Opportunities <p>From Analysis to Strategy <p>Cases for the End of Part I <p>Case 1 Understanding and Working with IndustryTrends <p>The Future of Newspapers <p>Case 2 Evaluating and Assessing the Implications of aNew Business Model <p>Spotify Identifying a New Value Proposition <p>Case 3 Competing Agaist Industry Giants <p>Competing Against Tesco <p>Part II CREATING, ADAPTING, AND IMPLEMENTING STRATEGY <p>Chapter 7 Creating Advantage, Synergy, and Commitment versusOpportunism versus Adaptability <p>The Sustainable Competitive Advantage <p>The Role of Synergy <p>Strategic Commitment, Opportunism, and Adaptability <p>Chapter 8 Alternative Value Propositions <p>Business Strategy Challenges <p>Alternative Value Propositions <p>Superior Quality <p>Value <p>Chapter 9 Building and Managing Brand Equity <p>Brand Awareness <p>Brand Loyalty <p>Brand Associations <p>Brand Identity <p>Chapter 10 Energizing the Business <p>Innovating the Offering <p>Energize the Brand and Marketing <p>Increasing the Usage of Existing Customers <p>Chapter 11 Leveraging the Business <p>Which Assets and Competences Can Be Leveraged? <p>Brand Extensions <p>Expanding the Scope of the Offering <p>New Markets <p>Evaluating Business Leverage Options <p>The Mirage of Synergy <p>Chapter 12 Creating New Businesses <p>The New Business <p>The Innovator s Advantage <p>Managing Category Perceptions <p>Creating New Business Arenas <p>From Ideas to Market <p>Chapter 13 Global Strategies <p>Motivations Underlying Global Strategies <p>Standardization Versus Customization <p>Expanding the Global Footprint <p>Strategic Alliances <p>Global Marketing Management <p>Chapter 14 Setting Priorities for Businesses and Brands the Exit, Milk, and Consolidate Options <p>The Business Portfolio <p>Divestment or Liquidation <p>The Milk Strategy <p>Prioritizing and Trimming the Brand Portfolio <p>Chapter 15 From Silos to Synergy Harnessing theOrganization <p>Silo-Driven Pro