Research Methods for Business: A Skill Building Approach,5 th Edition is a concise and straightforward introduction for students to the world of business research. The skill building approach provides students with practical perspectives on how research can be applied in real business situations. Maintaining Uma Sekaran's popular and accessible style of writing, Roger Bougie draws upon his extensive experience of the field to present an up-to-date guide on business research for the aspiring future manager. The fifth edition has a new chapter on qualitative data analysis, featuring a case study of the research process. The chapters on scientific investigation, the broad problem area and defining the problem statement, measurement of variables, experimental designs, sampling, and quantitative data analysis have all been substantially revised. Additional real-life cases have been included and examples are taken from Europe, Asia and the US to give students a comprehensive view of modern business research methods.
(Bookdata)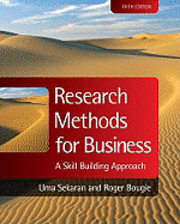 Fler böcker inom
Häftad (paperback)
Språk: Engelska
Antal sidor: 488
Utg.datum: 2009-11-06
Upplaga: Desktop ed
Förlag: John Wiley & Sons Ltd
Illustrationer: ill
Dimensioner: 228 x 184 x 19 mm
Vikt: 884 g
Antal komponenter: 1
ISBN:

9780470744796
Fler böcker av författarna
Robert Cavana, Brian L Delahaye m fl
Marilyn K Pelosi, Theresa M Sandifer m fl
Bloggat om Research Methods for Business
Övrig information
Uma Sekaran is Professor Emerita of Management, Southern Illinois University at Carbondale (SIUC), Illinois. Dr Roger Bougie lectures in Marketing and Business Research Methods at the Department of Marketing at Tilburg University, The Netherlands.
(Bookdata)
Innehållsförteckning
About the authors. Preface. CHAPTER 1 INTRODUCTION TO RESEARCH. What is research? Business research. Definition of business research. Research and the manager. Types of business research: applied and basic. Applied research. Basic or fundamental research. Managers and research. The manager and the consultant-researcher. The manager-researcher relationship. Internal versus external consultants/researchers. Internal consultants/researchers. External consultants/researchers. Knowledge about research and managerial effectiveness. Ethics and business research. Summary. Discussion questions. CHAPTER 2 SCIENTIFIC INVESTIGATION. The hallmarks of scientific research. Purposiveness. Rigor. Testability. Replicability. Precision and confidence. Objectivity. Generalizability. Parsimony. Some obstacles to conducting scientific research in the management area. The hypothetico-deductive method. The seven-step process in the hypothetico-deductive method. Review of the hypothetico-deductive method. Other types of research. Case studies. Action research. Summary. Discussion questions. Chapter 3 The Research Process: The Broad Problem Area and Defining the Problem Statement. Broad problem area. Preliminary information gathering. Nature of information to be gathered. Literature review. Conducting the literature review. Defining the problem statement. What makes a good problem statement? The research proposal. Managerial implications. Ethical issues in the preliminary stages of investigation. Summary. Discussion questions. Practice projects. Appendix. Some online resources useful for business research. Bibliographical databases. APA format for referencing relevant articles. Referencing and quotation in the literature review section. CHAPTER 4 THE RESEARCH PROCESS: THEORETICAL FRAMEWORK AND HYPOTHESIS DEVELOPMENT. The need for a theoretical framework. Variables. Types of variables. Theoretical framework. The components of the theoretical framework. Theoretical framework for the example of air safety violations. Hypothesis development. Definition of a hypothesis. Statement of hypotheses: formats. Directional and nondirectional hypotheses. Null and alternate hypotheses. Hypothesis testing with qualitative research: negative case analysis. Managerial implications. Summary. Discussion questions. Practice project. CHAPTER 5 THE RESEARCH PROCESS: ELEMENTS OF RESEARCH DESIGN. The research design. Purpose of the study: exploratory, descriptive, hypothesis testing (analytical and predictive), case study analysis. Exploratory study. Descriptive study. Hypothesis testing. Case study analysis. Review of the purpose of the study. Type of investigation: causal versus correlational. Extent of researcher interference with the study. Study setting: contrived and noncontrived. Unit of analysis: individuals, dyads, groups, organizations, cultures. Time horizon: cross-sectional versus longitudinal studies. Cross-sectional studies. Longitudinal studies. Review of elements of research design. Managerial implications. Summary. Discussion questions. CHAPTER 6 MEASUREMENT OF VARIABLES: OPERATIONAL DEFINITION. How variables are measured. Operationalization of variables. Operationalization: dimensions and elements. Operationalizing the (multidimensional) concept of achievement motivation. What operationalization is not. Review of operationalization. International dimensions of operationalization. Summary. Discussion questions. CHAPTER 7 MEASUREMENT: SCALING, RELIABILITY, VALIDITY. Scales. Nominal scale. Ordinal scale. Interval scale. Ratio scale. Review of scales. Rating scales. Dichotomous scale. Category scale. Semantic differential scale. Numerical scale. Itemized rating scale. Likert scale. Fixed or constant sum scale. Stapel scale. Graphic rating scale. Consensus scale. Other scales. Ranking scales. Paired comparison. Forced choice. Comparative scale. International dimensions of scaling. Goodness of measures. Item analysis. Validity. Reliability. Re
(Bookdata)