Finding himself alone on a desert island when everything and everyone he knows and loved has been washed away in a huge storm, Mau is the last surviving member of his nation. He's also completely alone - or so he thinks until he finds the ghost girl. She has no toes, wears strange lacy trousers like the grandfather bird and gives him a stick which can make fire. Daphne, sole survivor of the wreck of the Sweet Judy, almost immediately regrets trying to shoot the native boy. Thank goodness the powder was wet and the gun only produced a spark. She's certain her father, distant cousin of the Royal family, will come and rescue her but it seems, for now, all she has for company is the boy and the foul-mouthed ship's parrot. As it happens, they are not alone for long. Other survivors start to arrive to take refuge on the island they all call the Nation and then raiders accompanied by murderous mutineers from the Sweet Judy. Together, Mau and Daphne discover some remarkable things - including how to milk a pig and why spitting in beer is a good thing - and start to forge a new Nation. As can be expected from Terry Pratchett, the master story-teller, this new children's novel is both witty and wise, encompassing themes of death and nationhood, while being extremely funny. Mau's ancestors have something to teach us all. Mau just wishes they would shut up about it and let him get on with saving everyone's lives!
(Bookdata)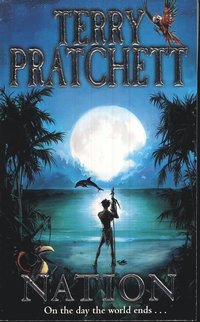 Fler böcker inom
Häftad (paperback)
Språk: Engelska
Läsålder: Unga vuxna
Antal sidor: 300
Utg.datum: 2009-10-01
Förlag: Corgi
Dimensioner: 178 x 110 x 25 mm
Vikt: 220 g
ISBN:

9780552557801
Fler böcker av Terry Pratchett
Terry Pratchett
Terry Pratchett
Terry Pratchett
Terry Pratchett
Övrig information
Terry Pratchett is one of the most popular authors writing today. He lives behind a keyboard in Wiltshire and says he 'doesn't want to get a life, because it feels as though he's trying to lead three already'. He was appointed OBE in 1998. He is the author of the phenomenally successful Discworld series. His first Discworld novel for children, THE AMAZING MAURICE AND HIS EDUCATED RODENTS, was awarded the 2001 Carnegie Medal, while the second, THE WEE FREE MEN - the first about Tiffany and the Nac Mac Feegle - has been optioned by Sony Films to be made into a spectacular movie. Two of his Johnny Maxwell tales have been televised by the BBC as TV drama serials.
(Bookdata)