Today's market for mobile apps goes beyond the iPhone to include BlackBerry, Nokia, Windows Phone, and smartphones powered by Android, webOS, and other platforms. If you're an experienced web developer, this book shows you how to build a standard app core that you can extend to work with specific devices. You'll learn the particulars and pitfalls of building mobile apps with HTML, CSS, and other standard web tools.
You'll also explore platform variations, finicky mobile browsers, Ajax design patterns for mobile, and much more. Before you know it, you'll be able to create mashups using Web 2.0 APIs in apps for the App Store, App World, OVI Store, Android Market, and other online retailers.
Learn how to use your existing web skills to move into mobile development
Discover key differences in mobile app design and navigation, including touch devices
Use HTML, CSS, JavaScript, and Ajax to create effective user interfaces in the mobile environment
Learn about technologies such as HTML5, XHTML MP, and WebKit extensions
Understand variations of platforms such as Symbian, BlackBerry, webOS, Bada, Android, and iOS for iPhone and iPad
Bypass the browser to create offline apps and widgets using web technologies
(Computer Bookshops Limited)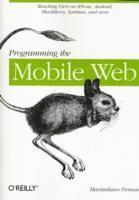 Fler böcker inom
Häftad (paperback)
Språk: Engelska
Antal sidor: 487
Utg.datum: 2010-08-06
Upplaga: 1
Förlag: O'REILLY & ASSOCIATES
Illustrationer: illustrations
Dimensioner: 234 x 177 x 25 mm
Vikt: 680 g
Antal komponenter: 1
ISBN:

9780596807788
Fler böcker av Maximiliano Firtman
Maximiliano Firtman
Maximiliano Firtman, Sergio Luis Gonzalez Cruz
Maximiliano Firtman
Bloggat om Programming the Mobile Web
Övrig information
Maximiliano Firtman is a developer focused on mobile and RIA development. He is a professor in web and mobile technologies, and founder of ITMaster Professional Training. He is author of many books in Spanish, including books on Java ME, ASP.NET, AJAX and Professional Web 2.0. He is founder and manager of ARFUG (Argentina RIA & Flex User Group), an official Adobe User Group covering many RIA technologies, including AJAX, Flex, AIR and Silverlight. He has spoken at conferences in Spanish and English and published dozens of articles in magazines (.CODE, Users) and online (MaestrosDelWeb, Forum Nokia). He has been a Forum Nokia Champion since 2006, and has developed many mobile projects as MobileTinyURL.com and widgen.com. He is an expert in AJAX, Adobe Flex, Java ME, Widgets for Mobile and iPhone development.
(Computer Bookshops Limited)
Innehållsförteckning
Dedication; Preface; Who This Book Is For; Who This Book Is Not For; What Youll Learn; Other Options; If You Like (or Dont Like) This Book; Conventions Used in This Book; Using Code Examples; How to Contact Us; Safari Books Online; Acknowledgments; Chapter 1: The Mobile Jungle; 1.1 Myths of the Mobile Web; 1.2 The Mobile Ecosystem; 1.3 Mobile Knowledge; 1.4 Brands, Models, and Platforms; 1.5 Technical Information; 1.6 Market Statistics; Chapter 2: Mobile Browsing; 2.1 The Mobile Browsing Experience; 2.2 Mobile Web Eras; Chapter 3: Architecture and Design; 3.1 Website Architecture; 3.2 Design and Usability; Chapter 4: Setting Up Your Environment; 4.1 Setting Up a Development Environment; 4.2 Production Environment; Chapter 5: Markups and Standards; 5.1 First, the Old Ones; 5.2 Current Standards; 5.3 XHTML Mobile Profile and Basic; 5.4 CSS for Mobile; 5.5 Confusion; Chapter 6: Coding Markup; 6.1 Heading Structure; 6.2 The Document Body; 6.3 Plug-ins and Extensions; Chapter 7: CSS for Mobile Browsers; 7.1 Where to Insert the CSS; 7.2 Selectors; 7.3 CSS Techniques; 7.4 Common Patterns; 7.5 CSS Sprites; 7.6 WebKit Extensions; Chapter 8: JavaScript Mobile; 8.1 Supported Technologies; 8.2 Coding JavaScript for Mobile Browsers; Chapter 9: Ajax, RIA, and HTML 5; 9.1 Ajax Support; 9.2 JavaScript Libraries; 9.3 WebKit CSS Extensions; 9.4 Mobile Rich Internet Applications; 9.5 HTML 5; Chapter 10: Server-Side Browser Detection and Content Delivery; 10.1 Mobile Detection; 10.2 Content Delivery; 10.3 Multimedia and Streaming; 10.4 Content Adaptation; 10.5 Mobilizing WordPress and Other CMSs; Chapter 11: Geolocation and Maps; 11.1 Location Techniques; 11.2 Detecting the Location; 11.3 Showing a Map; Chapter 12: Widgets and Offline Webapps; 12.1 Mobile Widget Platforms; 12.2 Standards; 12.3 Platforms; 12.4 Widget Design Patterns; Chapter 13: Testing, Debugging, and Performance; 13.1 Testing and Debugging; 13.2 Performance Optimization; Chapter 14: Distribution and Social Web 2.0; 14.1 Mobile SEO; 14.2 Mobile Web Statistics; 14.3 Mobile Web Advertising; 14.4 Mobile Web Social Features; MIME Types for Mobile Content; Markup and Script MIME Types; Image MIME Types; Mobile Content MIME Types; Audio and Video MIME Types; Widget and Webapp MIME Types; Colophon;
(Computer Bookshops Limited)