COMPETITIVE ADVANTAGE introduces a whole new way of understanding what a firm does. Porter's groundbreaking concept of the value chain disaggregates a company into 'activities', or the discrete functions or processes that represent the elemental building blocks of competitive advantage. Now an essential part of international business thinking, COMPETITIVE ADVANTAGE takes strategy from broad vision to an internally consistent configuration of activities. Its powerful framework provides the tools to understand the drivers of cost and a company's relative cost position. Porter's value chain enables managers to isolate the underlying sources of buyer value that will command a premium price, and the reasons why one product or service substitutes for another. He shows how competitive advantage lies not only in activities themselves but in the way activities relate to each other, to supplier activities, and to customer activities. That the phrases 'competitive advantage' and 'sustainable competitive advantage' have become commonplace is testimony to the power of Porter's ideas. COMPETITIVE ADVANTAGE has guided countless companies, business school students, and scholars in understanding the roots of competition. Porter's work captures the extraordinary complexity of competition in a way that makes strategy both concrete and actionable.
(Bookdata)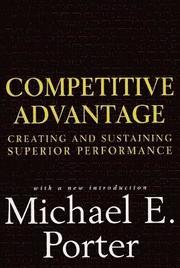 Fler böcker inom
Inbunden (hardback)
Språk: Engelska
Antal sidor: 592
Utg.datum: 1998-08-01
Upplaga: New ed
Förlag: Simon & Schuster Ltd
Illustrationer: illustrations
Dimensioner: 245 x 165 x 40 mm
Vikt: 960 g
Antal komponenter: 1
ISBN:

9780684841465
Fler böcker av Michael E Porter
Michael E Porter
Michael E Porter
Michael E Porter
Michael E Porter, Clemens Guth
Recensioner i media
Financial Times The most influential management book of the past quarter century...A veritable goldmine of analytical concepts and tools to help companies get a much clearer grasp of how they can create and sustain competitive advantage. Philip Kotler S.C. Johnson & Son, Distinguished Professor of International Marketing, Northwestern University Michael Porter has done it again. Having defined the 'what' and 'why' of competitive strategy in his earlier book, he now defines the 'how' in Competitive Advantage. Newsday A sharp, aggressive and cogently reasoned book about competition that your smarter rivals will try to get to first. The Washington Post A brilliant structural analysis of what competitive advantage might mean... Antitrust Law & Economics Review A superb guide for business managers but also necessary background study for judges, antitrust agency officials, and economic experts in antitrust cases.
(Bookdata)
Bloggat om The Competitive Advantage
Övrig information
Michael E. Porter is the C. Roland Christensen Professor of Business Administration at the Harvard Business School. The author of fourteen books and recipient of the Wells Prize in Economics, he lives in Brookline, Massachusetts.
(Bookdata)
Innehållsförteckning
Contents Introduction Preface Chapter 1 Competitive Strategy: The Core Concepts THE STRUCTURAL ANALYSIS OF INDUSTRIES Industry Structure and Buyer Needs Industry Structure and the Supply/Demand Balance GENERIC COMPETITIVE STRATEGIES Cost Leadership Differentiation Focus Stuck in the Middle Pursuit of More Than One Generic Strategy Sustainability Generic Strategies and Industry Evolution Generic Strategies and Organizational Structure Generic Strategies and the Strategic Planning Process OVERVIEW OF THIS BOOK PART I PRINCIPLES OF COMPETITIVE ADVANTAGE Chapter 2 The Value Chain and Competitive Advantage THE VALUE CHAIN Identifying Value Activities Defining the Value Chain Linkages within The Value Chain Vertical Linkages The Buyer's Value Chain COMPETITIVE SCOPE AND THE VALUE CHAIN Segment Scope Vertical Scope Geographic Scope Industry Scope Coalitions and Scope Competitive Scope and Business Definition The Value Chain and Industry Structure THE VALUE CHAIN AND ORGANIZATIONAL STRUCTURE Chapter 3 Cost Advantage THE VALUE CHAIN AND COST ANALYSIS Defining the Value Chain for Cost Analysis Assigning Costs and Assets First Cut Analysis of Costs COST BEHAVIOR Cost Drivers The Cost of Purchased Inputs Segment Cost Behavior Cost Dynamics COST ADVANTAGE Determining the Relative Cost of Competitors Gaining Cost Advantage Sustainability of Cost Advantage Implementation and Cost Advantage Pitfalls in Cost Leadership Strategies STEPS IN STRATEGIC COST ANALYSIS Chapter 4 Differentiation SOURCES OF DIFFERENTIATION Differentiation and The Value Chain Drivers of Uniqueness THE COST OF DIFFERENTIATION BUYER VALUE AND DIFFERENTIATION Buyer Value The Value Chain and Buyer Value Lowering Buyer Cost Raising Buyer Performance Buyer Perception of Value Buyer Value and the Real Buyer Buyer Purchase Criteria Identifying Purchase Criteria DIFFERENTIATION STRATEGY Routes to Differentiation The Sustainability of Differentiation Pitfalls in Differentiation STEPS IN DIFFERENTIATION Chapter 5 Technology and Competitive Advantage TECHNOLOGY AND COMPETITION Technology and The Value Chain Technology and Competitive Advantage Technology and Industry Structure TECHNOLOGY STRATEGY The Choice of Technologies to Develop Technological Leadership or Followership Licensing of Technology TECHNOLOGICAL EVOLUTION Continuous Versus Discontinuous Technological Evolution Forecasting Technological Evolution FORMULATING TECHNOLOGICAL STRATEGY Chapter 6 Competitor Selection THE STRATEGIC BENEFITS OF COMPETITORS Increasing Competitive Advantage Improving Current Industry Structure Aiding Market Development Deterring Entry WHAT MAKES A "GOOD" COMPETITOR? Tests of a Good Competitor "Good" Market Leaders Diagnosing Good Competitors INFLUENCING THE PATTERN OF COMPETITORS Damaging Good Competitors in Battling Bad Ones Changing Bad Competitors into Good Ones THE OPTIMAL MARKET CONFIGURATION The Optimal Competitor Configuration Maintaining Competitor Viability Moving toward the Ideal Competitor Configuration Maintaining Industry Stability PITFALLS IN COMPETITOR SELECTION PART II COMPETITIVE SCOPE WITHIN AN INDUSTRY Chapter 7 Industry Segmentation and Competitive Advantage BASES FOR INDUSTRY SEGMENTATION Structural Bases For Segmentation Segmentation Variables Finding New Segments THE INDUSTRY SEGMENTATION MATRIX Relationships Among Segmentation Variables Combining Segmentation Matrices INDUSTRY SEGMENTATION AND COMPETITIVE STRATEGY The Attractiveness of a Segment Segment Interrelationships Segment Interrelationships and Broadly-Targeted Strategies The Choice of Focus The Feasibility of New Segments to Focus On The Sustainability of a Focus Strategy Pitfalls and Opportunities for Focusers and Broadly-Targeted Competitors INDUSTRY SEGMENTATION AND INDUSTRY DEFINITION Chapter 8 Substitution IDENTIFYING SUBSTITUTES THE ECONOMICS OF SUBST
(Bookdata)