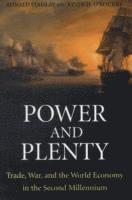 Fler böcker inom
Format

Häftad (Paperback)

Språk

Engelska

Antal sidor

648

Utgivningsdatum

2009-08-30

Förlag

Illustratör/Fotograf

Illustrationer

30 line illus.

Dimensioner

234 x 152 x 38 mm

Vikt

907 g

Antal komponenter

1

ISBN

9780691143279
Power and Plenty
Trade, War, and the World Economy in the Second Millennium
Skickas inom 3-6 vardagar.
Fri frakt inom Sverige för privatpersoner.
International trade has shaped the modern world, yet until now no single book has been available for both economists and general readers that traces the history of the international economy from its earliest beginnings to the present day. Power and Plenty fills this gap, providing the first full account of world trade and development over the course of the last millennium. Ronald Findlay and Kevin O'Rourke examine the successive waves of globalization and "deglobalization" that have occurred during the past thousand years, looking closely at the technological and political causes behind these long-term trends. They show how the expansion and contraction of the world economy has been directly tied to the two-way interplay of trade and geopolitics, and how war and peace have been critical determinants of international trade over the very long run. The story they tell is sweeping in scope, one that links the emergence of the Western economies with economic and political developments throughout Eurasia centuries ago. Drawing extensively upon empirical evidence and informing their systematic analysis with insights from contemporary economic theory, Findlay and O'Rourke demonstrate the close interrelationships of trade and warfare, the mutual interdependence of the world's different regions, and the crucial role these factors have played in explaining modern economic growth. Power and Plenty is a must-read for anyone seeking to understand the origins of today's international economy, the forces that continue to shape it, and the economic and political challenges confronting policymakers in the twenty-first century.
Passar bra ihop
+
Recensioner i media
"[T]his book is a masterful synthesis of economic analysis and historical narrative. It demands quite a lot of its readers, however, as its more than 600 pages are packed with facts, conclusions and implications for economic development, never hesitating to elaborate on the complexities of international trade relations during the last millennium."--Erik Lindberg, Scandinavian Economic History Review "Power and Plenty is a fascinating book of both world history and economic history, full of detail on both accounts. . . . These ancient intrigues in unfamiliar times and places make for fascinating reading and remind us of how little progress people have made in resisting imperialism throughout the ages. On a more serious note, the book also provides an excellent window into the continuing costs of imperialism."--Michael Perelman, Review of Radical Political Economics "[T]his book is indispensible for scholars who seek answers to questions such as: How did the world economy evolve into its present form? What events shaped its current characteristics? What roles did trade play in shaping the modern world economy? Power and Plenty, an exemplary feat of scholarship, fully answers all these questions."--Farhad Rassekh, International Review of Economics & Finance "Almost anyone researching an aspect of the history of international trade will find this an excellent and stimulating starting point and will be aided by an impressive bibliography that includes many older classics as well as recent additions to the literature."--Simon Ville, International Journal of Maritime History "Findlay and O'Rourke provide an impressive survey of 1000 years of trade and its interaction with geopolitics and political economy on a global scale that strives consciously to avoid a Eurocentric stance. . . . [T]his is a compelling and valuable volume."--C. Knick Harley, Economic History Review "By adopting a broad view across such an expanse of both space and time, Findlay and O'Rourke are able to perceive patterns that few others have identified and bring a compelling new perspective to several historical and theoretical debates that benefit from a larger view."--Robert D. Fannion, Comparative Political Studies "Power and Plenty . . . with its depth and extensive coverage, makes an excellent reference work for the study world history and the history of world trade. It is a work of superb scholarship befitting the scholarly reputations of each of the co-authors, Findlay for his work in the theory of international trade and development and O'Rourke for his studies in economic history and globalization. This book will be widely read, cited, and discussed as a landmark volume on its subjects."--Stanley Engerman, New Global Studies "Power and Plenty serves as an excellent one-volume survey on the role played by the interaction of economic and political forces in shaping the world economy of the last 1000 years. The book should be read by any serious student of world economic history, international trade, or international relations."--John T. Dalton, Southern Economic Journal "This is a huge enterprise, an illuminating work, a tour de force that successfully combines political and economic history of a thousand years. . . . A major contribution to the history of and debates about globalization."--Ivan T. Berend, International History Review "This is a well researched volume which is simply delightful to read. In most of the topics about which I have some knowledge, I found the analyses and the judgments offered by the authors both balanced and insightful. I expect this book will remain the standard text for many years to come."--Sevket Pamuk, EH.Net "International trade has shaped the modern world, yet until now no single book has been available for both economists and general readers that traces the history of the international economy from its earliest b
Bloggat om Power and Plenty
Övrig information
Ronald Findlay is the Ragnar Nurkse Professor of Economics at Columbia University. He is the author of Factor Proportions, Trade, and Growthand Trade, Development, and Political Economy. Kevin H. O'Rourke is professor of economics at Trinity College, Dublin. He is the coauthor of Globalization and History.
Innehållsförteckning
Acknowledgments xiiiPreface xviChapter 1: Introduction: Geographical and Historical Background 1Western Europe 4Eastern Europe 11North Africa and Southwest Asia: The Islamic World 15Central (or Inner) Asia 24South Asia 29Southeast Asia 33East Asia (China, Korea, and Japan) 37Chapter 2: TheWorld Economy at the Turn of the First Millennium 43The Golden Age of Islam 48China: The Sung Economic Miracle 61The Indian Ocean and Southeast Asian Trade 67The Pirenne Thesis 71Eastern Europe: The Viking Connection 73The Economy ofWestern Europe 80Chapter 3: World Trade 1000-1500: The Economic Consequences ofGenghis Khan 87Trade and War in the Mediterranean and the Black Sea, 1000-1350 88The Indian Ocean and the South China Sea, 1000-1350 98The Pax Mongolica and Overland Trade, 1000-1350 101Eurasia on the Eve of the Black Death 109The Black Death 111Trade between Western and Eastern Europe, 1350-1500 120Overland Trade, 1350-1500: The Aftermath of the Pax Mongolica 124The Emergence of Russia 126The Middle East, the Mediterranean, and International Trade, 1350-1500 127Southeast Asia and China, 1350-1500 133Quantifying the Late Medieval Spice Trade 140Chapter 4: World Trade 1500-1650: Old World Trade and New World Silver 143Portugal, the Atlantic, and the Indian Ocean 145Spain, Portugal, and the New World 158The Pacific and East Asia 167The Dutch Rise to Primacy in World Trade 175Russia, Sweden, and the Baltic, 1500-1650 187Southeast Asia during the Age of Commerce 194The Cape Route, Venice, and the Middle East 204Silver, Silk, and Spices 212Chapter 5: World Trade 1650-1780: The Age of Mercantilism 227Origins of the British Empire: Trade, Plunder, and Settlement 229Mercantilism, Commercial Rivalry, andthe Anglo-Dutch Wars 238Britain, France, and the Dutch Republic 245Britain and France: Commercial Expansion and the Second Hundred Years'War 247India: The Disintegration of the Mughal Empire and the Transition to Colonial Rule 262Southeast Asia and the End of the Age of Commerce 275TheManchu Empire 284China's Overseas Trade 286Chinese and Russian Overland Trade 295Conclusion 304Chapter 6: Trade and the Industrial Revolution 311Trade during the Industrial Revolution 324Trade, Overseas Expansion, and the Industrial Revolution 330Why Britain? Why Europe and Not Asia? 346Conclusion 364Chapter 7: World Trade 1780-1914: The Great Specialization 365War and Revolution 366The Revolutionary and Napoleonic Wars: Short-Run Implications 369The Revolutionary and NapoleonicWars: Long-Run Implications 371The Industrial Revolution and Transportation Technology 378Bulk Commodities and Heckscher-Ohlin Effects 383Nineteenth-Century Imperialism 387Nineteenth-Century Trade Policy 395Commodity Market Integration, 1815-1914 402Complementary Factor Flows and the Great Frontier 407Trade and the Global Division of Labor 411Trade, Tropical Frontiers, and the Great Divergence 414The Terms of Trade 424Conclusion 425Chapter 8: World Trade 1914-39: Deglobalization 429WorldWar I 429The Aftermath of War 435Interwar Commercial Policy 443Transport Costs 455The Volume of World Trade 458Price Convergence and Divergence 461The Great Depression, the Collapse of World Trade, and the Developing Countries 465The Collapse of the Ottoman Empire 469Conclusion 471Chapter 9: Reglobalization: The Late Twentieth Century in Historical Perspective 473World War II 473Geopolitical Consequences: Communism, the Cold War, and Decolonization 476The Gradual Reconstruction of the Atlantic Economy: 1950-70 489Policy Divergence: 1945-80 493Reglobalization: 1980-2000 496International Transport Costs 501Trends in Openness: Quantities and Prices 505Unraveling the Great Specialization 512Openness and Convergence in the Late Twentieth Century 515Conclusion 525Chapter 10: Globalization at the Dawn of the Twenty-First Century 527The Future of Globalization: Economic Challenges 534The Future of Globalization: Political Challenges 539Bibliography 547Index 593