Ace your preparation for the core MCSE networking system exams with in-depth training and practiceall in one box. Now updated for Service Pack 1, these four Microsoft study guides pack the resources you need to help maximize your success on exams 70-290, 70-291, 70-293, and 70-294and on the job.
Work at your own pace through the lessons, hands-on exercises, troubleshooting labs, and review questions. You get expert exam tips plus a full review section covering all objectives and subobjectives in each study guide. Then use the Readiness Review Suite on CDfeaturing advanced technology from MeasureUpto challenge yourself with 1700 questions for self-assessment and practice!
Maximize your exam performance with the latest information for:
EXAM 70-290 Managing and Maintaining a Microsoft Windows Server 2003 Environment
UPDATEDCreate and manage users, groups, and computer accounts
Manage file and share permissions
Help control Web server access and manage sites with Microsoft Internet Information Services (IIS)
UPDATEDManage hardware devices, disk storage, software, and print services
NEWAdminister software updates with Windows Server Update Service (WSUS)
UPDATEDPerform system recovery, including new information about Emergency Management Services (EMS)
EXAM 70-291 Implementing, Managing, and Maintaining a Microsoft Windows Server 2003 Network Infrastructure
Install and configure TCP/IP and use DHCP to manage IP addressing
UPDATEDConfigure and manage DNS clients, servers, and zones
NEWAdminister updates with WSUS and Post-Setup Security Updates (PSSU)
UPDATEDImplement and administer security procedures, and use SP1 security enhancements
UPDATEDMonitor traffic, troubleshoot connectivity, and resolve service issues
EXAM 70-293 Planning and Maintaining a Microsoft Windows Server 2003 Network Infrastructure
Plan TCP/IP network infrastructure, topology, and Internet connectivity
Configure server roles and baseline security settings
UPDATEDPlan routing and remote access strategies, including new information on Network Access Quarantine Control
UPDATEDDesign and administer a security infrastructure
NEWIdentify and deploy critical updates with update management tools
Deploy IPSec, harden servers, and manage certificates
Maintain server availability with clusters and network load balancing
EXAM 70-294 Planning, Implementing, and Maintaining a Microsoft Windows Server 2003 Active Directory Infrastructure
Plan, install, and configure and Active Directory infrastructure
UPDATEDManage forest and domain structure and site replication
Create and manage OU structure and user and group accounts
Plan Group Policy strategy using Resultant Set of Policy (RSoP)
NEWUs...

(Computer Bookshops Limited)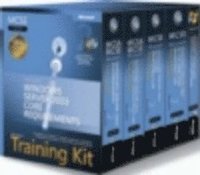 Fler böcker inom
Mixed media product
Språk: Engelska
Antal sidor: 4000
Utg.datum: 2006-05-01
Upplaga: 2Rev e.
Förlag: MICROSOFT PRESS
Medarbetare: Spealman (förf.) / Hudson (förf.) / Cr (förf.)
Dimensioner: 235 x 190 x 175 mm
Vikt: 6340 g
Antal komponenter: 2
Komponenter: Paperback (1), CD-ROM (1)
ISBN: 9780735622906
Övrig information
<p>Dan Holme, MVP, has 10+ years of experience as a consultant and trainer. He is the author of "Windows Administration Resource Kit: Productivity Solutions for IT Professionals."<p>Orin Thomas, MCITP, MCTS, MCSE, Microsoft(R) MVP, is a consultant and writer whose books include the SELF-PACED TRAINING KITs for Exams 70-662, 70-680, 70-646, and 70-647. He is also a contributing editor to Windows(R) IT Pro magazine.<p>J.C. Mackin, MCITP, MCSE, MCT, has 10+ years' experience with Microsoft networks and is an IT consultant, trainer, and author.<p>Ian McLean, MCITP, MCDBA, MCT, has 40+ years of experience in the education and IT industries. He has coauthored numerous Self-Paced Training Kits covering Windows Server, Windows(R) client, Microsoft Exchange Server, and SQL Server(R) technologies.<p>Craig Zacker is a writer, editor, and educator who has written or contributed to dozens of books on operating systems, networking, and PC hardware, as well as several college texts and online training courses. Craig is the author of the Windows Small Business Server 2008 Administrator's Pocket Consultant, and co-authored the MCITP Self-Paced Training Kit (Exam 70-686): Windows 7 Desktop Administrator.
(Computer Bookshops Limited)
Innehållsförteckning
Contains "WS03 Active directory infrastructure Training kit 2e" "Planning WS03 Network infrastructure training kit 2e" "Implementing WS03 Network infrastructure training kit 2e" "Managing WS03 environment training kit" plus core requirements software
(Computer Bookshops Limited)