Apathy and antipathy toward politics are epidemic. Citizen Democracy provides the antidote. In this revised and updated edition, Stephen E. Frantzich portrays citizens from every walk of life-rich and poor, old and young, black and white, male and female, left and right, famous and obscure-as they choose to become involved in politics at a level to which readers can relate. Some of the stories contain unexpected twists. Candy Lightner, the founder of Mothers Against Drunk Driving, now works as a liquor industry lobbyist and argues that MADD has gone too far. College freshman Gregory Watson reacted to receiving a OCO on a political science paper by quitting school and becoming the driving force behind passage of a constitutional amendment that had been the subject of his paper. Two young women independently wrote letters of application to the U.S. Naval Academy and in the process moved military education in the direction of gender neutrality. Citizen Democracy shows ordinary people engaged in extraordinary civic activity. Their causes run the gamut from civil rights to flag burning, from the Internet to the environment-but their common cause is the fact that they creatively entered the arena of national public policy making and made a difference.
(Bookdata)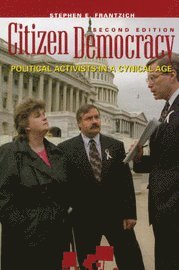 Fler böcker inom
Häftad (paperback)
Språk: Engelska
Antal sidor: 256
Utg.datum: 2004-05-01
Upplaga: 2 Rev ed
Förlag: Rowman & Littlefield Publishers
Illustrationer: illustrations
Antal komponenter: 1
ISBN:

9780742529533
Fler böcker av Stephen E Frantzich
Stephen E Frantzich
Stephen E Frantzich, Howard R Ernst
Stephen E Frantzich
Stephen E Frantzich, Claude Berube
Recensioner i media
Citizen Democracy provides a fascinating account of how ordinary citizens can become heroic, critical analysts of public policy through awareness, engagement, and participation. Frantzich challenges us to examine injustices in our own communities and inspires civic educators to do the same with their own students. Teachers will find this a useful manual for planning advocacy by sharing the real stories from the 'kidizens'-youth activists involved with democracy in their communities. -- Marcie Taylor-Thoma, coordinator for social studies, Maryland State Department of Education Citizen Democracy provides a series of compelling stories which will motivate students to think about their potential as active citizens in a vibrant democracy. With the growing threat of cynicism, it is important to reinvigorate each new generation so they can play their role in maintaining the American experiment in self government. -- Charles N. Quigley, executive director, Center for Civic Education
(Bookdata)
Bloggat om Citizen Democracy
Övrig information
Stephen E. Frantzich is professor and chair of the Department of Political Science at the U.S. Naval Academy in Annapolis, Maryland.
(Bookdata)
Innehållsförteckning
Chapter 1 Preface Chapter 2 Introduction: Countering the Culture of Cynicism: Keeping the Fans in the Stands Part 3 The Constitution and Democratic Theory Chapter 4 1 Rewriting the Constitution: One Man's Journey to Lend Madison a Hand: Gregory Watson Part 5 Federalism Chapter 6 2 Do Ask, Do Tell: Howard and Connie Clery, Maureen and Richard Kanka, and Donna Norris Part 7 Civil Rights Chapter 8 3 Taking the Bus and Driving Public Policy for Us: Rosa Parks Chapter 9 4 Being a Good Sport, or, Won't You Be on My Team? Bernice Sandler Part 10 Civil Liberties Chapter 11 5 Let's Just Run That One Up the Flagpole: Gregory Lee (Joey) Johnson Chapter 12 6 All Dressed Down and Nowhere to Go: A Pilot's Checklist: Martha McSally Part 13 Public Opinion Chapter 14 7 Citizen.Action.Org-Shabbir Safdar and Jonah Seiger Part 15 Interest Groups Chapter 16 8 From Grief to Anger to Action: Making One MADD: Candy Lightner Chapter 17 9 Wouldn't You Just Love to Live Here? Lois Gibbs Part 18 Campaigns and Elections Chapter 19 10 Registering as a Protest, or , I'll Vote for That: Richard A. Cloward and Frances Fox Piven Chapter 20 11 Changing the Ecology of Politics: Introducing a New Breed: Brian Trelstad Part 21 Direct Democracy Chapter 22 12 A Taxing and Revolting Job: Howard Jarvis Part 23 Congress Chapter 24 13 Power Letter Writing: Women in the Military Academies: Barbara Brimmer and Valerie Schoen Chapter 25 14 The Mystery of the Smoking Gun: Merrell Williams Part 26 The Presidency Chapter 27 15 Just What the Doctor Ordered: Dr. Kristen Zarfos Part 28 The Judicial Process and the Courts Chapter 29 16 Unaffirmative Action: Carl Cohen Chapter 30 17 A Hard Guy to Live With: Dr. Jack Kevorkian Part 31 The Bureaucracy Chapter 32 18 If You Can't Lick 'Em, Enjoin 'Em: Jean Anne Hlavacek and Diane Sackett Nannery Part 33 Kids in Action Chapter 34 19 Kidizen Democracy Part 35 Conclusion: Lessons for Nascent Citizens
(Bookdata)