Tibor Machan defends a libertarian conception of a free society, one in which individuals are sovereign, self-governing beings, not subject to others' will without their consent. In the tradition of John Locke, Adam Smith, Ayn Rand, and Robert Nozick, Machan argues that such a society-far from being hedonistic, licentious, or disorderly-is the best possible ideal for humans. In doing so, he addresses specific issues such as affirmative action, abortion, military intervention, and torture in light of the relationship between liberty and democracy.
(Bookdata)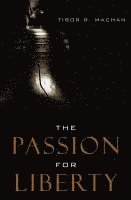 Fler böcker inom
Inbunden (hardback)
Språk: Engelska
Antal sidor: 264
Utg.datum: 2003-05-01
Förlag: Rowman & Littlefield Publishers
Dimensioner: 228 x 158 x 19 mm
Antal komponenter: 1
ISBN: 9780742531024
Recensioner i media
The Passion for Liberty makes a convincing case for freedom, using a moral (as opposed to utilitarian) argument. This is an impressive primer on the principles of liberty. National Review A remarkably clear, concise, and engaging statement of the 'libertarian' defense of liberty. What is especially useful is the application of that defense to specific public policy issues, something that the reader will find helpful and challenging. -- Nicholas Capaldi, Loyola University, New Orleans
(Bookdata)
Övrig information
Tibor R. Machan is professor emeritus of philosophy at Auburn University and currently distinguished fellow and Freedom Communications Professor of Business Ethics and Free Enterprise at Chapman University.
(Bookdata)
Innehållsförteckning
Chapter 1 Preface Chapter 2 Introduction: For Individual Rights Chapter 3 Opposing Senses of Freedom Chapter 4 Ethical Egoism (or Individualism)-Personal Responsibility Chapter 5 Why Capitalism Squares with Morality Chapter 6 Immigration into a Free Society Chapter 7 Military Defense of a Free Society Chapter 8 Liberty - Economic v. Moral benefits Chapter 9 Against Utilitarianism Chapter 10 Reflections on the Right to Private Property Chapter 11 The Democratic Ideal Chapter 12 Revisiting the Class Warfare Chapter 13 Individual rights, Democracy and Government Debt Chapter 14 Exploring Extreme Violence (Torture) Chapter 15 The Norms of Military Intervention Chapter 16 Democracy and Foreign Affairs Chapter 17 Why Abortion is not Murder Chapter 18 Objections and Alternatives to Affirmative Action Chapter 19 The Bill of Rights and Moral Philosophy Chapter 20 Freedom and the Media
(Bookdata)