In this thoroughly revised edition of a modern classic, The Jews of Khazaria explores many exciting new discoveries about the Khazars' religious life, economy, military, government, and culture. It builds upon new studies of the Khazars, evaluating and incorporating recent theories, along with new documentary and archaeological findings. The book gives a comprehensive accounting of the cities, towns, and fortresses of Khazaria, and features a timeline summarizing key events in Khazar history.
(Bookdata)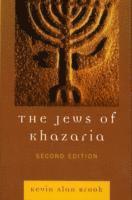 Fler böcker inom
Häftad (Paperback)
Språk: Engelska
Antal sidor: 352
Utg.datum: 2009-11-28
Upplaga: 2 Rev ed
Förlag: Rowman & Littlefield Publishers
Illustrationer: black & white illustrations
Dimensioner: 234 x 152 x 19 mm
Vikt: 498 g
Antal komponenter: 1
Komponenter: Paperback
ISBN: 9780742549821
Fler böcker av Kevin Alan Brook
Jews of Khazaria

Kevin Alan Brook

The Jews of Khazaria chronicles the history of the Khazars, a people who, in the early Middle Ages, founded a large empire in eastern Europe (located in present-day Ukraine and Russia). The Khazars played a pivotal role in world history. Khazaria ...
Recensioner i media
Far from being [merely] a romantic interlude whose brief existence sparked the imagination of generations, Brook's volume shows that the Khazar experience is intrinsic to the narrative of Jewish history. The Jewish Quarterly Review, (Review Of First Edition) Kevin Alan Brook, thirty years on, strives, with considerable success, to satisfy the appetite for information about the Khazars which Koestler generated. The Jews of Khazaria is, in essence, a compendium of information gathered from every available source... He has provided a useful reference work for all those intrigued by the most striking single case of successful Jewish proselytism, as well as for those interested in the affairs of one of the four great powers of western Eurasia in the early middle ages...[Brook] should be complimented on the trouble which he has taken to assemble so much information, out of so many disparate sources. He has provided a useful reference work. Shofar: An Interdisciplinary Journal Of Jewish Studies, Winter 2009 A comprehensive study... Acquaintance with this book will be ... useful. The Chronicle Herald, August 2008 Kevin Alan Brook has decided to look behind the various views of the Khazars and produce a non-ideological work that examines the little-known but critical moment in world history. In a deadpan voice that one could attribute to a scholarly Joe Friday, Brooks provides us with the facts, only the facts. And, it's a good thing, because the facts are fascinating. Jewish Book World, Fall 2007 Brook...has a passion for his topic, demonstrated by many articles, his stewardship of the website of the American Center of Khazar Studies (Khazaria.com), and the first (well received) edition of this book (1999)...Brook supplies a timeline, a glossary, a list of Khazar names, an appendix on other examples of conversions to Judaism, and maps to help the reader who is less familiar with the subject than he is. Outlook This second, revised edition of Kevin Brook's well-received publication in 1999 of The Jews of Khazaria, integrates important new data culled from ongoing archaeological digs in southern Russia and the Crimea, genetic results of DNA processing, examination of formerly unknown or ignored coin hordes, and the continuing research of scholars around the world. It succeeds in elucidating controversial issues, while contextualizing the Khazar polity within the competitive 9th-11th-century world of Byzantium, the Arab Caliphate, and two regional upstarts: the Dnepr-based aggregate of Nordic, Slavic, and Turkic peoples known as Rus', and the Turkic-Islamic kaganate of Bulgar flourishing in the middle and upper Volga territory. As a full exploration in English of the history and culture of the Khazars, this volume is without equal, and would be quite useful reading in courses focused on the Kievan period of Russian history, as well as broader ones treating the dynamics of Central Eurasian history during these lively and formative centuries. -- Edward J. Lazzerini, Indiana University Kevin Alan Brook's The Jews of Khazaria is the first work since Douglas Dunlop's 1967 History of the Jewish Khazars to provide a comprehensive account of Khazar history. ... the work synthesizes a vast array of secondary literature into a concise and readable digest. ... Beyond providing a current and accessible introduction to this topic, the work is extremely valuable for its consolidation of this disparate material. ... Journal Of Near Eastern Studies Brook...has a passion for his topic...I for one am grateful for the mass of material he provides. Outlook
(Bookdata)
Övrig information
Kevin Alan Brook is an historian who has researched the Khazars since 1993. He has contributed articles about the Khazars to The Encyclopaedia of Judaism Second Edition (Brill, 2005) and The Turks Vol. 1 (Yeni Turkiye, 2002). Since 1995, Brook has maintained the website of the American Center of Khazar Studies (Khazaria.com).
(Bookdata)
Innehållsförteckning
Chapter 1 Acknowledgments Chapter 2 Introduction Chapter 3 The Origins of the Khazars Chapter 4 The Cities and Towns of the Khazars Chapter 5 The Structure of the Khazar Government Chapter 6 The Khazar Way of Life Chapter 7 Khazarian Trade Chapter 8 The Khazars' Conversion to Judaism Chapter 9 Relations between the Khazars and Other Peoples Chapter 10 The Decline and Fall of the Khazar Empire Chapter 11 The Diaspora of the Khazars Chapter 12 Eastern and Central European Jews after the Tenth Century Chapter 13 Appendix A: Timeline of Khazar History Chapter 14 Appendix B: Glossary Chapter 15 Appendix C: Native Khazar Personal Names Chapter 16 Appendix D: Other Instances of Conversion to Judaism in History Chapter 17 Bibliography Chapter 18 Index Chapter 19 About the Author
(Bookdata)