Since the end of the Cold War, conflict prevention and resolution, peacekeeping and peacebuilding have risen to the top of the international agenda. The third edition of this hugely popular text explains the key concepts, charts the development of the field, evaluates successes and failures, and assesses the main current challenges and debates in the second decade of the twenty-first century. Existing material has been thoroughly updated and four new chapters added, on environmental conflict resolution, conflict resolution in the arts and popular culture, conflict resolution in the media and the communications revolution, and theories and critiques of the field. The authors argue that a new form of cosmopolitan conflict resolution is emerging, which offers a hopeful means for human societies to handle their conflicts non-violently and eventually to transcend and celebrate their differences. Part I offers a comprehensive survey of the theory and practice of conflict resolution. Part II sets the field within the context of rapid global change and addresses the controversies that have surrounded conflict resolution as it has entered the mainstream. Contemporary Conflict Resolution is essential reading for students of peace and security studies, conflict management and international politics, as well as for those working in non-governmental organizations and think-tanks.
(Bookdata)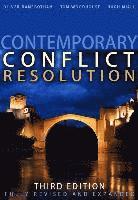 Fler böcker inom
Häftad (paperback)
Språk: Engelska
Antal sidor: 480
Utg.datum: 2011-03-11
Upplaga: 3 Rev ed
Förlag: Polity Press
Illustrationer: black & white tables, figures
Dimensioner: 245 x 170 x 26 mm
Vikt: 1050 g
Antal komponenter: 1
ISBN:

9780745649740
Fler böcker av författarna
Oliver Ramsbotham, Tom Woodhouse
Oliver Ramsbotham, Tom Woodhouse
Mr Hugh Miall
Oliver Ramsbotham
Recensioner i media
"Thoroughly recommended for all conflict resolution workers whether in academe, government or other parliamentary organisations, civil service, military departments, and NGOs and their supporters. Indeed, anyone prepared to study it in any depth would be amply rewarded." Medicine, Conflict and Survival "There is no more definitive text. It is impressive in its clarity, comprehensiveness, and ability to incorporate a historical overview of each area as well as the latest thinking and debates." Oliver Richmond, Director, Centre for Peace and Conflict Studies, University of St Andrews "This new third edition confirms the stellar place of this book on the bookshelf of every scholar and practitioner in the field of conflict resolution and peacebuilding. Nowhere else will you find such a comprehensive overview of the history of the field and its current methodologies, as well as entirely new chapters dedicated to the most pertinent issues of today, including the environment, gender, religion and the media. A must read - a hugely important resource for us all." Mari Fitzduff, Brandeis University "Contemporary Conflict Resolution has become an institution for teachers, students and researchers of armed conflict, conflict resolution and peacebuilding. This third edition - significantly revised and expanded, with a number of entirely new chapters - provides an excellent survey of the key theories, debates and cases in this area of scholarship. The inclusion of chapters on the environment , religion, culture, the media and language demonstrates that this volume is as innovative as it is comprehensive. It manages to be both a textbook and a volume that projects coherent and sometimes provocative arguments." Edward Newman, University of Birmingham "This is a thorough and well-written introduction to contemporary conflict resolution, which offers a distinctive perspective based on the notion of 'cosmopolitan conflict resolution'. It will be of great interest to students of peace and conflict studies." Adrian G. V. Hyde-Price, University of Bath
(Bookdata)
Bloggat om Contemporary Conflict Resolution
Övrig information
Oliver Ramsbotham is Emeritus Professor of Conflict Resolution at the University of Bradford, Tom Woodhouse is Adam Curle Professor of Conflict Resolution at the University of Bradford and Hugh Miall is Professor of International Relations at the University of Kent at Canterbury.
(Bookdata)
Innehållsförteckning
List of Figures List of Tables List of Boxes List of Maps Preface Acknowledgements List of Abbreviations PART I CONTEMPORARY CONFLICT RESOLUTION 1 Introduction to Conflict Resolution: Concepts and Definitions Why a Third Edition? Conflict Resolution Models Framework Models Classical Ideas New Developments in Confict Resolution Terminology Structure of the Book Recommended reading 2 Conflict Resolution: Origins, Foundations and Development of the Field Precursors: The First Generation, 1918-1945 Foundations: The Second Generation, 1945-1965 Consolidation: The Third Generation, 1965-1985 Reconstruction: The Fourth Generation, 1985-2005 Recommended reading 3 Statistics of Deadly Quarrels and the Measurement of Peace The Conflict Domain Measuring Peace and Peacefulness Conflicts Trends Conflict Distribution Conflict Types Terrorism and Conflict Conflict Costs Conflict Mapping and Conflict Tracking Recommended Reading 4 Understanding Contemporary Conflict Theories and Frameworks The Context for an Evaluation of Conflict Resolution Theory Edward Azar's Theory of Protracted Social Conflict (PSC) Have More Recent Theories Confirmed or Discredited PSC? An Interpretative Framework for Conflict Analysis The Analysis and Mapping of Complex Conflict Systems Conclusion Recommended Reading 5 Preventing Violent Conflict Causation and Prevention of Wars Emergent Conflict and Peaceful Change Deep or Structural Prevention Early Warning Light or Operational Prevention The Adoption of Conflict Prevention by International Organizations Evaluation of Conflict Prevention's Effectiveness Case Study: Preventive Crisis Management in Kenya Conclusion Recommended Reading 6 Containing Violent Conflict: Peacekeeping First- and Second-Generation UN Peacekeeping, 1956-1995 War Zones, War Economies and Cultures of Violence Third-Generation Peacekeeping: What Count As Peace Operations? Redefining Peace Operations Third-Generation Peacekeeping and Human Security Conflict Resolution and the Theoretical Debate About Peace Operations Case Study: Somalia 1991-2010 Conclusion Recommended Reading 7 Ending Violent Conflict: Peacemaking The Challenge of Ending Violent Conflict De-escalation, Ripeness and Conditions for Ending Violent Conflict Mediation and Third-Party Intervention Peace Processes: Turning Points, Sticking Points and Spoilers Negotiations and Settlements Case Studies Conclusion Recommended reading 8 Post-War Reconstruction Postwar Peace Operations Intervention, Reconstruction and Withdrawal (IRW) Operations 1989-2009 Filling the Postwar Planning Gap The International Postwar Reconstruction Blueprint: Dilemmas and Tradeoffs Current Controversies Summary from a Conflict Resolution Perspective The Question of Evaluation Conclusion Recommended reading 9 Peacebuilding The Mainstreaming of Peacebuilding Models in International Policy Peacebuilding Debates and Discourses: Beyond Blueprints and Towards an Emancipatory Conflict Resolution Ethic Hybrid Peace and Peacebuilding from Below: a Conflict Resolution Perspective Conclusion: Peace Education and Peacebuilding from Below in the Discourse of Conflict Resolution Recommended reading 10 Reconciliation Four Meanings of Reconciliation Between Separation and a Fusion of Identities Dealing with the Past: Trauma and Atrocity Peace or Justice? Not Exclusive Alternatives Alternative Paths to Reconciliation Reconciliation and Conssict Resolution: Going Down the Escalation Ladder Recommended reading PART II COSMOPOLITAN CONFLICT RESOLUTION 11 Towards Cosmopolitan Conflict Resolution The Nature of the International Collectivity The Arrow of the Future: Conflict Resolution and World Politics Conflict Resolution and International Institutions Conflict Resolution and International Law Conflict Resolution and Cosmopolitan Democracy Conflict Resolution and Terroris
(Bookdata)