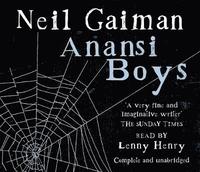 Fler böcker inom
Format

CD-bok

Språk

Engelska

Speltid

8m min

Utgivningsdatum

2005-09-01

Upplaga

Unabridged ed

Förlag

Dimensioner

126 x 143 x 48 mm

Vikt

385 g

Antal komponenter

10

Komponenter

10 Audio CDs

ISBN

9780755329373
Anansi Boys
Skickas inom 2-5 vardagar.
Fri frakt inom Sverige för privatpersoner.
Fat Charlie Nancy is not having a good week. It all hit the proverbial fan when his rotter of an estranged father dropped dead at a karaoke night and Charlie discovered that his dad was in fact Anansi the spider god. Then he found out that he has a brother (called Spider) who is also a god. And that said brother is hell bent on taking over his life, flat and fiancee, and, just to add insult to injury, doing a much better job of being him. Desperate to reclaim his life, Charlie enlists the help of four loco old ladies and their unique brand of voodoo - and unleashes a bitter and twisted force to get rid of Spider. But as darkness descends and badness begins is Fat Charlie Nancy going to get his life back in one piece or is he about to enter a whole netherworld of pain?
Passar bra ihop
+
Recensioner i media
'A warm, funny, immensely entertaining story about the impossibility of putting up with your relations - especially if they happen to be Gods. Anansi Boys combines the anarchy of Douglas Adams with a Wodehousian generosity of spirit. Guaranteed to make all but the most committed arachnophobe feel gratefully towards spiders' Susanna Clarke Susanna Clarke A warm, funny, immensely entertaining story... Anansi Boys combines the anarchy of Douglas Adams with a Wodehousian generosity of spirit Susanna Clarke 'The author...gives us powerful deities - Anansi is as charming and dangerous as he ought to be... A thoughtful, atmospheric novel' The Times 'Lenny Henry...is absolutely the perfect choice to read Anansi Boys... An absolutely top-notch performance, one that makes a terrific book even better' Publishers Weekly 'As imaginative fiction goes it has become clear that Gaiman has long since left any box. His credentials as a bankable novelist have grown with each title...from his epic of warring divinities, AMERICAN GODS, to ANANSI BOYS, which debuted at number 1 on the New York Times bestseller list.' Time, Australia 'Whizzing, twirling, erupting into dazzling cartwheels, firing off showers of multi-colored sparks, chortling to itself and muttering killer-diller one-liners, ANANSI BOYS draws the reader, ever more wide-eyed and amazed, into a world both feather-light and chockablock with mortal danger. Only Neil Gaiman could have brought this fraught enchantment into being, and the ongoing, ultimately revelatory travails of Fat Charlie Nancy display Gaiman's remarkable imaginative powers at full stretch. This book is going to sail off the shelves' Peter Straub Peter Straub 'Mixing farce and fantasy, epic mythology and domestic drama, Gaiman's novel is a clever piece of storytelling and a celebration of the magic of make-believe.' Independent on Sunday 'Neil Gaiman is one of the few genuinely intelligent writers of what is generally described as 'post-modern' fiction - his work is thoughtful, wise, spiritually challenging and incredibly funny...From Gaiman, it's a treasure, every word. I can't imagine a better way to start a holiday' Manda Scott, Church of England Newspaper, 22 July 2005 Manda Scott, Church of England Newspaper 'Brilliant mingling of the mundane and the fantastic' Publishers Weekly, 18/7/05 Publishers Weekly 'Gaiman juggles several intersecting narratives expertly...blithely echoing numerous creation myths and folklore motifs, Terry Southern's antic farces, Evelyn Waugh's comic contes cruel, and even - here and there - Muriel Spark's whimsical supernaturalism...enormously entertaining throughout' Kirkus Reviews, 15 July 2005 Kirkus Reviews 'A book it's impossible not to love' Starburst Gaiman is best-known for his Sandman series of graphic novels, but here he demonstrates an equally vivid ability to portray the mythic and the fantastic in comic prose...slapstick and verbal pyrotechnics are the primary motors of the book. The "apparent effortlessness" of this sort of writing requires planning and execution of a very high order... Neil Gaiman is a very good writer indeed, and this is a very funny bedtime story Daily Telegraph 'Bizarre, bonkers...rather brilliant' Ian Hislop 'Exhilarating and terrifying' Independent 'This is the most accomplished of Gaiman's novels thus far... Anansi Boys has charm going for it and a plot that pirouettes on a dime. Urbane and sophisticated' Time Out 'Part soap opera, part macabre fairy tale, part supernatural horror... Gaiman's writing is as sharp as ever, full of flair and fun...his characters are huge and full-blooded... Often hilarious and just as often unsettling, Anansi Boys is a dark delight' SFX magazine 'Lenny Henry...is absolutely the perfect choice to read Anansi Boys... An absolutely top-notch performance, one that makes a terrific book even better' Publishers Weekly '[Neil Gaiman is the] literary equivalent of a sexy rock star' Scotland on Sunday
Övrig information
Neil Gaiman is the author of over thirty acclaimed books and graphic novels for adults and children, including AMERICAN GODS, STARDUST, CORALINE and THE GRAVEYARD BOOK. His most recent novel for adults, THE OCEAN AT THE END OF THE LANE was highly acclaimed, appeared on the hardback and paperback Sunday Times bestseller lists and won several awards, including being voted Book of the Year in the National Book Awards 2013: 'Some books you read. Some books you enjoy. But some books just swallow you up, heart and soul' Joanne Harris. The recipient of numerous literary honours, Neil Gaiman's work has been adapted for film, television and radio. He has written scripts for Doctor Who, collaborated with authors and illustrators including Terry Pratchett, Dave McKean and Chris Riddell, and THE SANDMAN is established as one of the classic graphic novels. As George R R Martin says: 'There's no one quite like Neil Gaiman.' Originally from England, Neil Gaiman now lives in America.