Written and compiled by gerontologic nursing leaders, the
NGNA Core Curriculum for Gerontological Advanced Practice Nurses
provides a broad overview of advanced elder care nursing.
In easy-to-scan outline form, the book presents not only a thorough coverage of practice and illness management but also a wide range of professional information.
(SAGE Publications)
Kundrecensioner
Bli först att betygsätta och recensera boken NGNA Core Curriculum for Gerontological Advanced Practice Nurses.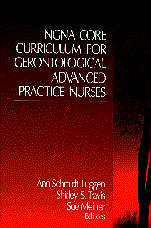 Fler böcker inom
Inbunden (hardback)
Språk: Engelska
Antal sidor: 736
Utg.datum: 1998-08-01
Förlag: SAGE Publications, Inc
Medarbetare: Travis, Shirley S.
Illustrationer: figures, tables, bibliography, references, index
Antal komponenter: 1
ISBN:

9780761913009
Fler böcker av Ann Schmidt Luggen
Melissa Bernstein, Ann Schmidt Luggen
Ann Schmidt Luggen, Sue E Meiner
Bloggat om NGNA Core Curriculum for Gerontological Advanced Pra...
Innehållsförteckning
THEORETICAL FOUNDATIONS IN NURSING AND GERONTOLOGY Aging Theories - Ann Schmidt Luggen Developmental Theories - Ann Schmidt Luggen Adaptation Theory - Sue Meiner Interactionist Theory - Sue Meiner Orem's Self-Care Deficit Theory - Patricia M Mezenskis General Systems Theory - Sue Meiner Role Theory - Dia D Campbell and Martha J Piper Role Modeling - Dia D Campbell and Martha J Piper Mentoring - Martha J Piper and Dia D Campbell Precepting - Dianne Thames Change Theory - Carol Mannahan Conflict Resolution - Carol Mannahan Decision-Making Models - Carol Mannahan Models of Health Behaviors - Harriet H Duncan and Shirley S Travis Adult Learning Theory - Harriet H Duncan and Shirley S Travis Myths and Stereotypes of Aging - Mary Lou Long Demographic Trends - Shirley S Travis Advocacy - Shirley S Travis and Harriet H Duncan PART TWO: PROFESSIONAL ISSUES OF ADVANCED PRACTICE NURSES Core Curriculum for Gerontological NP/CNS Education - Ruth F Craven Credentialing - Barbara J Hammer Standards of Practice - Belinda Kincaid and Sue Meiner Clinical Privileges - Sue Meiner Professional Organizations - Beatrice Carney Reimbursement - Lisa L Onega and Margaret Spencer Prescriptive Authority - Lisa L Onega and Faye A Grimmel Practice Models - Wanda Bonnel Role Functions - Marty Sparks Health Screening and Disability Prevention - Carol H Townsend Health Promotion and Specific Protection Measures - Mary Ann Pascucci Functional Restoration - Carol H Townsend and Colleen S Campbell PART THREE: THE EDUCATOR ROLE IN ADVANCED PRACTICE The Educator Role in Advanced Practice - Margaret M Anderson PART FOUR: COLLABORATION AND COORDINATION IN ADVANCED PRACTICE Assessing the Community - Kay Farrell Referrals - Kay Farrell Role Development in Interdisciplinary Teams - Kay Farrell Interdisciplinary/Intradisciplinary Team Building and Development - Kay Farrell Critical/Care Pathways - Kay Farrell Case Management - Kay Farrell PART FIVE: CONSULTATION Communication Principles/Techniques - Louvenia Carter Needs/Environmental Assessment - Sandra K Rayburn Service and Resource Evaluation - Sandra K Rayburn Caregiving Networks - Shirley S Travis and William J McAuley Networking - Martha Worcester PART SIX: THE RESEARCHER ROLE IN ADVANCED PRACTICE Identification of Gerontological Nursing Research Problems - JoAnn G Congdon Rights of Human Subjects/Ethical Issues - JoAnn G Congdon Institutional, Human, and Material Resources - JoAnn G Congdon Research Design and Methods - JoAnn G Congdon Evaluating, Interpreting, and Disseminating Research Findings - JoAnn G Congdon PART SEVEN: ADMINISTRATIVE ISSUES Health Care Delivery Systems and Financing - Alicebell M Rubotsky Organization Theory - Debra G Hovarter and June A Schmele Organizational Structure and Assessment - Adeline Falk Rafael Motivation - Marie Fisher Leadership Skills - Marie Fisher Problem Solving - Marie Fisher Assertiveness/Use of Power - Marie Fisher Resource Allocation, Use, and Consumption - Mary Ann Anderson Marketing Strategies - Alicebell M Rubotsky Patient Classification - Mary Ann Anderson Policy Development - Marie Fisher Performance Improvement - Marie Fisher PART EIGHT: LEGAL AND ETHICAL ISSUES Confidentiality - Alice G Rini Values Classification - Alice G Rini Informed Consent and Decision-Making Capacity - Alice G Rini Surrogate Advocacy - Alice G Rini Advance Directives - Alice G Rini 'Do Not Resuscitate' Orders - Alice G Rini Self-Determination - Alice G Rini Abuse - Alice G Rini Expert Testimony - Alice G Rini Restraint Use - Alice G Rini ANA Code of Ethics for Nurses with Interpretive Statements - Alice G Rini PART NINE: HEALTH POLICY ISSUES Long-Term Care - Anne Schmidt Luggen The Older Adult in Acute Care - Anne Schmidt Luggen Community Resources - Barbara J Hammer Transitional Living - Wendy Gunther Community Living/Life Care Centers - Sue Meiner Subacute Health Care - Mary Lou Long Health Policy - Alice G Rini Financial Resources and Legislative and Regulatory Issues PART TEN: PRAC
(SAGE Publications)