Basic reading proficiency is key to success in all content areas, but attending to students' literacy development remains a challenge for many teachers, especially after the primary grades. Knowledge to Support the Teaching of Reading presents recommendations for the essential knowledge about the development, acquisition, and teaching of language and literacy skills that teachers need to master and use. This important book is one result of an initiative of the National Academy of Education's Committee on Teacher Education, whose members have been charged with the task of creating a core knowledge base for teacher education.
(Bookdata)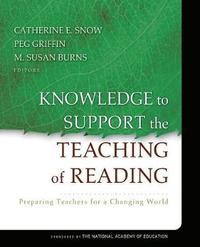 Häftad (Paperback)
Språk: Engelska
Antal sidor: 328
Utg.datum: 2007-08-01
Upplaga: 1
Förlag: Jossey-Bass Inc.,U.S.
Illustrationer: illustrations
Dimensioner: 234 x 178 x 23 mm
Vikt: 550 g
Antal komponenter: 1
ISBN: 9780787996338
Övrig information
COMMITTEE CHAIR: Catherine E. Snow Harvard University Catherine E. Snow, Henry Lee Shattuck Professor at the Harvard Graduate School of Education, carries out research on first- and second-language acquisition and literacy development in monolingual and bilingual children. She chaired the committee that produced the National Research Council Report Preventing Reading Difficulties in Young Children and the study group that produced Reading for Understanding: Toward an R&D Program in Reading Comprehension. She is a former president of the American Educational Research Association and a member of the National Academy of Education. Her research focuses on the social-interactive origins of language and literacy skills, the ways in which oral-language skills relate to literacy learning, the literacy development of English-language learners, and implications of research on language and literacy development for teacher preparation. COMMITTEE MEMBERS: M. Susan Burns George Mason University M. Susan Burns, Ph.D., is co-coordinator of the Early Childhood Education Program in the College of Education and Human Development at George Mason University. She has been active in national education policy on young children's early language and literacy development and the preparation of teachers for effective literacy instruction. Prior to her employment at George Mason University, she served as study director at the National Academy of Sciences/National Research Council for the Committee on the Prevention of Reading Difficulties in Young Children and the Committee for Early Childhood Pedagogy. Reports produced under her guidance and editorship during this time included Preventing Reading Difficulties in Young Children, Starting Out Right: A Guide to Promoting Children's Reading Success, and Eager to Learn: Educating Our Preschoolers. Most recently she is coauthor of Preparing Our Teachers: Opportunities for Better Reading Instruction. Gina Cervetti University of California, Berkeley Gina Cervetti is a postdoctoral scholar at the University of California, Berkeley, Graduate School of Education. Her current research agenda concerns the role of text in learning science and the potential of science-literacy integration to support students' development of academic literacy. Before coming to UC Berkeley, Cervetti completed her doctoral work in educational psychology at Michigan State University, where she was a researcher at the Center for the Improvement of Early Reading Achievement. Claude Goldenberg California State University, Long Beach Claude Goldenberg is professor of teacher education and associate dean of the College of Education, California State University, Long Beach. He received his Ph.D. degree in 1984 from the Graduate School of Education, UCLA. Prior to that he taught junior high school in San Antonio, Texas, and first grade in Los Angeles. His research interests include home and school factors in Latino children's achievement and the processes and dynamics of school change. He was a National Academy of Education Spencer Fellow and received the Albert J. Harris Award from the International Reading Association. His 1997 video Settings for Change described a five-year school-improvement project in a largely Latino, bilingual elementary school in the Los Angeles area. A book based on this project, Successful School Change: Creating Settings to Improve Teaching and Learning, was published in 2004 by Teachers College Press. Peg Griffin Laboratory of Comparative Human Cognition Peg Griffin, holder of a Ph.D. degree in linguistics from Georgetown University, is a research affiliate of the Laboratory of Comparative Human Cognition of the University of California at San Diego. She studies language in education, both as the topic of reading and writing instruction and as the medium for early education in mathematics and the social and natural sciences. She has collaborated on a variety of books: Preventing Reading Difficulties in Young Chil
(Bookdata)
Innehållsförteckning
Preface. National Academy of Education's Reading Sub-Committee Members. Acknowledgements. About the Authors. 1: Yet Another Report About Teacher Education? 2: Students Change: What Are Teachers to Learn About Reading Development? 3: Students Vary: How Can Teachers Address All Their Needs? 4: Students Encounter Difficulties: When Teachers Need Specialized Knowledge. 5: Learning to Use Assessments Wisely. 6: A Model of Professional Growth in Reading Education. Appendix. References. Name Index. Subject Index.
(Bookdata)