Filled with fine-scale drawings of America's tanks and other armored vehicles during the entire course of World War II. * M2 Halftrack * M3 Lee/Grant Tank * M3A3 Stuart Tank * M4 Sherman Tank * Staghound Armored Car * LVT Amphibious Tank * And dozens more ...Based on meticulous research of actual vehicles, official photographs, factory specifications, and, in some cases, the original design plans, each drawing is rendered with great precision--and in exact scale--offering military enthusiasts and modelers an essential reference on these steel chariots of war.
(Bookdata)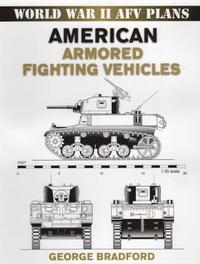 Fler böcker inom
Häftad (paperback)
Språk: Engelska
Antal sidor: 96
Utg.datum: 2006-02-01
Förlag: Stackpole Books
Illustrationer: 100 b/w diagrams
Dimensioner: 280 x 215 x 5 mm
Vikt: 260 g
Antal komponenter: 1
ISBN: 9780811733403
Övrig information
George Bradford is a technical artist and military historian who has been creating detailed drawings of armored fighting vehicles for more than thirty years.
(Bookdata)
Innehållsförteckning
M1 Combat Car; M2 Combat Car; M1 Armored Car; M2A2 Light Tank; M2A3 Light Tank; M2A4 Light Tank; M3A1 White Scout Car; M2Al Medium Tank; M2 Half-Track Car; T16 Half-Track Car; CTMS-1TB1 M-H Light Tank; MTLS-lGI4 M-H Light Tank; M3 -75mm Gun Motor Carriage; M3 Stuart Light Tank (early); M3 Lee Medium Tank (early); M4A1 Sherman Medium Tank (initial); T19 105mrn Howitzer Motor Carriage; T30 75mm Howitzer Motor Carriage; M4 Sherman Medium Tank; M3 Lee Medium Tank (late); M3A1 Lee Medium Tank; M3A1 Stuart Light Tank; M4A2 Sherman Medium Tank; M15 Multiple Gun Motor Carriage; M8 Scott Howitzer Motor Carriage; M29 Weasel Cargo Carrier; M2A1 Half-Track Personnel Carrier; M9Al Half-Track Personnel Carrer; M3A4 Lee Medium Tank; T13 Heavy Armored Car; T17 Deerhound Armored Car; T24 Scout Car; T17E1 Staghound Armored Car; T17E2 Staghound AA Armored Car; M3 Grant Medium Tank; M3 l (T2) Armored Recovery Vehicle; M7 Priest Howitzer Motor Carriage; M29C Weasel Cargo Carrier; M8 Greyhound Arrnored Car; M6A1 Heavy Tank; M15A1 Combination GMC; M20 Armored Command Car; M4A3 Sherman Medium Tank; M3A3 Stuart, Light Tank; M4A4 Sherman Medium Tank; M12 155mm Gun Motor Carriage; M30 Cargo Carrier; M5A1 Light Tank; M10 3" Gun Motor Carriage; M4A1 (76)W Sherman Medium Tank; M4A3E2 Jumbo Assault Tank; M1 8 Hell Cat 76rnm GMC; M3A2 Half-Track Personnel Carrier; M4A2(76)W Sherman Medium Tank; M39 Armored Utility Vehicle; M24 Chaffee Light Tank; LVT(A)- 1 Landing Vehicle Tracked; M22 (T9E1) Locust Light Tanli; TIE3 Aunt Jemima Mine Explodes; LVT(A)-4 Landing Vehicle Tracked; M36 90mm Gun Motor Carriage; M36B1 90mm Gun Motor Carriage; M37 105mm Howitzer Motor Carriage; Sherman Calliope Rocket Launcher; GMC DUKW-353; M4A3(76)W HVSS (M4A3E8) Sherman; M26 Pershing Medium Tank; T26E4 Super Pershing; T28/T95 Gun Motor Carriage; Basic Tank Components; Bibliography; Various Modelling Scales Chart.
(Bookdata)