Although discussions about the global environment are now a daily occurrence-from companies touting energy-saving products to politicians debating how to best address the issue of climate change and other environmental concerns-it remains a topic plagued by misinformation and ideologically skewed arguments. For more than twenty years, Global Environmental Politics has provided an up-to-date, accurate, and unbiased introduction to the world's most pressing environmental issues, and this new edition continues the tradition. With new material on the latest international environmental regimes, the 2012 UN Conference on Sustainable Development, the challenges of regime implementation, and the impact of the global economic crises on the global environment, the authors offer a comprehensive overview of the environment and international politics. It is vital reading for anyone wishing to understand the current state of the field and to make informed decisions about which policies might best safeguard our environment for the future.
(Bookdata)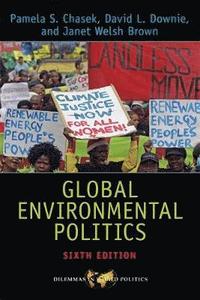 Fler böcker inom
Häftad (paperback)
Språk: Engelska
Antal sidor: 448
Utg.datum: 2013-08-22
Upplaga: 6 Rev ed
Förlag: Westview Press Inc
Illustrationer: illustrations
Dimensioner: 228 x 152 x 25 mm
Vikt: 535 g
Antal komponenter: 1
ISBN: 9780813348964
Recensioner i media
"This classic book, now in its sixth edition, presents an up-to-date, accessible and engaging entry into the ever-evolving world of global environmental politics, and Chasek, Downie and Brown effectively provide insights into cross-cutting themes being wrestled with by actors in global environmental politics today. An ideal text for any introductory course on global environmental policy, it is also an essential reference for those studying, and participating in, the negotiation and implementation of multilateral environmental agreements." -Pia Kohler, Williams College "This is the definitive text for students seeking to understand the actors, institutions, and political dynamism of contemporary international environmental policy. The book's particular strengths are its case studies and thorough updating." -Wil Burns, Johns Hopkins University Praise for Prior Editions: "The latest edition of Global Environmental Politics by Chasek and coauthors is quite simply the most comprehensive introduction to international environmental politics that currently exists. The book provides a meticulously detailed account of the emergence of the environment as an international issue. It documents the manifestation of new international institutions, regimes, and regulatory frameworks to confront ecological challenges. ...This text is an essential addition to any collection." -Choice "A well-seasoned text, the best in its field, at the introductory and advanced level ... Clear, cogent, current, and comprehensive...With more books like this, we stand a better chance of managing planet earth." -David Rosenberg, Middlebury College "The definitive textbook in its field...Clear, up-to-date, thorough, accurate, and consistently interesting for students and teachers alike." -Jeffrey Sachs, Columbia University "Broad in scope, excellent in content, and easy to read. It is an impressive summary of the fast-growing and rapidly changing world of international environmental politics. ...A must for students and teachers who have international environmental policy as part of their curriculum." -International Journal of Environment & Pollution "The many instructors who used the first edition of the Porter/Brown text in their courses will be delighted with this thoroughly revised second edition. It successfully captures contemporary trends in the rapidly changing world of environmental politics." -Marvin S. Soroos, North Carolina State University "As an introductory text, this book could hardly be bettered. It is clearly written, with a helpful glossary of technical terms and a useful chronology." -Times Literary Supplement "Well documented and remarkably up-to-date coverage. ...Its treatment of specific issues is sufficiently detailed to give the interested beginner a rounded grasp of their economic, scientific and political aspects...Highly recommended as an undergraduate textbook." -Environmental Politics "A sound primer on an area of increasing importance in the teaching of international relations. ...It deserves to attract an extensive readership." -Political Studies "Porter and Brown make a convincing case that environmental issues are going to increasingly dominate international affairs in the years ahead. I can think of no better way for diplomats to prepare for this new age of environmental diplomacy than by reading this book." -Lester Brown, Worldwatch Institute
(Bookdata)
Bloggat om Global Environmental Politics
Övrig information
Pamela Chasek is professor of political science and director of the international studies program at Manhattan College. She is the author and editor of several books and numerous articles on international environmental policy, including most recently The Roads from Rio: Lessons Learned from Twenty Years of Multilateral Environmental Negotiations. She is also the executive editor of the Earth Negotiations Bulletin, a reporting service on United Nations environment and development negotiations. David L. Downie is director of environmental studies and associate professor of political science at Fairfield University. Downie is also the author or editor of a variety of books, articles and book chapters on global environmental policy, his most recent work includes Climate Change: A Reference Handbook. Janet Welsh Brown is a former policy analyst at the World Resources Institute, former executive director of the Environmental Defense Fund, and a former member and chair of the board of directors of Friends of the Earth.
(Bookdata)
Innehållsförteckning
List of Illustrations Acknowledgments List of Acronyms Chronology 1 The Emergence of Global Environmental Politics Global Macrotrends An Introduction to Global Environmental Politics International Regimes in Global Environmental Politics Paradigms in Global Environmental Politics Conclusion 2 Actors in the Environmental Arena Nation-State Actors: Roles and Interests Intergovernmental Organizations Treaty Secretariats Multilateral Financial Institutions Regional and Other Multilateral Organizations Nongovernmental Organizations Business and Industry Conclusion 3 The Development of Environmental Regimes: Chemicals, Wastes, and Climate Change Ozone Depletion Hazardous Waste Toxic Chemicals Climate Change Conclusion 4 The Development of Environmental Regimes: Natural Resources, Species, and Habitats Biodiversity Loss Whaling International Trade in Endangered Species Fisheries Depletion Desertification Forests Conclusion 5 Effective Environmental Regimes: Obstacles and Opportunities Obstacles to Creating Strong Environmental Regimes Obstacles to Effective National Implementation and Compliance with Global Environmental Regimes Opportunities to Improve Effective Implementation and Compliance Increasing Financial Resources for Implementing Global Environmental Regimes Conclusion 6 Environmental Politics and Sustainable Development North-South Relations and Sustainable Development The Social Pillar of Sustainable Development Economic Development and Trade Conclusion 7 The Future of Global Environmental Politics Sustainable Development and Globalization: Dueling Paradigms Global Environmental Governance in a Changing International System The Continuing Evolution of Global Environmental Governance From the Millennium Development Goals to Sustainable Development Goals? Conclusion: The Prospects for Global Environmental Politics Notes Index
(Bookdata)