This reference work brings together the biology, mechanics, neurophysiology and pathophysiology of diseased joints, illustrates available physiologically-based treatments for osteoarthrosis and explains how and when to use them.;Highlighting the most up-to-date biomechanical principles, Mechanics of Human Joints: discusses the functional anatomy of joints; relates the neurophysiology of joints to ligamentous reconstruction; elucidates the pathophysiology of osteoarthrosis; summarizes the latest information on muscle physiology and electromyography; examines the effect of vibration and impulsive loading on joint pathology; and explicates the principles of prosthetic joint replacement.
(Bookdata)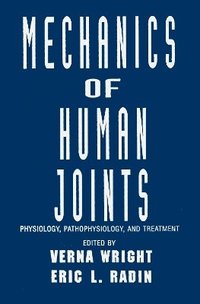 Inbunden (Hardback)
Språk: Engelska
Antal sidor: 480
Utg.datum: 1993-01-01
Förlag: Marcel Dekker Inc
Illustrationer: illustrations, tables, figures
Antal komponenter: 1
ISBN: 9780824787639
Innehållsförteckning
Part 1 Physiology of joints: biology of joints, Peter A. Simkin. Part 2 Mechanics: the anatomy of joints related to function, Laurence M. Adams; the mechanics of gait, Jacquelin Perry; synovial fluid, Pierre Geborek and Frank A. Wollheim; lubrication of human joints, Anthony Unsworth; ligament reconstruction with reference to the anterior cruciate ligament of the knee, Bahaa B. Seedhom; joint stiffness, P.S. Helliwell; muscle physiology and electromyography, Alison Cutts. Part 3 Neurophysiology: neurophysiology of joints, Hakan Johansson and Per Sjolander. Part 4 Pathophysiology: intervertebral disk, Gunnar B.J. Andersson; effect of vibration, J.E. Smeathers and P.S. Helliwell; osteoarthrosis, Eric L. Radin; mechanically induced periarticular and neuromuscular problems, Eric L. Radin. Part 5 Treatment: principles of joint prostheses, J. David Blaha; physiologically based treatments, Paul Maquet.
(Bookdata)