Over the past century, the field of sociology has experienced extraordinary expansion and vitality. But is this growth positive or negative - a promise of diversity or a threat of fragmentation?
This critical volume explores the meaning of sociology and sociological knowledge in light of the recent growth and institutionalization of the discipline. A stellar group of international authors powerfully identify, question, and transform key assumptions in sociology.
Leading us through the challenges faced by sociology, and the possible strategies for addressing them in the future, the book includes key issues such as:
globalization
development
social policy
inequality
An important companion for advanced undergraduates, postgraduates and researchers engaged with contemporary sociological theory, sociology of knowledge and sociological analysis.
(SAGE Publications)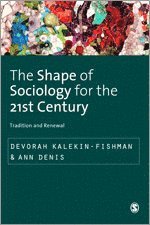 Fler böcker inom
Inbunden (hardback)
Språk: Engelska
Antal sidor: 360
Utg.datum: 2012-04-20
Förlag: SAGE Publications Ltd
Medarbetare: Denis, Ann
Illustrationer: illustrations
Dimensioner: 247 x 177 x 25 mm
Vikt: 748 g
Antal komponenter: 1
ISBN:

9780857021298
Fler böcker av Devorah Kalekin-Fishman
Lauren Langman, Devorah Kalekin-Fishman
Devorah Kalekin-Fishman, Kelvin E Y Low
Devorah Kalekin-Fishman
Ann Denis, Devorah Kalekin-Fishman
Recensioner i media
Sociology, itself a moment of the self-reflexive nature of modernity, periodically makes itself an object of reflection. This collection of papers, artfully brought together by Devorah Kalekin and Anne Dennis, by many of the leading sociologists of the ISA, covers a wide range of topics and perspectives that are crucial for understanding our time and how sociology shows both greater specialization of interests and at the same time, more interdisciplinary approaches - all of which are contextualized by the ever growing globality of our age - which includes the growing interests in sociology. It is mandatory reading for those concerned with where international sociology is and where it its going. And given the range of topics - it is a very enjoyable read
Professor Lauren Langman
Loyola University Chicago
---
All sociologists (and would-be sociologists) are interested in where their discipline is going and it is the backdrop to many conversations amongst those involved with the discipline, but serious discussion about the future is seldom broached. These essays from a workshop of luminaries associated with ISA build on a slim thread of earlier work by carefully updating and extending assessments of the discipline's past and by assaying its potentials. Their empirically-grounded examinations of the relationships between changing social realities (including a widening focus on the Global South) and the cognitive and social organisation of the discipline make the contributions particularly valuable
Professor Charles Crothers
Auckland University of Technology, New Zealand
---
This is an important and thought-provoking collection of contemporary articles on the current crisis in social theory
Professor Roger Penn
Lancaster University
---
With a comprehensive vision, great sociologists from around the world address the challenges of the new century"
Professor Michael Burawoy
University of California, Berkeley
---
The book itself is the product of a genuinely international effort and it would be wrong not to recognize this dimension. It arose from an initiative in 2008 in the International Sociological Association and contains nineteen chapters there is some disproportion (over half) of authors from English-speaking countries of majority-European extraction (Australia, Canada, UK, USA), with a smattering of other individual authors from Continental Europe, leaving sole representatives from Belarus, Brazil, Israel and The Philippines.

Chris Husbands
LSE Review of Books
(SAGE Publications)
Bloggat om The Shape of Sociology for the 21st Century
Innehållsförteckning
About the Contributors Introduction: The Foreseeable Future of Sociology - Devorah Kalekin-Fishman and Ann Denis Part I. Theorizing Sociology: From Past to Future Recent Changes in Sociology - Michel Wieviorka On Inter-Human Space: Toward a Third Sociology - Piotr Sztompka From Modernity to Globality: The Route within Sociology - Devorah Kalekin-Fishman Integrating the Analysis of Complex Inequalities and Globalization into the Heart of Social Theory Using Complexity Theory - Sylvia Walby Part II. Sociology and Social Change Beyond Three Constitutive Ideas of Classical Sociology: Globalization, Post-Modernity and Reflexivity - Emilio Lamo de Espinosa The Shape of Sociology: Looking at the History of our Present - Elisa Reis Dimensions of World-Making: Thoughts from the Caspian Sea - Dennis Smith Part III. Focus on Concepts Identity in the Global Age: Hegemony, Resistance and Social Transformation - Lauren Langman Community as Social Metaphor: The Need for a Genealogy of Social Collectivities - Michael Humphrey Professions and Professionalism: Perspectives from the Sociology of Professional Groups - Julia Evetts Part IV. Unconscious and Conscious Differentiation in Sociology Sociology's Narratives of Global Change: History, Place, and Formations of Knowledge in the Discipline's Past and Future - Raewyn Connell A Plea for a More Interpretive, More Empirical and More Historical Sociology - Gabriele Rosenthal Post-Soviet Sociology as a Pattern of 'Another Sociology' - Larissa Titarenko Part V. Unresolved Challenges Including Sociological Practice: A Global Perspective and the US Case - Jan Marie Fritz A Cultural Transformation - The Design of Alienation in the Guise of Creativity - Pirkkoliisa Ahponen 'Bystander Sociology' and the Sonderbehaltung of the Social - Marvin Prosono Precarious Disciplinary Intersections and Inconvenient Truths: Sociology in Search - Susan McDaniel Policy-Driven Research, Audit Culture, and Power: Transforming Sociological Practices in the Philippines - Emma Porio Part VI. Looking Ahead Sociology in the Twenty-First Century: Embracing Complexity, Diversity and a Global Perspective - Ann Denis
(SAGE Publications)