This A4 adventure audio is designed for children aged 7 upwards (KS2) already learning a second language. Alex lives in a castle on a hill, and unknown to him or his family, wolves, elves and dragons live nearby. As Alex flies his kite on a round trip through the countryside, stopping at his aunt's farm for lunch, he has various adventures before returning safely home. This delightful story can be enjoyed for itself, and/or used for language practice, providing phrases and vocabulary useful to improve skills and fluency in a second language. There are two accompanying books, available seprately, the first illustrating the story in pictures, and a second giving the text of the story in English and in French.
(Bookdata)
Kundrecensioner
Bli först att betygsätta och recensera boken Alex and Friends, Ses Amis, I Suoi Amici, Seine Freunde, Sus Amigos.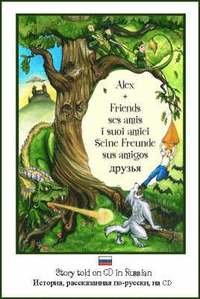 Fler böcker inom
Mixed media product
Språk: Ryska
Antal sidor: 36
Inläsare: Tatyana Serazudinova, Elena Karamushka
Utg.datum: 2007-03-01
Förlag: CMI Publishing Limited
Översättare: Evgeniya Tinovitskaya
Illustratör/Fotograf: Holly Alp
Illustrationer: jacket (2) & booklet cover (1) full colour
Komponenter: Contains CD-Audio (Audiobook) and Paperback
ISBN: 9780954170042
Bloggat om Alex and Friends, Ses Amis, I Suoi Amici, Seine Freu...
Övrig information
Valerie Rhenius spent 18 months as an au pair in Italy and Greece before returning to England to go to college. She found it much easier learning a language living within a native speaking family than learning French or Latin at school. She has a degree in Applied Biology, and worked for several years in scientific publishing. When Valerie recently tried to learn Russian, the time she had available for practising the language was while in the car acting as a taxi service for her teenage children. The concept for this audio book was born of her frustration at the lack of stand alone material available for listening to simple, every day Russian... or other languages.... The book grew a little, with a life of its own, and should prove useful alongside formal studies - for both children and adults - towards being able to actually understand the spoken language. Marie Jose Hilton studied languages and business in France before moving to England. She has been teaching nursery and primary school English children French for the last 15 years. She has suggested numerous ideas to incorporate into the story, has translated the story into her own language, and reads it for us in French. Tatyana Serazudinova is from Askabat in Turkmenistan. Her mother is Russian. Tania is married to an Englishman. They lived for several years in Kiev, and are presently working in Beirut. Tania has translated the story, and reads it for us in Russian. Holly Alp is an English illustrator living in Spain. She has been drawing ever since she could hold a pencil. She has been freelance for the last 5 years. Her art has been very much influenced by her surroundings. When she lived in England it was the forests, ancient woods and landscapes, certain films and even music scores. Now that she lives in Spain she finds herself captivated by the traditional fiestas, and the crazy topsy turvy town where she lives. http://www.elysiumrain.com
(Bookdata)