Effective management of the OR is critical in all clinical settings, where ensuring that policies, systems, staff members and teams are efficient, safe and cost-effective is paramount. Operating Room Leadership and Management is a comprehensive resource for physicians and administrators involved in the day-to-day management of operating rooms in a hospital setting or smaller-scale facilities. Topics include: OR metrics Scheduling Human resource management Leadership Economics IT management Quality assurance Recovery. This practical, evidence-based text is written by leaders in the field of OR management and is relevant to medical directors, administrators and managing physicians. Specific nursing considerations, preoperative patient evaluation, financial performance measures and pain clinic management are also discussed in detail. Operating Room Leadership and Management enables all OR managers to improve the efficiency and performance of their operating rooms.
(Cambridge)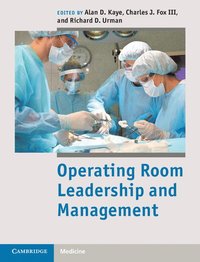 Fler böcker inom
Inbunden (Hardback)
Språk: Engelska
Antal sidor: 301
Utg.datum: 2012-10-04
Förlag: Cambridge University Press
Medarbetare: Fox, III, Charles J. / Urman, Richard D.
Illustrationer: Illustrations
Dimensioner: 241 x 184 x 20 mm
Vikt: 771 g
Antal komponenter: 1
ISBN: 9781107017535
Fler böcker av Alan D Kaye
Understanding Pain

Alan D Kaye, Richard Urman

This empowering book provides a comprehensive resource to help readers of all ages understand pain, seek the right diagnosis and treatment, and allow them to take control of their pain. * Contributions from experts from across the country in their...
Recensioner i media
'This book really widens your understanding of the dynamics of a successful surgical practice and will be extremely useful for different healthcare professionals with career interest in this field.' Anesthesiology

'... an excellent and thought-provoking reference for physicians considering leadership roles in the hospital or physicians frustrated with operating room (OR) inefficiencies ... The profession will be inspired to make new and creative changes to improve OR efficiency and anesthesia practice.' Canadian Journal of Anaesthesia

'This book provides an excellent platform and springboard for the discussion and effective resolution of divergent and oftentimes conflicting issues as they relate to operating room and hospital administration and management. To operate a safe, efficient and cost-effective medical facility, this book provides ... the critical information. It is a must-read.' Nano Khilani, Biz India


(Cambridge)
Övrig information
Alan D. Kaye, MD, PhD is Professor and Chair, Department of Anesthesia, Louisiana State University, New Orleans, LA, USA. Charles J. Fox III, MD is Director of Perioperative Management Fellowship and Associate Professor of Anesthesiology at the Department of Anesthesiology, Tulane Hospital and Clinic, New Orleans, LA, USA. Richard D. Urman, MD, MBA is Assistant Professor of Anesthesia, Harvard Medical School, Director, Procedural Sedation Management and Safety, Co-Director, Center for Perioperative Management and Medical Informatics, Department of Anesthesiology, Perioperative and Pain Medicine, Brigham and Women's Hospital, Boston, MA, USA. In addition, he serves as Chief Executive Officer of the Institute for Safety in Office-Based Surgery, an independent nonprofit organization.
(Cambridge)
Innehållsförteckning
Foreword Larry Hollier; Preface Alan D. Kaye, Charles J. Fox and Richard D. Urman; 1. Hospital strategic planning and implications for the OR manager Mike Williams; 2. Financial decision-making for the hospital administrator Mike Williams; 3. Perioperative leadership Alex Macario and Christoph Egger; 4. Preoperative clinic management Alicia Gruber; 5. Operating room metrics and scheduling Frank Dexter; 6. Analyzing financial and operational performance Robert Lynch; 7. Perioperative nursing and all complexities Melissa Guidry; 8. Perioperative staffing and compensation George Mychaskiw and Asa Lockhart; 8. Human resource management Paul Primeaux; 9. Electronic data for perioperative period Keith Ruskin; 10. Staff, quality, pay-for-performance Richard Dutton; 11. The Joint Commission, CMS, other standards Shermeen Vakharia and Zev Kain; 12. Surgical organization Frank Opelka; 13. Post-anesthesia care unit (PACU) Michael Yarborough and Henry Liu; 14. Ambulatory and office-based settings John Wellick; 15. Office-based practice Seth Christian and Charles Fox; 16. Anesthesia practice management Charles Fox; 17. Pain practice management Steve Waldman; 18. Future of perioperative management Lauri Saletnik and Michael Hicks; 19. Reengineering the OR function: clinical considerations Nigel Robertson; 20. Construction and design: technical considerations Judy Dahle and Pat Patterson; 21. Simulation and safety in the OR Trey Wiche and Val Kozmenko; 22. Billing and coding (anesthesia and surgery) Deborah Farmer and Devona Slater; 23. Surgical and facility billing Peggy Kelly; 24. Moderate and deep sedation practices Ann Bui and Richard D. Urman; 25. Perioperative efficiency and throughput Doug Vaughn and Richard D. Urman.
(Cambridge)