`[This] book takes a magnifying glass to great teaching, revealing the key assumptions that allow teachers to organize their teaching and discipline students in ways that invite student cooperation'
- from the Foreword by Spence Rogers, Founder and Director, Peak Learning Systems


`Rick Smith peeks behind the invisible veil of good teaching to discover numerous enlightening classical concepts and techniques that all teachers can use to become better at their craft'
- Rick Curwin, Author, Discipline with Dignity


Make your job easier! Find out what really works for effective classroom management and reap the benefits of engaged and productive students!
Conscious Classroom Management
is a delightfully rich text that incorporates meaningful stories, insights, humour, and invaluable strategies for what really works in the classroom. And while classroom management is the primary factor behind how successful teachers can achieve sustained student learning, this wonderful text also addresses the human elements of teaching, focusing on three primary subjects: the students, the teacher, and the relationship between the two.
Comprehensive and practical,
Conscious Classroom Management
helps you to:
- Eliminate power struggles with your most challenging students
- Discover how holding your ground can help students cooperate
- Uncover your teacher presence while reducing stress
- Create lessons that help students remain focused, eager, and willing to learn
- Appreciate your craft at a deeper level
- Think ahead and prepare to teach
- Energize and invigorate how you mentor and train other teachers
(SAGE Publications)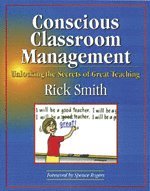 Fler böcker inom
Häftad (Paperback)
Språk: Engelska
Antal sidor: 256
Utg.datum: 2004-11-01
Upplaga: 1
Förlag: Corwin
Antal komponenter: 1
ISBN: 9781412969895
Övrig information
Rick Smith is an award-winning teacher, education consultant, and international presenter. He taught students in San Rafael, California for over fifteen years (with a primary focus on students at risk), and was a mentor/support provider and mentor coordinator for seven years. He has taught in the Secondary Credential Program at Dominican College in San Rafael and has trained American Peace Corps Volunteer Teachers in Ghana, West Africa. He has given numerous keynotes, pre-conference workshops, and presentations at state and national conferences throughout the United States. Currently, he teaches in the Elementary Credential Program at St. Mary's College in Moraga, California and mentors beginning teachers in the San Francisco Bay Area.
(SAGE Publications)
Innehållsförteckning
Foreword - Spence Rogers Acknowledgments 1. Introduction How to Use This Book Part I. Foundation - Who We Are 2. Assume the Best Teachers Teach Procedures and Behavior Students Want to Learn Content Students Want to Learn Behavior 3. Inner Authority The Inner Authority Continuum When and How to Apologize Growing in Inner Authority 4. Ask for Help Characteristics of a Good Teacher Countering Isolation Strategies 5. Got Stress? The Biggest Source of Teacher Stress Our Infinite Job Description Find What Works Taking Care of Ourselves Part II. Prevention - What We Do Proactively 6. Holding Our Ground The Firm and Soft Paradox Saying "No" Don't Over-explain Characteristics of an Effective "No" Ambiguous Characteristics of "No" Anger vs. Reactivity 7. Positive Connections The Ingredients - Caring The Recipe Avoiding Pitfalls 8. Teaching Procedures Procedures Are the Railroad Tracks - Content Is the Train What Procedures Do We Need? How Do I Teach Procedures Things to Do 9. Consistency Other Consistency Keys 10. Getting Ready What to Do Before School Starts Before-School Checklist Starting School What to Do First 11. Lesson Design The Big Picture Starting the Lesson The Lesson Itself Closure Part III. Intervention - What We Do in Response 12. Rules and Consequences Principles Rules Consequences - Five Key Assumptions The Nuts and Bolts of Consequences 13. Breaking the Cycle of Student Misbehavior Assumptions That Make a Difference Five Keys for Permanent Change Tips for Temporary Change 14. Putting It All Together - Final Thoughts Classroom Management: The Big Picture Teaching and Learning: The Big Picture Our Own Lives: The Really Big Picture Index About the Author
(SAGE Publications)