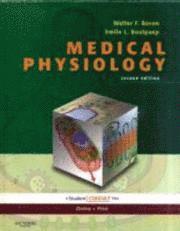 Fler böcker inom
Format

Inbunden (Hardback)

Språk

Engelska

Antal sidor

1352

Utgivningsdatum

2008-12-03

Upplaga

2

Medarbetare

Boulpaep, Emile L.

Illustratör/Fotograf

Illustrationer

Approx. 750 illustrations

Dimensioner

280 x 220 x 60 mm

Vikt

3260 g

Antal komponenter

1

Komponenter

Contains Hardback and Online resource

ISBN

9781416031154
Medical Physiology
With STUDENT CONSULT Online Access
Slutsåld
"Medical Physiology's trump card has to be the unparalleled detailed and colourful annotated illustrations and tables which are...indispensable in conceptualising complex pathways" (Medical Student Review)

The updated 2nd edition of this accessible and in-depth resource firmly relates molecular and cellular biology to the study of human physiology and disease. Leading physiologists present you with practical, accurate coverage, continually emphasising the clinical implications of the material. Each chapter explains the principles and organisation of each body system, clarifying every concept. This exceptionally detailed and comprehensive guide to physiology is ideal for a rich, straightforward, state-of-the-art understanding of this essential subject.
Fler böcker av Walter F Boron
Fisiologia Medica

Walter F Boron, Emile L Boulpaep

Aprenda fisiologia com uma abordagem aprofundada relacionando a biologia celular e molecular ao estudo da fisiologia humana e das doencas. Fisiologistas de renome apresentam um conteudo bem fundamentado e pratico, dando enfase as implicacoes clini...
Recensioner i media
"Clearly links the molecular and cellular biological foundations of physiology to organ-system physiology, as well as its aberrations that become disease. Designed to show 'expertise of a multi-author book with the consistency of a single pen' the editors sought Yale professors of physiology and then recast their manuscripts into uniform style to become a reliable resource for medical students. The excellent color illustrations can reduce the need for additional hand-outs."<br>-Comprehensive Therapy, review of previous edition
Bloggat om Medical Physiology
Innehållsförteckning
I Introduction

Chapter 1 Foundations of Physiology, Emile L. Boulpaep and Walter F. Boron

II Physiology of Cells and Molecules

Chapter 2 Functional Organization of the Cell, Michael J. Caplan

Chapter 3 Signal Transduction, Lloyd Cantley and Laura M. Roman

Chapter 4 Regulation of Gene Expression, Peter Igarashi

Chapter 5 Transport of Solutes and Water, Peter S. Aronson, Walter F. Boron, and Emile L. Boulpaep

Chapter 6 Electrophysiology of the Cell Membrane, Edward G. Moczydlowski

Chapter 7 Electrical Excitability and Action Potentials, Edward G. Moczydlowski

Chapter 8 Synaptic Transmission and the Neuromuscular Junction, Edward G. Moczydlowski

Chapter 9 Cellular Physiology of Skeletal, Cardiac, and Smooth Muscle, Edward G. Moczydlowski and Michael Apkon

III The Nervous System

Chapter 10 Organization of the Nervous System, Bruce R. Ransom

Chapter 11 The Neuronal Microenvironment, Bruce R. Ransom

Chapter 12 Physiology of Neurons, Barry W. Connors

Chapter 13 Synaptic Transmission in the Nervous System, Barry W. Connors

Chapter 14 The Autonomic Nervous System, George B. Richerson

Chapter 15 Sensory Transduction, Barry W. Connors

Chapter 16 Circuits of the Central Nervous System, Barry W. Connors

IV The Cardiovascular System

Chapter 17 Organization of the Cardiovascular System, Emile L. Boulpaep

Chapter 18 Blood, Emile L. Boulpaep

Chapter 19 Arteries and Veins, Emile L. Boulpaep

Chapter 20 The Microcirculation, Emile L. Boulpaep

Chapter 21 Cardiac Electrophysiology and the Electrocardiogram, W. Jonathan Lederer

Chapter 22 The Heart As a Pump, Emile L. Boulpaep

Chapter 23 Regulation of Arterial Pressure and Cardiac Output, Emile L. Boulpaep

Chapter 24 Special Circulations, Steven S. Segal

Chapter 25 Integrated Control of the Cardiovascular System, Emile L. Boulpaep

V The Respiratory System

Chapter 26 Organization of the Respiratory System, Walter F. Boron

Chapter 27 Mechanics of Ventilation, Walter F. Boron

Chapter 28 Acid-Base Physiology, Walter F. Boron

Chapter 29 Transport of Oxygen and Carbon Dioxide In the Blood, Walter F. Boron

Chapter 30 Gas Exchange in the Lung, Walter F. Boron

Chapter 31 Ventilation and Perfusion of the Lungs, Walter F. Boron

Chapter 32 Control of Ventilation, George B. Richerson and Walter F. Boron

VI The Urinary System

Chapter 33 Organization of the Urinary System, Gerhard Giebisch and Erich Windhager

Chapter 34 Glomerular Filtration and Renal Blood Flow, Gerhard Giebisch and Erich Windhager

Chapter 35 Transport of Sodium and Chloride, Gerhard Giebisch and Erich Windhager

Chapter 36 Transport of Urea, Glucose, Phosphate, Calcium, Magnesium, and Organic Solutes, Gerhard Giebisch and Erich Windhager