Since 1927, Goldman's Cecil Medicine has been the world's most influential internal medicine reference. Edited by Lee Goldman, MD and Andrew I. Schafer, MD, with associate editors and contributors who number among the most recognized and respected authorities in the field, Cecil continues to set the standard for all other resources of its kind. This dynamic, multi-media reference - with its practical, straight-forward style, accessible organization, evidence-ranked references, and robust online content - is quite simply the fastest and best place to find all of the authoritative, state-of-the-art clinical answers you need. Definitive, unbiased, evidence-based guidance is at your fingertips in print and online at www.expertconsult.com, with regular updates by Dr. Goldman to ensure that the content is as current as the day the book was published! More successfully than other resources, it lets you optimally understand, diagnose, and treat any medical disorder you encounter in practice. Its focused coverage nimbly integrates the latest developments in biology with current evidence-based diagnosis and therapy - including medication doses. A dynamic, masterfully organized format delivers fast access to the actionable information you need.
(Elsevier)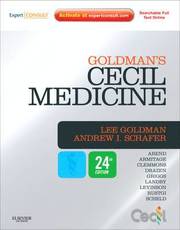 Fler böcker inom
Inbunden (hardback)
Språk: Engelska
Antal sidor: 2704
Utg.datum: 2011-09-02
Upplaga: 24
Medarbetare: Schafer, Andrew I.
Illustratör/Fotograf: 700 illustrations
Illustrationer: Approx. 700 illustrations (200 in full color)
Dimensioner: 311 x 254 x 88 mm
Vikt: 5874 g
Antal komponenter: 1
Komponenter: Hardback and Internet Resource
ISBN:

9781437716047
Fler böcker av Lee Goldman
Lee Goldman, Dennis Arthur Ausiello
Lee Goldman
Lee Goldman
Robert M Wachter, Lee Goldman m fl
Recensioner i media
<p>"This is a comprehensive volume of internal medicine and associated areas which can serve most excellently not only the medical student and the clinical resident but it should be on the bookshelf of all practicing physicians including those whose field is different from internal medicine." - Julian L. Ambrus, MD, PhD, FACP, Journal of Medicine
(Elsevier)
Bloggat om Goldman's Cecil Medicine
Övrig information
Executive Vice President for Health and Biomedical Sciences and Dean of the Faculties of Health Sciences and of Medicine, Harold and Margaret Hatch Professor of the University, Professor of Medicine and of Epidemiology, Columbia University, New York, NY
(Elsevier)
Innehållsförteckning
Cecil medicine, 24th edition
Edited by Lee Goldman and Andrew I. Schafer
Part 1: Social and Ethical Issues in Medicine
1: Approach to Medicine, the Patient, and the Medical Profession: Medicine as a Learned and Humane Profession
Lee Goldman
Editor: Goldman, Lee
2: Bioethics in the Practice of Medicine
Ezekiel Emanuel
Editor: Goldman, Lee
3: Care of Dying Patients and Their Families
Robert Arnold
Editor: Goldman, Lee
4: Cultural Context of Medicine
Victoria M. Taylor
Editor: Goldman, Lee
5: Socioeconomic Issues in Medicine
Steven Schroeder
Editor: Goldman, Lee
Part 2: Principles of Evaluation and Management
6: Approach to the Patient: History and Physical Examination
David Simel
Editor: Goldman, Lee
7: Approach to the Patient with Abnormal Vital Signs
David L. Schriger
Editor: Goldman, Lee
8: Statistical Interpretation of Data
Thomas Newman;Charles McCulloch
Editor: Goldman, Lee
9: Using Data for Clinical Decisions
Thomas Lee
Editor: Goldman, Lee
10: Measuring Health and Health Care
Stephan D. Fihn
Editor: Goldman, Lee
11: Quality of Care and Safety of Patients
Robert Wachter
Editor: Goldman, Lee
12: Comprehensive Chronic Disease Management
Edward H. Wagner
Editor: Goldman, Lee
Part 3: Preventive and Environmental Issues
13: Counseling and Advising for Behavior Changes
F. Daniel Duffy
Editor: Goldman, Lee
14: The Periodic Health Examination
David Atkins
Editor: Goldman, Lee
15: Physical Activity
David M. Buchner
Editor: Goldman, Lee
16: Adolescent Medicine
Debra Katzman;Lawrence Neinstein
Editor: Goldman, Lee
17: Immunization
Walter Orenstein;William Atkinson
Editor: Goldman, Lee
18: Principles of Occupational and Environmental Medicine
Mark R. Cullen
Editor: Goldman, Lee
19: Radiation Injury
Arthur Upton
Editor: Goldman, Lee
20: Bioterrorism
John G. Bartlett
Editor: Goldman, Lee
21: Chronic Poisoning: Trace Metals and Others
Michael A McGuigan
Editor: Goldman, Lee
Part 4: Aging and Geriatric Medicine
22: Epidemiology of Aging: Implications of the Aging Society
Linda Fried
Editor: Goldman, Lee
23: Geriatric Assessment
David B. Reuben
Editor: Goldman, Lee
24: Common Clinical Sequelae of Aging
Kenneth Minaker
Editor: Goldman, Lee
25: Incontinence
Neil Resnick
Editor: Goldman, Lee
26: Neuropsychiatric Aspects of Aging
Sharon Inouye
Editor: Goldman, Lee
27: Delirium and Other Mental Status Problems in the Older Patient
Sharon Inouye
Editor: Gold...
(Elsevier)