The crime genre entered Italy in the late 19th century as an import, and for a while authors followed models developed abroad, particularly in the United States, England and France. Soon, however, the genre revealed its potential to confront pressing and often uncomfortable issues which were pertinent to the Italian reality, and became a useful tool to restore, symbolically at least, the truth and justice that were, and still are, systematically denied in reality. Today the crime genre in Italy, particularly its noir sub-genre, narrates so that readers remember, so that they may take heed and action, turning cognition into an act of resistance against oblivion and rebellion against injustice. This book explores three broad areas that contemporary Italian noir literature appears particularly keen to debate so that they are not consigned to silence: unresolved historical and political legacies, the repercussions of which still inform and affect life and practices in the present times; the problematic institution of the family, considered as the bedrock of Italian culture and the founding principle of Italian society, with some specific attendant questions of gender politics; and the justice system seen through some of its operators, nominally in charge of putting the wrongs right and frequently accused of preventing this from happening. The texts analysed in this volume have all been published in the last twenty years. They represent an effort to resist oblivion and to expose and counter injustice through the power of the word. Chapter One looks at revisitsations of recent Italian history and the role of genre fiction in acts of resistance against revisionist attempts or cover-ups. It examines novels that look back at the years of the fascist regime and, more recently, at the period from the anni di piombo onwards. Chapter Two considers the contribution made to the giallo and noir genre by women writers, looking at the effects that female practitioners of this traditionally conservative genre have had on its ethics and aesthetics. Chapter Three examines novels set in a familial context and looks at a range of family dynamics, expressed in the relationships between mothers and sons, mothers and daughters, large extended families or small nuclear ones. If some of the texts expose the devastating effects of the violence perpetrated "in the name of love", others more positively offer hope, demonstrating how more desirable options do exist and can be pursued. Chapter Four looks at justice as a system and at its practitioners, as, in an interesting development peculiar to Italy, a significant number of judges, lawyers, senior police officers have recently become involved in crime fiction writing. This chapter investigates the contribution that these "specialists", who have extensive theoretical and technical knowledge in a field which crime fiction routinely frequents, can make to the genre; it also analyses whether these authors, who bring together the moral function of unveiling the truth (prerogative of the investigator) and the social function of rectifying a wrong (prerogative of the upholders of the law), may have a role in forming a more ethically and socially aware Italian citizen.
(Bookdata)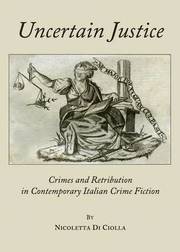 Fler böcker inom
Inbunden (hardback)
Språk: Engelska
Antal sidor: 230
Utg.datum: 2010-11-01
Förlag: Cambridge Scholars Publishing
Illustrationer: illustrations
Dimensioner: 209 x 146 x 25 mm
Antal komponenter: 1
ISBN:

9781443824200
Bloggat om Uncertain Justice
Övrig information
Nicoletta Di Ciolla is Senior Lecturer in Italian at the Manchester Metropolitan University. She has published on contemporary Italian literature and is co-editor (with Mirna Cicioni) of Differences, Deceits and Desires: Murder and Mayhem in Italian Crime Fiction (Delaware University Press 2008).
(Bookdata)