I'll shoot a policeman every day until you arrest the murderer of Hanneke Sloet.Shortly after the South African Police Services receive this threatening email, a policeman is shot by a sniper and recovering alcoholic Benny Griessel is ordered to reopen the Sloet case.Hanneke Sloet was a sensual and ambitious lawyer. At the time of her murder she was working on one of the biggest Black Empowerment deals in South African history. She was found dead in her luxury Cape Town apartment, a single stab wound to her chest.After forty days, the trail has gone cold. The first investigation could find no motive and no leads, only a set of nude photographs, an ex-boyfriend with a rock-solid alibi, conniving attorneys and financial double-dealing.Benny has to deal with immense pressure from his superiors, the media and the unfathomable sniper, whose emails keep coming and who won't stop shooting. And then there's Benny's love interest, former pop sensation Alexa Barnard, who is also trying to rebuild her life after the ravages of alcohol, and Benny has to make sure she stays sober for her comeback.At the same time, Benny's feisty colleague, Captain Mbali Kaleni, is hunting the shooter, trying desperately to find what connects him to Hanneke Sloet. Both Benny and Mbali are about to endure seven days of hell.
(Bookdata)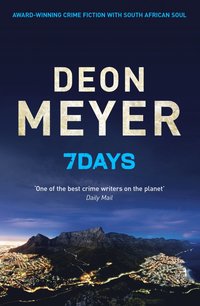 Fler böcker inom
Häftad (paperback)
Språk: Engelska
Antal sidor: 343
Utg.datum: 2012-08-02
Upplaga: Trade Paperback.
Förlag: Hodder & Stoughton Ltd
Originalspråk: English
Dimensioner: 240 x 150 x 25 mm
Vikt: 460 g
Antal komponenter: 1
Komponenter: STENCILS
ISBN:

9781444723717
Fler böcker av Deon Meyer
Deon Meyer
Deon Meyer
Deon Meyer
Deon Meyer
Recensioner i media
'How fulfilling the rewards are for those seeking crime fiction with real texture and intelligence ... The author presents an unsparing picture of social divisions in post-apartheid South Africa ... TRACKERS is a sprawling, invigorating and socially committed crime novel.' -- Independent 'An ambitious, multi-threaded tale ... comprehensively pulling the reader into the melee of modern South Africa ... this is a book that tells a cracking story and captures the criminal kaleidoscope of a nation.' -- Times Literary Supplement 'Meyer is the leading chronicler of South Africa, and his latest novel shows off his technical skill ... a dazzling performance.' -- Sunday Times Books of the Year 2011 'This year's great discovery: classy, edgy writing, subtly plotted and beautifully balanced between fast-paced action, pungent social comment and the process of investigation.' -- Weekend Australian The Thriller Shot of the Year title goes to South African Deon Meyer for his superb tour-de-force TRACKERS which combines a spy plot worthy of Le Carre ("spy the beloved country") with several tense and violent criminal sub-plots and a complex and stunningly impressive narrative structure. All in all, a masterpiece of South African crime writing; which is rapidly proving to be the bench-mark of international crime fiction.' -- Shots 'This South African kind of crime is going global fast. TRACKERS shows why: three deftly-braided plot strands join political sophistication, strongly-drawn characters and a passionate concern with the Rainbow Nation's fate.' -- i 'An unusually intriguing story about modern South Africa.' -- Literary Review 'The book that stayed with me most from this year is Deon Meyer's TRACKERS ... a dazzling performance.' -- Joan Smith, Sunday Times books of the year 2011 'Critics were struggling to come up with new adjectives to praise the South African writer Deon Meyer's TRACKERS, a menacing tale of smuggling and disappearances on a sprawling canvas of post-apartheid South Africa.' -- Independent Books of the Year 'The author is proclaimed to be "South Africa's answer to Stieg Larsson" in a banner headline on the cover. I wouldn't disagree with that. He is certainly as powerful a writer, although his style is slightly different, and considerably more complex ... this is one of the most absorbing crime stories you are ever likely to read.' -- Shots 'Meyer's ambition matches his execution in this brilliantly complex standalone thriller set in his native South Africa ... Few readers will anticipate exactly how the separate plot strands will be resolved. This powerhouse read, which captures the many facets of modern South Africa, should be the American breakthrough book this talented author deserves.' -- Publishers Weekly Starred Review 'Award-winning crime fiction author Meyer demonstrates his superb gift for bringing together several disparate plots, striking characters, and vividly drawn scenes of contemporary South Africa, all roaring towards a climax with more than one surprise ... With a fine eye for detail, an unflattering image of South African culture, and clear sympathy for the downtrodden, Meyer still never loses his focus on page-turning suspense and riveting mystery. Highly recommended.' -- Library Journal Starred Review 'Publishers and booksellers trumpet that "South Africa is the new Scandinavia" when it comes to crime writing and that Deon Meyer is "South Africa's Answer to Stieg Larsson". He's not; he's far better ... With TRACKERS I would suggest he has moved into the John le Carre class, and not simply because one of the plot lines is about the workings of a South African security department and the political in-fighting involved, but mainly because this is a book which is a great thriller and a fine novel of characterisation. Indeed, the cast of characters is diverse (morally as well as ethnically) but every single one is fully-formed and three-dimensional and they all play
(Bookdata)
Övrig information
Deon Meyer lives in Durbanville in South Africa with his wife and four children. Other than his family, Deon's big passions are motorcycling, music, reading, cooking and rugby. In January 2008 he retired from his day job as a consultant on brand strategy for BMW Motorrad, and is now a full time author.Deon Meyer's books have attracted worldwide critical acclaim and a growing international fanbase. Originally written in Afrikaans, they have now been translated into twenty-five languages.In 2010, THIRTEEN HOURS was shortlisted for the CWA International Dagger and won the Boeke Prize in South Africa - the first time in the prize's 16 year history that a South African book has won.
(Bookdata)