Now a major TV series from JJ Abrams and Stephen King, starring James Franco (Hulu US, Fox UK and Europe, Stan Australia, SKY New Zealand). WHAT IF you could go back in time and change the course of history? WHAT IF the watershed moment you could change was the JFK assassination? 11.22.63, the date that Kennedy was shot - unless ...King takes his protagonist Jake Epping, a high school English teacher from Lisbon Falls, Maine, 2011, on a fascinating journey back to 1958 - from a world of mobile phones and iPods to a new world of Elvis and JFK, of Plymouth Fury cars and Lindy Hopping, of a troubled loner named Lee Harvey Oswald and a beautiful high school librarian named Sadie Dunhill, who becomes the love of Jake's life - a life that transgresses all the normal rules of time. With extraordinary imaginative power, King weaves the social, political and popular culture of his baby-boom American generation into a devastating exercise in escalating suspense.
(Bookdata)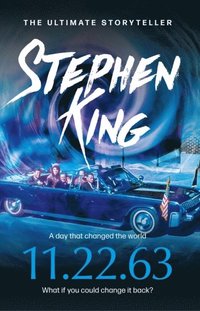 Fler böcker inom
Häftad (paperback)
Språk: Engelska
Antal sidor: 752
Utg.datum: 2012-07-05
Upplaga: Collector's limited ed
Utmärkelser: Winner of International Thriller Writers Award - Best Hardcover Novel 2012.
Förlag: Hodder Paperback
Dimensioner: 196 x 126 x 45 mm
Vikt: 500 g
Antal komponenter: 1
ISBN: 9781444727333
Recensioner i media
The story comes off the blocks with almost alarming speed ... he tells a story like a pro ... 11.22.63 kept me up all night. Daily Telegraph Stephen King at his epic, pedal-to-metal best Alison Flood, Sunday Times, Culture Not just an accomplished time-travel yarn but an action-heavy meditation on chance, choice and fate. Independent Books of the Year The details of Fifties America, the cars, the clothes, the food, the televisions with wonky horizontal hold, are so vivid that you begin to wonder whether the author himself hasn't had access to a time machine ... But as you worry at the paradoxes and the brilliantly explained pseudo science there is no denying that this monster yearn is blindingly impressive. Daily Express You have to take a leap of faith with time-travel novels, but if there's one writer who can pull it off, it's Stephen King ... Captivating, surprisingly pacy and free from sci-fi cliche, it's no wonder the film version is already being planned. Shortlist This is the American of Stephen King's childhood and it's one that he re-creates in vivid and loving detail ... This is a truly compulsive, addictive novel not just about time-travel or the Kennedy assassination but about recent American history and its might-have-beens, about love, and about how life 'turns on a dime'. It's a thunking 700-pager which left me only wanting more. The master storyteller in truly masterful form. Daily Mail King swiftly moves beyond vintage Americana to unfold a stunningly panoramic portrait of the era. His [King's] fascination with evil ... arranges characters among clear mortal frontiers that fell meaningful rather than simplistic. King commands an inordinately fat space on the bookshelf with 11.22.63 but it's hard to begrudge when his vast imagination is working across such an epic canvas. Seven, The Sunday Telegraph Stephen King is up there with the best. It's a thriller, a meditation on late Fifties and early Sixties America and a love story. It creates a world you can lose yourself in. Peter Robinson in the Sunday Express Stephen King's new novel, 11.22.63, combines a variety of genres, being a JFK assassination, a story of time travel, a variation on the grail quest, a novel of voyeurism, a love story, a historical novel, a counter-factual historical novel and the chilling tale of a sinister animate universe, a form which can be traced back to the ghost stories of MR James. London Review of Books Time travel and an incredible talent for storytelling combine to produce a unique tour de force. Sun One of the strengths of the book is King's at once nostalgic and honest view of the end of the Eisenhower era. King manages to avoid both sentimentalizing the past and treating it with massive condescension; his role as the poet of American brand-names serves him well here. Independent 11.22.63 marks a definite maturing of literary command and ambition. The key to any novel set in an alternate reality is credible world building, the steady accumulation of detail - preferably lightly distributed - that brings the story alive. King succeeds in this, partly drawing from his own memories. Adam LeBor FT Weekend King's mastery of plot and his ability to create characters and situations both homespun and far-fetched means that this is the book you dream of getting stuck on the train home with. Independent on Sunday
(Bookdata)
Övrig information
Stephen King has written some fifty books and novellas, all of them worldwide bestsellers. Among his most recent are FULL DARK, NO STARS, UNDER THE DOME, JUST AFTER SUNSET, the DARK TOWER NOVELS and his acclaimed non-fiction book, ON WRITING. He won America's prestigious National Book Award and was voted Grand Master in the 2007 Edgar Allen Poe awards. He lives with his wife, novelist Tabitha King, in Maine, USA.
(Bookdata)