Accessible, timely, and stimulating, the Fourth Edition provides a comprehensive analysis of the key ideas, theories, and applications in the field viewed through the metaphor of a kaleidoscope.
Focusing on contemporary contributions to the field while incorporating classical and theoretical arguments, this collection of creative articles by top scholars explains how the complex, evolving patterns of gender are constructed interpersonally, institutionally, and culturally.
(SAGE Publications)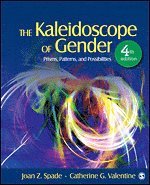 Fler böcker inom
Häftad (paperback)
Språk: Engelska
Antal sidor: 616
Utg.datum: 2013-08-12
Upplaga: 4 Rev ed
Förlag: SAGE Publications, Inc
Medarbetare: Valentine, Catherine (Kay) G.
Illustrationer: illustrations
Dimensioner: 228 x 184 x 31 mm
Vikt: 1025 g
Antal komponenter: 1
ISBN: 9781452205410
Bloggat om The Kaleidoscope of Gender
Övrig information
Joan Z. Spade is professor emerita of sociology at The College at Brockport, State University of New York, in Brockport, New York. She received her PhD from the University of Buffalo. She has been teaching and writing in the field for more than 30 years: highlights include a semester teaching in Budapest, Hungary, as a Fulbright Scholar, and authoring articles on rape culture, meaning of work in mens and womens lives, gender and family, and gender in education. She is a coauthor of Schools and Society: A Sociological Approach to Education, coeditor of Implementing Educational Reform: Sociological Perspectives on Educational Policy, and coauthor of articles in sociology of education on stratification and grouping practices in education. Currently she is researching academic governance in higher education. She is a member of the ASA, the Eastern Sociological Society, and Sociologists for Women in Society.
Catherine (Kay) G. Valentine is professor emerita of sociology at Nazareth College in Rochester, New York. She received her Ph.D. from Syracuse University and her B.A. from the State University of New York at Albany. Kay taught a wide range of courses, such as sociology of gender, senior seminar in sociology, sociology of bodies and emotions, sociology of consumerism, and human sexuality. Her publications include articles on teaching sociology, womens bodies and emotions, gender and qualitative research, and the sociology of art museums. She is the founding director of womens studies at Nazareth College and long-time member of the American Sociological Association and Sociologists for Women in Society. She has also served as president of the New York State Sociological Association. Kay and her life partner, Paul J. Burgett, University of Rochester vice president and professor of music, are devotees of the arts and world travel.
(SAGE Publications)
Innehållsförteckning
PRISMS THE PRISM OF GENDER Gender as a Social Structure: Theory Wrestling With Activism - Barbara J. Risman What It Means to Be Gendered Me - Betsy Lucal Beyond Pink and Blue - Sharon E. Preves The Trouble With Testosterone - Robert Sapolsky Men Who Strike and Men Who Submit: Hegemonic and Marginalized Masculinities in Mixed Martial Arts - Akihiko Hirose and Kay Kei-ho Pih Multiple Genders Among North American Indians - Serena Nanda THE INTERACTION OF GENDER WITH OTHER SOCIALLY CONSTRUCTED PRISMS Intersectionality: A Transformative Paradign in Feminist Theory and Social Justice" - Bonnie Thornton Dill and Maria H. Kohlman I was Aggressive for the Streets, Pretty for Pictures: Gender, difference and the inner city girl - Nikki Jones Asian American Women and Racialized Femininities: "Doing" Gender Across Cultural Worlds - Karen D. Pyke and Denise L. Johnson Intersectionality in a Transnational World - Bandana Purkayastha GENDER AND THE PRISM OF CULTURE "It's Only a Penis": Rape, Feminism, and Difference - Christine Helliwell Hyper-femininity as Decency: Beauty, Womanhood and Respect in Emigration - Martina Cvajner Nocturnal Queers: Rent Boys' Masculinity in Istanbul - Cenk Ozbay Reinventing Honorable Masculinity: Discourses From a Working-Class Indian Community - Annie George Gender and Power - Maria Alexandra Lepowsky PATTERNS LEARNING AND DOING GENDER What Gender is Science? - Maria Charles "No Way My Boys Are Going to Be Like That!" Parents' Responses to Children's Gender Nonconformity - Emily W. Kane Gender in Twentieth Century Children's Books: Patterns of Disparity in Titles and Central Characters - Janice McCabe, Emily Fairchild, Liz Grauerholz, Bernice A. Pescodolido, and Daniel Tope "Do it for all Your Public Hairs": Latino Boys, Masculinity, and Puberty - Richard Mora My Life as a Man - Elizabeth Gilbert "Barbie Dolls" on the Pitch: Identity Work, Defensive Othering, and Inequality in Women's Rugby - Matthew B. Ezzell BUYING AND SELLING GENDER The Pink Dragon Is Female: Halloween Costumes and Gender Markers - Adie Nelson Performing Third World Poverty: Racialized Femininities in Sex Work - Kimberly Hoang Firming the Floppy Penis: Age, Class, and Gender Relations in the Lives of Old Men - Toni Calasanti and Neal King Nennu and Shunnu: Gender, Body Politics, and the Beauty Economy in China - Jie Yang Is He Boyfriend Material? Representation of Males in Teenage Girls' Magazines - Kirsten B. Firminger TRACING GENDER'S MARK ON BODIES, SEXUALITIES, AND EMOTIONS Size 6: The Western Woman's Harem - Fatema Mernissi Individual Bodies, Collective State Interests: The Case of Israeli Combat Soldiers - Orna Sasson-Levy Equal Opportunity Objectification? The Sexualization of Men and Women on the Cover of Rolling Stone - Erin Hatton and Mary Nell Trautner "If It's Not On, It's Not On"-Or Is It? - Nicola Gavey, Kathryn McPhillips, and Marion Doherty Emotions and Redefining Black Masculinity: Movement Narratives of Two Profeminist Organizers - Aaronette M. White and Tal Peretz GENDER AT WORK Inequality Regimes: Gender, Class, and Race in Organizations - Joan Acker Gendered Organizations in the New Economy - Christine Williams, Chandra Muller, and Kristine Kilanski Racializing the Glass Escalator: Reconsidering Men's Experiences with Women's Work - Adia Harey Wingfield Hard Drives and Glass Ceilings: Gender Stratification in High-Tech Production - Steven C. McKay Mommies and Daddies on the Fast Track in Other Wealthy Nations - Gwen Moore Moral Dilemmas, Moral Strategies, and the Transformation of Gender: Lessons From Two Generations of Work and Family Change - Kathleen Gerson GENDER IN INTIMATE RELATIONSHIPS Thinking About Gender and Power in Marriage - Veronica Jaris Tichenor Youth Privilege: Doing Age and Gender in Russia's Single-Mother F
(SAGE Publications)