Marked for DeathFanatics, terrorists, and appeasers have tried everything to silence Geert Wilders, Europe s most controversial Member of Parliamentfrom putting him on trial to putting a price on his head. But Wilders refuses to be silencedand one result is the book you have in your hands.For years, from his native Netherlands, Wilders has sounded the alarm about the relentless spread of Islam in the West. And he has paid a steep personal price, enduring countless death threats and being forced into a permanent state of hiding.Now, for the first time, Wilders offers a full account of his long battle against the zealots who have already slaughtered his countryman Theo van Goghwhose killer also threatened to murder Wilders himself.In
Marked for Death
, Wilders reveals:
Howand whyliberal politicians, including Barack Obama, downplay the Islamic threat
The systematic suppression of free speech through lawsuits, prosecutions, threats, and violence meted out against Islam s critics
The untold story: how Islamic groups are redefining human rights to suppress non-Muslims everywhere
The true, bloody history of Islam s spread throughout the world
How the West can defend itself against an existential enemy determined to conquer the globeExpelled from Britain, banned from Indonesia, denounced by the UN Secretary General, prosecuted in court for his beliefs, forced into government safe houses, and constantly threatened with death, Geert Wilders is unbowed and unapologetic. Marked for Death is a stark warning about a growing threat to our liberties written by a man who has lost his freedomand would not see the rest of us suffer the same fate."

(Bookdata)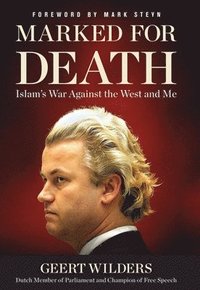 Fler böcker inom
Inbunden (Hardback)
Språk: Engelska
Antal sidor: 286
Utg.datum: 2012-05-17
Förlag: Regnery Publishing Inc
Dimensioner: 241 x 154 x 25 mm
Vikt: 476 g
Antal komponenter: 1
ISBN: 9781596987968
Övrig information
A member of the Dutch Parliament since 1998, Geert Wilders is the founder and leader of the Party for Freedom (PVV) in the Netherlands. Since 2004, he has been living under round-the-clock police protection due to death threats from extremist Muslims. In 2008, he attracted international attention when he was taken to court over <i>Fitna</i>, a documentary he filmed that explores Islamic terrorism and the spread of Islam in the Netherlands. Mr. Wilders now travels the world in defense of liberty and freedom of expression.
(Bookdata)