NEW YORK TIMES BESTSELLER WINNER OF THE CMI MANAGEMENT FUTURES BOOK OF THE YEAR AWARD. What if we could improve our ability to predict the future? Everything we do involves forecasts about how the future will unfold. Whether buying a new house or changing job, designing a new product or getting married, our decisions are governed by implicit predictions of how things are likely to turn out. The problem is, we're not very good at it. In a landmark, twenty-year study, Wharton professor Philip Tetlock showed that the average expert was only slightly better at predicting the future than a layperson using random guesswork. Tetlock's latest project - an unprecedented, government-funded forecasting tournament involving over a million individual predictions - has since shown that there are, however, some people with real, demonstrable foresight. These are ordinary people, from former ballroom dancers to retired computer programmers, who have an extraordinary ability to predict the future with a degree of accuracy 60 per cent greater than average. They are superforecasters. In Superforecasting, Tetlock and his co-author Dan Gardner offer a fascinating insight into what we can learn from this elite group. They show the methods used by these superforecasters which enable them to outperform even professional intelligence analysts with access to classified data. And they offer practical advice on how we can all use these methods for our own benefit - whether in business, in international affairs, or in everyday life.
(Bookdata)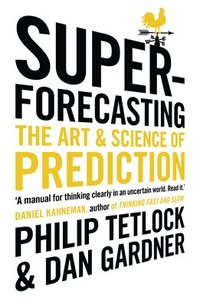 Fler böcker inom
Häftad (Paperback)
Språk: Engelska
Antal sidor: 352
Utg.datum: 2016-04-07
Utmärkelser: Winner of CMI Management Book of the Year: Management Futures Category 2017.
Förlag: Random House Books
Dimensioner: 198 x 129 x 23 mm
Vikt: 262 g
ISBN: 9781847947154
Recensioner i media
"The techniques and habits of mind set out in this book are a gift to anyone who has to think about what the future might bring. In other words, to everyone." Economist "A terrific piece of work that deserves to be widely read ... Highly recommended." Independent "This marvelous book tells an exciting story of ordinary people beating experts in a very serious game. It is also a manual for thinking clearly in an uncertain world. Read it." -- Daniel Kahneman "Full of excellent advice - it is the best thing I have read on predictions ... Superforecasting is an indispensable guide to this indispensable activity." The Times "Philip Tetlock has transformed the science of prediction." Spectator "The most important book on decision making since Daniel Kahneman's Thinking, Fast and Slow." Wall Street Journal "Fascinating and breezily written." Sunday Times "Superforecasting is a fascinating book." Daily Mail "Superforecasting is a very good book. In fact it is essential reading." Management Today "The best way to know if an idea is right is to see if it predicts the future. But which ideas, which methods, which people have a track record of non-obvious predictions vindicated by the course of events? The answers will surprise you, and they have radical implications for politics, policy, journalism, education, and even epistemology - how we can best gain knowledge about the world. The casual style of Superforecasting belies the profundity of its message." -- Steven Pinker "Superforecasting is a rare book that will make you smarter and wiser. One of the giants of behavioral science reveals how to improve at predicting the future." -- Adam Grant "The material in Superforecasting is new, and includes a compendium of best practices for prediction ... [It offers] us all an opportunity to understand and react more intelligently to the confusing world around us." New York Times Book Review "Tetlock's 'Ten Commandments For Aspiring Superforecasters' should probably have a place of honor in most business meeting rooms." Forbes "There isn't a social scientist in the world I admire more than Phil Tetlock." -- Tim Harford "Superforecasting is the most important scientific study I've ever read on prediction." Bloomberg View "A fascinating study of what it is that makes some forecasters consistently better than others." International Politico "Tetlock's work is fascinating and important, and he and Gardner have written it up with verve. - Financial Times " -- Stephen Cave "Superforecasting by Philip Tetlock and Dan Gardner, is one of the most interesting business and finance books published in 2015." -- John Kay Financial Times "The lessons of superforecasting are keenly relevant to huge swathes of our lives." -- Matthew Syed The Times "Tetlock writes boldly about wanting to improve what he sees as the bloated, expensive - and not terribly accurate - intelligence apparatus that advises our politicians and drives global affairs." City A.M. "Philip Tetlock's Superforecasting is a common-sense guide to thinking about decision-making and the future by a man who knows this terrain like no one else." -- Books of the Year Bloomberg Business "What I found most interesting was the continuous process of integrating new information to test and modify existing beliefs ... clearly a beneficial skill in financial markets" Citywire "Social science has enormous potential, especially when it combines 'rigorous empiricism with a resistance to absolute answers.' The work of Philip Tetlock possesses these qualities." Scientific American "A fascinating book." PR Week "Offers a valuable insight into the future of management." -- CMI Management Book of the Year judges "Both rigorous and readable. The lessons are directly re
(Bookdata)
Övrig information
Philip Tetlock is Leonore Annenberg University Professor of Psychology at the University of Pennsylvania. He is the author of several books on politics and psychology, including Counterfactual Thought Experiments in World Politics and the award-winning Expert Political Judgment: How Good Is It? How Can We Know? Dan Gardner is a journalist, author and lecturer. He is the best-selling author of Future Babble: Why Expert Predictions Fail and Why We Believe them Anyway and Risk: The Science and Politics of Fear, which was published in 11 countries and 7 languages. He lives in Ottawa, Canada.
(Bookdata)