Stephen Edgell's book charts the rise of 'work' and explores all aspects of work including paid and unpaid, standard and non-standard and unemployment. New material has been incorporated covering the theories and practices of globalization, interactive service work, economic crisis, technological and organizational change, and trade unions.
Drawing on classic and contemporary theorists, the author:
Covers key issues regarding paid industrial and service sector work: alienation, skill, post-industrial society, network enterprises, flexibility, Fordism, neo-Fordism, post-Fordism McDonaldization, emotional labour, the destandardization of work and the social impact of unemployment
Discusses key issues regarding non-paid work: domestic work as `work', the impact of technology, symmetrical family thesis, the impact of feminism, and globalization
Provides student friendly pedagogy: suggestions for further reading, questions for discussion and assessment, an extensive glossary and links to key websites and downloadable articles.
This new edition will be welcomed by lecturers and students wanting an authoritative guide to the sociology of work.
(SAGE Publications)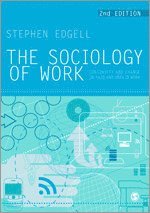 Fler böcker inom
Inbunden (hardback)
Språk: Engelska
Antal sidor: 296
Utg.datum: 2011-12-16
Upplaga: 2 Rev ed
Förlag: SAGE Publications Ltd
Illustrationer: illustrations
Dimensioner: 241 x 171 x 19 mm
Vikt: 635 g
Antal komponenter: 1
ISBN:

9781849204125
Fler böcker av Stephen Edgell
Stephen Edgell
Stephen Edgell, Kevin Hetherington m fl
Stephen Edgell
Stephen Edgell
Recensioner i media
This is a highly readable and approachable account of the sociology of work. With the additional material included in this new edition, Edgell brings the topic squarely into the 21st Century. The book provides excellent coverage of many of the key debates within the field in a lucid, yet succinct manner. All of the principal issues and controversies are placed into historical perspective, with a consistent focus on key developments, transitions, continuities and discontinuities within patterns of work and employment. Edgell demonstrates excellent command of a wide-ranging subject matter, rendering intelligible a broad set of interrelated themes. In short, this is a first-rate introductory text that is sure to become essential reading for students, teachers, and researchers who are interested in this field
Jason Hughes
Senior Lecturer, Brunel University
---
The Sociology of Work is an excellent text. Its comparative and historical sweep is particularly welcome and the analysis provided is thoughtful and well grounded. Stephen Edgell is to be congratulated for successfully updating and refreshing the original text and for providing such a valuable and accessible resource
John Eldridge
Emeritus Professor, University of Glasgow
---
The second edition of Steve Edgell's book is an invaluable and up-to-date text for students and researchers. Detailed and wide-ranging in its scope it is an excellent source of materials combined with a thought provoking and challenging set of arguments
Huw Beynon
Professor, Cardiff University
---
(SAGE Publications)
Bloggat om The Sociology of Work
Övrig information
I have been interested in the sociology of work all my academic career. At the beginning I taught undergraduate courses at the University of Salford on the Sociology of Industrial Capitalism and researched the work-family nexus with reference to professional workers and their wives (Middle-Class Couples: A Study of Segregation, Domination and Inequality in Marriage, 1980). Although my research career moved in the direction of political sociology (A Measure of Thatcherism: A Sociology of Britain, 1991), social class (Class, 1993), consumption (Consumption Matters: The Production and Experience of Consumption, 1996), and the social theories of Thorstein Veblen (Veblen in Perspective: His Life and Thought, 2001), throughout this period I maintained an interest in the sociology of work via teaching. This varied research career encompassed qualitative methods (case studies), quantitative methods (panel study), and historical methods (archival research).
The tendency for sociology of work textbooks to focus on standard paid work to the relative exclusion of non-standard work and unpaid work prompted me to suggest to Chris Rojek at SAGE that I write a sociology of work textbook that covers 'work' more comprehensively. With his encouragement the first edition of this book was published in 2006. I welcomed the opportunity to revise and update completely the First Edition since it enabled me to address some sins of omission and commission that I was aware of, many of which were noted in the constructive criticisms by reviewers enlisted by SAGE.
(SAGE Publications)
Innehållsförteckning
1. The Historical Transformation of Work Work in pre-industrial societies Work in industrial capitalist societies Main features of work in industrial capitalist societies Capitalist industrialization and the primacy of work Crises and industrial capitalism Technological and organizational change The rise of trade unions Women and work in the development of industrial capitalism The dominant conception of work in industrial capitalism 2. Work and Alienation Marx's theory of alienation Blauner's technology and alienation thesis Critique of Blauner's technology and alienation thesis Empirical research on the Blauner thesis 3. Work and Deskilling Braverman's deskilling thesis Critique of Braverman's deskilling thesis Braverman's supporters 4. Work , Upskilling and Polarization Bell's upskilling thesis Critique of Bell's upskilling thesis Bell's supporters The polarization of skill? 5. Industrial Work: Fordism, Neo-Fordism and Post-Fordism The rise of Fordism The development of Fordism beyond the workplace The decline of Fordism Solutions to the crisis of Fordism: neo-Fordism and post-Fordism 6. Service Work: Fordism, Neo-Fordism and Post-Fordism Interactive service work The rise of Fordism and interactive service work Interactive service work: neo-Fordism and post-Fordism Knowledge work and the Fordist model of change 7. Non-Standard Work The destandardization of work thesis Contractural destandardization: self-employment Spatial destandardization: homeworking Temporal destandardization: temporary/ time work Critical evaluation of the destandardization thesis 8. Out of Work: Unemployment Unemployment: meaning and measurement Jahoda's deprivation theory of unemployment Class, age and gender, and the social consequences of unemployment Critical evaluation of Jahoda's deprivation theory of unemployment 9. Domestic Work The sociology of domestic work Domestic work: conditions and technology The symmetrical family thesis Critical evaluation of the symmetrical family thesis Explanations of the unequal division of domestic labour Outsourcing domestic work 10. Globalization: Paid and Unpaid Work Globalization Causes of globalization Globalization in action: call centres The transformation of paid work? The transformation of unpaid work? Summary and conclusions Concluding remarks: continuity and change and 'work'
(SAGE Publications)