This book is designed to meet the urgent need for a comprehensive and definitive introduction and teaching text on corporate environmental management. It aims to become the standard textbook for courses examining how business can take the environment into account while also providing an accessible and thorough overview of this increasingly multidisciplinary subject for practitioners. Written by the internationally acknowledged experts Stefan Schaltegger and Roger Burritt (authors of the highly influential Contemporary Environmental Accounting) along with Holger Petersen, the book invites the reader to join in an exploration of the ways in which companies can engage in environmental management and why such engagement can be profitable for business. The reader is invited to: examine whether the contents reflect their own experience, takes their experience further, or opposes their own views; note which of the ideas presented are especially important, add to those ideas, or encourage a reaction (positive or negative); answer questions creatively (based on their own perspective of the issues); encourage themselves to be inspired by questions, which can be investigated further through other written sources of information, such as books you will be guided to through the bibliography, the Internet or the general media; and think about and plan the ways in which the knowledge provided can be implemented in your own situation. The book is organised into four main sections. First, the fundamental ideas and linkages behind business management, the environment and sustainable development are briefly but clearly sketched. The second part of the book outlines the criteria against which environmentally oriented business management can be assessed and the fields of action in which success can be achieved. The third part presents a discussion and examples of strategies for environmental management, which are linked, in the fourth part, to the essential tools of environmental management, especially green marketing, environmental accounting and eco-control. The book is full of case studies and examples related to the main contents of each chapter and each chapter provides a number of questions for the student or reader to address. An Introduction to Corporate Environmental Management is both a textbook and a sourcebook. The reader can either work through the material in a structured way or dip into the content and follow up on specific areas of interest. The materials are designed to be used for understanding and reference, rather than to be learned by heart. The primary aim is for the reader to obtain a practical understanding of the relationship between management and environmental issues which can be applied in day-to-day situations-whether as part of a student's wider view of management or within the practitioner's real-world situation. It will be essential reading for many years to come.
(Bookdata)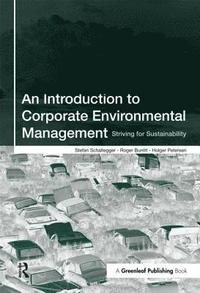 Fler böcker inom
Häftad (paperback)
Språk: Engelska
Antal sidor: 384
Utg.datum: 2003-04-01
Förlag: Greenleaf Publishing
Medarbetare: Burritt, Roger
Illustrationer: Illustrations
Dimensioner: 235 x 155 x 20 mm
Vikt: 590 g
Antal komponenter: 1
ISBN:

9781874719656
Fler böcker av författarna
Stefan Schaltegger, Martin Bennett m fl
Stefan Schaltegger, Marcus Wagner
Stefan Schaltegger
Christian Herzig, Tobias Viere m fl
Recensioner i media
This wide-ranging introductory text puts the manager center-stage and the relationship between management and environmental issues at the very core of the book's many themes. It provides a comprehensive and succinct introduction and review of the world of corporate environmental management and the current issues in that world ... we have to see the academics teaching this and similar material in Business Schools and Universities. Social and Environmental Accounting This book provides a textbook-style exploration of the ways in which companies can engage in environmental management, and why engagement can be profitable for business. Corporate Citizenship Briefing, July 2003 This is one of the first texts to offer a comprehensive overview of the principles of corporate environmental management ... few readers will fail to find something new and useful here ... it succeeds in providing an integrated approach to corporate environmental management that will be of value to students and to practitioners. Environment, June 2004
(Bookdata)
Bloggat om An Introduction to Corporate Environmental Management
Övrig information
Prof. Dr Stefan Schaltegger is a full professor of Corporate Environmental Management and director of the Centre for Sustainability Management (CSM) at the University of Luneburg, Germany. Between 1996 and 1998 he was an assistant professor of economics leading the chair of public economics and policy at the University of Basel, Switzerland, where he became an associate professor for management in 1998. After his PhD in Environmental Management in 1992 he spent one year as a visiting research fellow at the University of Washington, Seattle, USA. His research areas include environmental accounting and information management, sustainable finance, sustainable entrepreneurship, stakeholder management and the integration of environmental economics and management. Stefan is member of the editorial board of the international journals Business Strategy and the Environment and Greener Management International, and of the editorial advisory board of Corporate Social Responsibility and Environmental Management, the steering committee of the European Eco-management and Accounting Network (EMAN-EU), the SustainAbility Faculty, London and the board of the RIO Impulse Management Forum, Switzerland. Stefan has lectured at various universities, including the Universities of Basel and Bern, the Norwegian School of Management BI, Oslo, the University of Jyvaskyla Finland, and the HCMC University of Technology, Ho Chi Minh City, Vietnam. Roger L. Burritt, BA (Jt Hons) (Lancaster, UK), M. Phil (Oxford, UK), FCPA (Australia), CA (Australia), CMA (Australia), ACIB (London), is a Reader in the School of Business and Information Management and member of the National Institutes of the Environment, and Economics and Business, at The Australian National University (ANU) in Canberra, Australia, where the environment, management and accounting are his main areas of research and teaching. He is also the International Co-ordinator of the Asia Pacific Centre for Environmental Accountability (APCEA), a networking group for people with an interest in environmental management, environmental accounting, reporting and accountability. APCEA has branches in Argentina, Australia, China, Japan, New Zealand, and South Korea. Roger has lectured widely throughout the world, is a member of the Environmental Management Accounting Network-Asia Pacific (EMAN-AP) Steering Committee and the Sustainability Experts Reference Group for the ACT Government in Australia. Holger Petersen has been working at the UmweltBank AG Nurnberg, since January 2003. The UmweltBank AG Nurnberg is a leading environmentally focused financial institution in Germany. Between 1999 and 2002 he worked as a research assistant to Prof. Stefan Schaltegger at the Centre for Sustainability Management at the University of Luneburg. His PhD was on the subject of ecopreneurship and strategic management. Holger conducted empirical research and wrote case studies on the competitiveness of leading environmental companies with a special focus on SMEs. Together with Stefan Schaltegger, Holger Petersen has written more than ten German course books on corporate environmental management and co-ordinated the course materials on environmental management for the leading German distance-learning university in Hagen. At the Centre for Sustainability Management (CSM) he was an initiator of the world's first MBA programme on Sustainability Management and Entrepreneurship which is currently under development.
(Bookdata)
Innehållsförteckning
Part 1: Overview 1. Purpose, structure and contents of this textbook 2. Management and business companies 3. Environmental orientation 4. Sustainable development 5. Business management on its way to sustainability 6. Business management and its stakeholders Part 2: Success factors and fields of action 7. Balanced socioeconomic management of the environmental challenge 8. Markets, efficiency and eco-efficiency 9. Systems of legal regulation, environmental norms and standards 10. Partnerships and legitimacy 11. Political arenas Part 3: Strategic environmental management 12. Strategic process and strategic options 13. Basic corporate environmental strategies 14. Competitive strategies 15. Risk management strategies Part 4: Concepts and tools of corporate environmental management 16. Eco-marketing 17. Environmental accounting 18. Environmental management systems and eco-control 19. Outlook and future of corporate environmental management Appendix: Model environmental agreement Bibliography
(Bookdata)