The dogfights between World War II prop fighters such as the P-51 Mustang, P-47 Thunderbolt, Me 109 and Japanese Zero have been well documented over the years. However, very little has been written about the dogfights between the state-of-the-art swept wing jets that fought high above northwest Korea in an arena known as 'MiG Alley'. These pitted the North American F-86 Sabre versus the MiG-15 and they were flown by some of the best fighter pilots in history. The speeds in which these two fought initiated many new tactics for aerial combat. Toward the end of the Korean War, it was determined that the F-86 pilots had been flying against some of the most experienced Russian and Warsaw Pact pilots (East German, Polish, Czech, Hungarian etc) from the very beginning. Many of the Sabre pilots that had numerous kills against the MiGs were young Lieutenants with no World War II experience. Official USAF records state that 78 Sabres were lost in air-to-air action and 792 MiG-15's were shot down in aerial duels. This established a 10:1 ratio in favor of the F-86, although that figure has remained a controversial subject for over 50 years. With the dangerous air-to-ground missions flown by the aging F-80's and F-84's, the success of the F-86 carried over into the fighter bomber role. In January 1953, the F-51 Mustang Wing and the F-80 Wing converted over to the new bomb-carrying F-86F. This added a new dimension in that the new Sabre could work the close air support and interdiction mission and still defend itself against the MiG-15 threat without escorts. By the end of the war, there were four wings, based in South Korea, equipped with the F-86. This book is filled with personal recollections from the pilots that flew the F-86 - many are so vivid that you feel you are in the cockpit with them. It also contains some of the finest quality color images ever published on the Sabre in combat; most were taken by the pilots and crew chiefs. In addition, there is an aircraft-by-aircraft record of every F-86 that flew during the war. This includes squadron assignment, Sabre losses, and final disposition. Also featured is a complete listing of confirmed kills by Sabres and a roster of Korean War aces. Apart from the eyewitness accounts, detailed Sabre information and superb photographs, 'MiG Alley' also features newly-commissioned colour artwork and colour profiles. If you had to describe this book in only one word...it would be 'ACTION'!
(Bookdata)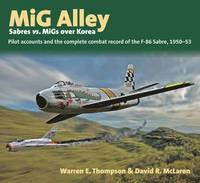 Fler böcker inom
Inbunden (hardback)
Språk: Engelska
Antal sidor: 196
Utg.datum: 2011-08-15
Förlag: Helion & Company
Illustrationer: 225 col. photos, profiles, a/w's, 52 b/w photos
Antal komponenter: 1
ISBN: 9781906033972
Övrig information
Warren Thompson has always been interested in military aviation history and while attending public schools, he read everything he could get his hands on regarding World War II. Once he graduated from college in 1961, this quest for material and pictures became a serious hobby. Over the past 45 years, he has accumulated an extensive archives on U.S. military aviation history spanning from the late 1930's through the current wars in Iraq and Afghanistan. However, his specialty has been the P-61 Black Widow in World War II and all aspects of the Korean Air War with the focus on the F-86 Sabre. This has led to him having numerous books and magazine articles published. He has concentrated on building a large collection of 35mm color slides and hundreds of interviews with air crew members that flew the combat missions. / David R. McLaren grew up in Springfield, Illinois listening to 'Hop Harrigan' and 'Captain Midnight' during afternoon radio programs while Air National Guard Mustangs overflew his home. Thusly inspired, he then became a control tower operator in the United States Air Force, and then an enroute air traffic controller for the Federal Aviation Administration. In the meantime, he raised three children and attended Waubonsee Community College and Aurora University. Post retirement McLaren has written several magazine articles and a dozen aviation history books, concentrating on the Army Air Force and the USAF during World War II and the Korean War era. Three of these books have been co-written with Marty Isham, and this one in collaboration with Warren Thompson.
(Bookdata)