Vi har inte fått in någon beskrivning av boken från förlaget. Kolla gärna upp förlagets (ISI Books) hemsida, där det kan finnas mer information.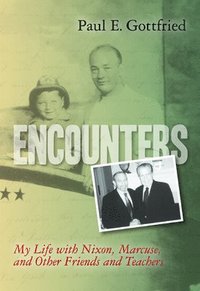 Fler böcker inom
Inbunden (Hardback)
Språk: Engelska
Antal sidor: 220
Utg.datum: 2009-05-15
Förlag: ISI Books
Illustrationer: black & white illustrations
Dimensioner: 228 x 152 x 25 mm
Vikt: 430 g
Antal komponenter: 1
ISBN: 9781933859996
Recensioner i media
Encounters is the account of a modest man, a very profound thinker. His accounts of men and his meetings with them and his understandings of them are very valuable, thoughtful, and not at all self-indulgent. They tell us very much about his subjects and also, unconsciously, about the qualities of himself. John Lukacs, author and historian Paul Gottfried, an American intellectual of superior talent, has been treated abominably by Academia, not only for his conservatism but for his incorruptibility. Yet, Gottfried s memoir proceeds without bitterness, self-justification, or a settling of scores. This sprightly account of his career in Academia and conservative politics illuminates the intellectual and political currents of our time and abound with fresh insights and mature evaluations of persons and places. Eugene D. Genovese, author and historian It was a real treat to coast the curve of time with Professor Gottfried as his many milestones of intellectual history reveal their greatness with charm and their foibles with candor. The author's searing self-awareness is an inspiration to all who eschew vulgarity for nobility. Rabbi Daniel Lapin; President, American Alliance of Jews and Christians. Paul Gottfried is a child of the century. He studied at Yale with Herbert Marcuse and has known Pat Buchanan, Will Herberg, Sam Frances, Richard Nixon, and many others. His autobiography "Encounters" narrates his intellectual journey, and will be indispensable as a source when the history of the conservative movement is written. Jeffrey Hart, professor emeritus of English at Dartmouth College, cultural critic, columnist Political philosopher Paul Gottfried, well-known for his studies of modern ideologies such as Marxism and neoconservatism, reveals the personal and intellectual influences that have made him one of our most provocative scholars. In this candid and beautifully written memoir, we learn more about friends such as Herbert Marcuse, Richard Nixon, and Patrick Buchanan than in a shelf of biographies. "Encounters" is indispensable reading for every student of modern American conservatism. Lee Edwards, author and Distinguished Fellow at "The Heritage Foundation ""What jumps off the pages of "Encounters" is the amazing intellectual courage of an author who clearly and unequivocally states and defends what he believes. Agree with Gottfried or not, you will appreciate his refreshing honesty. A penetrating read." L. Brent Bozell III, president of the "Media Research Center""""
(Bookdata)