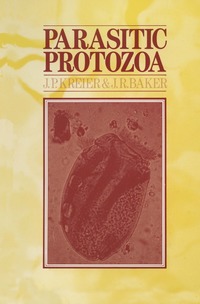 Fler böcker inom
Format

Häftad (Paperback / softback)

Språk

Engelska

Antal sidor

256

Utgivningsdatum

1987-07-01

Förlag

Medarbetare

Baker, John R.

Illustrationer

256 p.

Antal komponenter

1

Komponenter

1 Paperback / softback

ISBN

9780045910229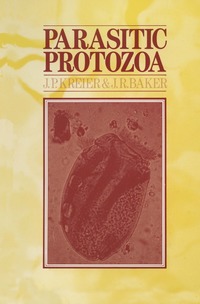 Parasitic Protozoa
Skickas inom 5-8 vardagar.
Fri frakt inom Sverige för privatpersoner.
It is now 17 years since the junior author's book Parasitic protozoa was first published, and 13 years since it received limited revision. The study of symbiotic protozoa has meanwhile progressed, and much of the content of the earlier book has been superseded if not displaced by recent knowledge. We believe that there is still a place for an introductory textbook, conventionally arranged on a taxonomic frame- work, on this most fascinating group of organisms. It should supplement (certainly not supplant) more modern treatments from different angles. A mountain looks very different if one approaches it from different sides, though a true picture of that mountain can be built up only by the laborious summation of the views provided by all approaches. The immunology and the chemotherapy of protozoal infections are subjects so complex that we do not propose to try to encompass them in this book. We mention briefly the more commonly used therapeutic compounds in the various chapters that follow, without giving details of dosage schedules. Further information on immunology and chemo- therapy can be obtained from the books listed at the end of the Introduction; the information we give on chemotherapy is largely drawn from that of James & Gilles. This book can be regarded as an evolutionary descendant of the earlier "Parasitic protozoa", referred to above, extensively revised and much more fully illustrated. We hope that it will prove as useful as its predecessor appears to have been.
Passar bra ihop
+
Recensioner i media
Kreier and Baker have produced a concise, little introductory textbook, that is packed with information about the major groups of parasitic protozoa. Everyone working in classical veterinary, or medical protozoology should own a copy of this up-to-date, easy to use book - as a reference for its investigations and instructions and as a good text for beginning parasitology students. Journal of Protozoology
Bloggat om Parasitic Protozoa
Innehållsförteckning
1 Classification and evolution of the symbiotic protozoa.- Classification.- Evolution.- Further reading.- 2 Anatomy and physiology of the protozoa.- Anatomy.- Physiology.- Further reading.- 3 Trypanosomes and related organisms.- Suborder 1: Bodonina.- Suborder 2: Trypanosomatina.- Genus Leishmania Ross, 1903.- Genus Trypanosoma Gruby, 1843.- Section A: Stercoraria.- Section B: Salivaria.- Diagnosis of trypanosome infections.- Treatment of leishmanial and trypanosomal infections.- Further reading.- 4 Flagellates of the alimentary and urinogenital tracts.- Class Zoomastigophorea.- Order Retortamonadida.- Order Oxymonadida.- Order Diplomonadida.- Genus Giardia Kunstler, 1882.- Order Trichomonadida.- Genus Trichomonas Donne, 1837.- Genus Dientamoeba.- Genus Histomonas Tyzzer, 1920.- Order Hypermastigida.- Subphylum Opalinata.- Further reading.- 5 Symbiotic amebae.- Genus Entamoeba Casagrandi and Barbagallo, 1895.- Other intestinal amebae of man.- Genera Acanthamoeba, 1931 and Naegleria Alexeieff, 1912.- Further reading.- 6 Gregarines, hemogregarines and intestinal coccidia.- Class Sporozoea.- Subclass Gregarinia.- Subclass Coccidia.- Order Eucoccidiida, Suborder Adeleina.- Suborder Eimeriina.- Genus Eimeria Schneider, 1895.- Genus Isospora Schneider, 1881.- Genus Toxoplasma Nicolle and Manceaux, 1909.- Genus Sarcocystis Lankester, 1882.- Genus Besnoitia Henry, 1913.- Addendum.- Further reading.- 7 Malaria parasites and their relatives.- Family Plasmodiidae.- Family Haemoproteidae.- Family Leucocytozoidae.- Further reading.- 8 Piroplasms.- Family Babesiidae.- Genus Babesia Starcovici, 1893.- Family Theileriidae.- Genus Theileria Bettencourt, Franca and Borges, 1907.- Genus Cytauxzoon Neitz and Thomas, 1948.- Family Dactylosomidae.- Further reading.- 9 Myxozoa, Microspora and Ascetospora.- Phylum Myxozoa.- Order Bivalvulida.- Phylum Microspora.- Class Microsporea.- Phylum Ascetospora.- Further reading.- 10 Symbiotic ciliates.- Genus Balantidium Claparede and Lachmann, 1858.- The rumen ciliates.- Further reading.- 11 Techniques.- Intestinal protozoa.- Tissue protozoa.- Further reading.- Addresses of suppliers.